November 03, 2011
Students Launch Literary Journal Focusing on Emerging Writers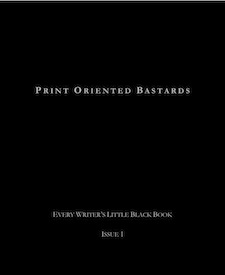 Last year, friends Marci Calabretta ('11) and Inès Pujos ('12), both students in the English Department's Creative Writing program, were frustrated with the lack of publishing opportunities available for up-and-coming writers, like themselves. So, they decided to do something about it and launched their own creative literary journal.
"We always talked about wanting to start a journal because there are not enough national-based journals out there designed to discover new talent," said Pujos. "New writers – especially undergrad and graduate students – need chances to be published."
Thanks to the Department's Charles C. Dawe Memorial Award, an annual $2,000 grant to encourage innovation in publishing, Pujos and Calabretta were able to start "Print-Oriented Bastards."
For the inaugural edition, Pujos and Calabretta, who also earned a BA in English, relied mostly on social networking to elicit submissions. It worked - by posting to their Facebook accounts and starting a blog, they received roughly 100 submissions. The issue, which will be available November 11, 2011, will feature 18 literary and art pieces by 13 authors and artists originating anywhere from California to Kuwait.
Read more about this story at http://www.hss.cmu.edu/pressreleases/pressreleases/printorientedbastards.html or read The Tartan's article "Bastards Make it to Print."
For more information on "Print-Oriented Bastards," including how to receive a copy of the first edition and instructions on how to submit work, visit http://printorientedbastards.wordpress.com/. 
Related Event
On November 11, Marci and Inès are holding an event to celebrate the release of the "Print Oriented Bastards" inaugural issue. The event will take place in the The Gladys Schmitt Creative Writing Center in Baker Hall 260 at 9pm. There will be food and student readings, followed by an open mic.