April 07, 2011
Senior Marci Calabretta Wins Poetry Award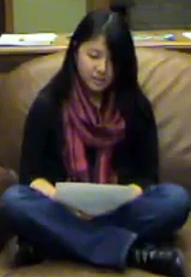 Marci Calabretta's poem "Mother Ran off the American Base in South Korea" has been selected for an award from The Albion Review, a national undergraduate literary magazine published at Albion College in Michigan. Marci, a double major in the English and Creative Writing programs in CMU's English Department, wrote the poem as part of her senior honors thesis, which she is working on with Jim Daniels, the Thomas Stockham Baker Professor of English.
You can watch a video of Marci talking about her inspiration for the work and reading the poem at http://www.youtube.com/watch?v=F2AJqDL1tyA.
Congratulations, Marci!