October 10, 2011
Richard Young Visits English Department Faculty and Students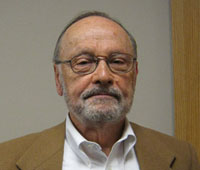 Emeritus Professor Richard Young, instrumental in the shaping of the English Department and the founding of the Rhetoric programs at Carnegie Mellon, visited campus on Monday, October 2, and Tuesday, October 3. Richard taught at Carnegie Mellon for many years and served as the department head from 1978-1983. On both days of his visit, he ate lunch with current students; on Monday, the MAPW students joined him for food and a discussion of how their program was founded, and, on Tuesday, Rhetoric students also had a chance to meet with Richard.
During his visit, Richard also talked with students in David Kaufer's undergraduate course on argument, where students had read one of Richard's articles. David was pleased that Richard could speak with his class, as Richard has played a large role not only in shaping the Carnegie Mellon English Department but also the field of rhetoric in general.
"Richard's book, Rhetoric, Discovery, and Change (1970) was widely credited as helping to jumpstart the writing as critical thinking movement. The book was published 41 years ago but remains in print and is still frequently cited by scholars," said David.
When not at Carnegie Mellon, Richard spent time with Emeritus Professor Erwin Steinberg at his home near campus. Professor Steinberg founded the technical writing program in 1956, the first of its kind, and was, like Richard, a key player in the development of the MAPW program.
On Tuesday, Richard ended his visit with the talk "Roads Not Taken: Francis Christensen and the Senecan Amble," given in Baker Hall 255B. A mix of faculty and students attended the talk, in which he was introduced by the recently retired Karen Schnakenberg, who was also one of Richard's students. The talk dealt with the rise of stylistics in English departments in the 1970s and its subsequent decline. 
For more information about the history of the Department,
visit http://www.cmu.edu/hss/english/about/englishdepartment-history.html.