April 12, 2011
Professor Jim Daniels to Read Poetry at Event Honoring Associate Professor Emeritus Dave Demarest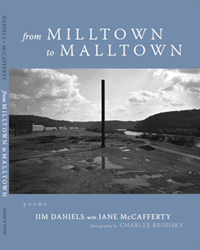 Poet and CMU English professor Jim Daniels will be at the Pump House in Homestead on Saturday, April 16, at 1:30pm to read poems published in From Milltown to Malltown, which he co-authored with another English professor, Jane McCafferty. In From Milltown to Malltown, the pair teams up with photographer Charlee Brodsky to explore the steel-era ghosts of Homestead, Pa., and to confront the demons of its mall-ified Waterfront. At the event, the poems will be read in concert with the Brodsky photographs.
Poet Peter Oresick will introduce the program, which will begin with a special tribute to Dave Demarest, an Associate Professor Emeritus of English, who will be honored for initiating the poetry reading series at the Pump House many years ago.
The event is sponsored by the Battle of Homestead Foundation. A book signing will follow the reading.