March 29, 2011
Peggy Knapp's Groundbreaking Book, "Chaucer and the Social Contest," Republished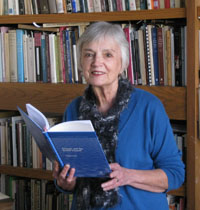 Twenty-one years ago, Peggy Knapp wrote "Chaucer and the Social Contest," a book that connects all of Chaucer's Canterbury Tales and places a storytelling contest among the Canterbury pilgrims within the larger social struggles of England's late 14th century landscape.
"Chaucer and the Social Contest" essentially came from Knapp's teaching of the tales. "It seemed that very few people were thinking about how all the tales reflect on each other," she said. "As a teacher, I wanted a book that attended broadly to where The Canterbury Tales fits into an analysis of medieval society and culture."
Last month, it was announced that the book would be republished as part of the prestigious Routledge Revivals Series, which restores to print books by some of the most influential authors of the last 120 years.

 Read the full press release here.
Knapp has taught at Carnegie Mellon for over 40 years. In 2003, she was the recipient of the William H. and Frances S. Ryan Award for Meritorious Teaching. In addition to outstanding teaching, the award recognizes the creation of challenging and innovative courses, teaching methods, and course materials. Knapp also received the 1998-1999 Elliott Dunlap Smith Award for Teaching & Educational Service in Humanities & Social Sciences.
Visit the book's publisher at http://www.routledge.com/books/details/9780415616034/.