May 26, 2011
Junior Kelly Bescherer Wins Prestigious DAAD Scholarship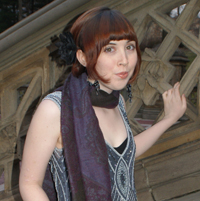 Kelly Bescherer, an English major with additional majors in German and history, has won a Deutscher Akademischer Austausch Dienst (DAAD) scholarship that will allow her to spend her senior year studying at Humboldt University in Berlin. While in Germany, she will also be conducting two independent research projects on the history of Weimar film and on feminist squatting in 1980s Germany. 
"I've already done a bit of research on both these topics, but I'm hoping that being in Germany will allow me to do further archival and interview-based research that I was unable to in the States," Kelly said. "I am an English, history and German student, so I'm hoping to combine my interest in all three of these majors as I work on these projects. Specifically, with regards to my English major, I've found the critical theory I've read in a lot of my classes to be really helpful."
Kelly applied for her DAAD scholarship through
Carnegie Mellon's Fellowships and Scholarships Office
. DAAD funding is available to undergraduate and graduate students interested in doing research and studying in Germany. For more information, visit
www.daad.org
.
Congratulations, Kelly!