September 05, 2011
Work from Barbara Johnstone and Adam Hodges Wins Award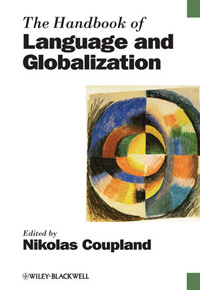 The Handbook of Language and Globalization, which contains chapters from English Department professor Barbara Johnstone and postdoctoral fellow Adam Hodges, has received this year's British Association for Applied Linguistics (BAAL) Book Prize. The book's editor, Nikolas Coupland, accepted the award on September 1 at the annual BAAL conference, held at the University of West England.
This award is given annually to honor an outstanding book in the field of applied linguistics. Books are nominated by publishers and then reviewed by panels of expert judges. One reviewer, who read The Handbook of Language and Globalization in consideration for the award, wrote: "This is an excellent collection of twenty-nine wide-reaching, rich and engaging papers on diverse aspects of an immensely important theme, language and globalisation, written by an impressive array of experts in diverse fields of linguistics. [...] This book is sure to become the seminal text on language and globalisation."
Congratulations to Barbara Johnstone, Adam Hodges, and everyone else who contributed to The Handbook of Language and Globalization.
For more information about the book, visit http://www.wiley.com/WileyCDA/WileyTitle/productCd-1405175818.html.
Left to Right: Barbara Johnstone, Adam Hodges