August 22, 2011
Jim Daniels Publishes New Short Story Collection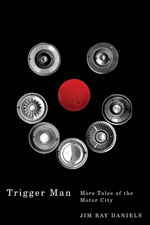 Jim Daniels' fourth collection of short stories, "Trigger Man: More Tales of the Motor City," will be released next month.
"It's always hard to have any perspective on your own work, but in this collection I was trying some more ambitious things with point of view," Daniels said. "As someone who works in multiple genres—poetry, fiction, screenwriting—I am particularly grateful for the kind words endorsing the book from poet-novelist Laura Kasischke, and from novelist-filmmaker John Sayles. I admire what they do across genres, and I try to emulate them."
Daniels is the Thomas Stockham Baker Professor of English and has been teaching creative writing in the English Department since 1981. He is the author of 11 books of poetry and has also written three films. In 2010, he collaborated with two other professors on "From Milltown to Malltown," a book combining poetry and photography to explore the history of Homestead, Pa.
For more information, you can read the press release, read the Publishers Weekly review of "Trigger Man" or visit the publisher's website.