September 03, 2011
Jennifer Dorsey Receives Steinberg Award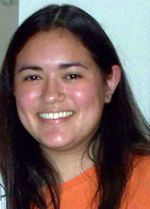 Jennifer Dorsey (MAPW '11) is the recipient of the 2011 Erwin R. Steinberg MAPW Scholarship. This scholarship, which was first awarded in 2007, is given annually to a third semester MAPW who excels in Style, a course that Steinberg taught for many years in the MAPW program. The recipient must also exemplify the qualities of integrity, intellectual curiosity, and citizenship that Steinberg displayed over his long career at Carnegie Mellon, during which time he was involved in the founding and developing of the MAPW program.
"I am grateful and honored to have received this recognition from my professors," said Jennifer, who received her BA in English Language and Literature from Ohio University.
For her summer internship, Jennifer worked in internal communications at UPMC in the Office of Referring Physician Relations. She is continuing to work for this office during the fall semester. Upon completing her master's degree in December, Jennifer plans to pursue a career in corporate communication or public relations.
Congratulations to Jennifer, the 2011 recipient of the Erwin R. Steinberg MAPW Scholarship!