March 30, 2011
Hilary Franklin Wins 2011 University Graduate Student Teaching Award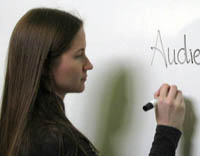 When Hilary Franklin, a Rhetoric Ph.D. candidate in the Department of English, arrived at CMU in 2006, she had never taught a class before. Four short years later, she is the winner of the 2011 University Graduate Student Teaching Award.
"Hilary is not only the best English 101 teacher to have emerged in recent years; she is a teaching mentor and leader across the university from the Eberly Center, to our Qatar Campus, to our Masters in Professional Writing Program and in a variety of courses in the English department," wrote Kathy M. Newman, associate professor of English and director of the department's graduate studies.
Franklin is known for creating a welcoming atmosphere in the classroom and for being enthusiastic, flexible and creative in designing curricula. For these reasons, Karen Schnakenberg, teaching professor of rhetoric and writing and director of professional and technical writing, tapped Franklin to be her assistant director. 
"Hilary is a dedicated, innovative and very effective teacher whose pedagogy is informed both by her scholarship and research and a strong understanding of how to build and deliver a well-structured course, and, importantly, how to explain that structure and its implications for both students and other instructors," wrote Schnakenberg.
Thirty-two of Franklin's former students also submitted letters supporting her nomination.  Senior Yiwen Jia wrote, "One of the best points of being in Hilary's class is that she always encouraged active class participation and discussion.  As an avid listener, I loved hearing from my classmates on their different opinions and beliefs, because their input also contributed to my own learning and understanding of the course material."
Franklin, thrilled at winning the award, credits Schnakenberg and Danielle Wetzel, assistant teaching professor of English, for molding her into the teacher she is today.
"Danielle was a resource from the get-go, always ready for anything, and Karen opened my eyes to research on the best way to teach," said Franklin.  "My goal in the classroom is to always make it a place where everyone feels comfortable talking and to always explain to students why the assignments are important."
Hilary will be recognized as the 2011 Graduate Student Teaching Award Winner at the award ceremony on April 7, 2011, at 5:00pm in Rangos Ballroom in the University Center. Congratulations, Hilary!