March 29, 2011
English Major to Match Wits with IBM's Watson Computer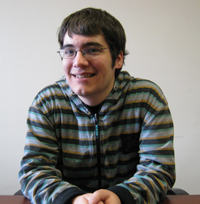 On March 30, CMU junior English major Connor Fallon will be among a team of college students challenging Watson, the computing system that beat two all-time Jeopardy! champions during a TV matchup last month.
Connor, who is president of CMU's Game Creation Society, is one of three CMU students competing against Watson. Several students from the University of Pittsburgh will also be participating in the match, which will take place in the University Center's McConomy Auditorium at 2:45 pm on Wednesday.
Connor first learned that Watson was coming to at CMU while talking with Catherine Copetas, an assistant dean in the School of Computer Science and the liaison for the Game Creation Society. When she mentioned to Connor that she'd like him to participate in the team competing against Watson, he was immediately interested, although he had to keep his excitement secret for some time. "She told me I was not allowed to tell anyone, as it was 'kind of a big deal,'" he says.
It is the first match Watson will play on any college campus and is part of a full day of events that includes talks by David Ferrucci, leader of the IBM Watson project team, and a question-and-answer session featuring Ferrucci and faculty from CMU and Pitt.
When asked how he has been preparing for the event, Connor joked, "Reading lots of Wikipedia. Doing push-ups. Maybe tomorrow night I'll watch some Jeopardy episodes."
Though Connor admits he doesn't expect to win, he thinks it will be an enjoyable experience. "I hope that we put up a good fight, and I know we will have fun doing so," he says.
 The talks, match and Q&A sessions are open to all students, faculty and staff, with seating on a first-come, first-served basis.