November 06, 2011
Divya Krishnan Explores Gender and Leadership Issues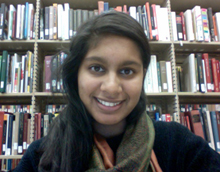 During the month of October and into November, student Divya Krishnan has been participating in the Women's Leadership Program (WLP) at Carnegie Mellon, a program designed to empower and inspire undergraduate and graduate women in campus leadership roles.
Divya, who is pursuing a BA in English and a BS in Decision Science, has attended four sessions to date, with just two classes remaining.
"I've really, really enjoyed the program," she said. "Discussing issues of leadership, negotiation, and networking in the context of gender is an important dialogue for both men and women, but I think it is especially so for women because we have to develop a manner of approaching these areas that is successfully assertive and confident without being perceived in a negative or degrading light."
Through discussion and dialogue, personal reflection, and group activities, WLP participants explore their leadership styles and how they are affected by gender. "The program coordinator, Jeaninne Hayes, and the guest speakers who have come to classes for the program are superb," said Divya.
The weekly sessions also allow students to cultivate relationships with other influential women on campus. "The other women in the program are highly involved members of the campus community--which makes us a good source of inspiration for one another," said Divya, adding, "I'm very happy I've had the opportunity to be a part of this program."
Participants for the WLP are selected through a nomination process. To learn more about WLP, see http://www.studentaffairs.cmu.edu/student-life/gender/wlp.html.