September 14, 2011
English Department Hosts Information Session and Reception for Prospective Majors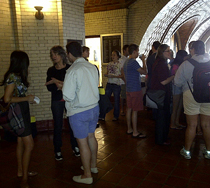 On Thursday, September 1st, the English Department hosted an information session followed by a reception in Baker Hall for prospective English majors and minors. 
Faculty and staff members Kelly Delaney, Yona Harvey, Kristina Straub, Necia Warner, Hilary Schuldt, Jim Daniels, Chris Neuwirth, and David Kaufer were among those who spoke with students about the department and its programs.
Current majors and minors also attended the session to provide insight into their experiences with the department. We'd like to thank the following students for speaking at the event:
Mariluz Orbay-Cerrato, MAPW 4+1 student, received a BA in Professional Writing
Hannah Post, majoring in Professional Writing and French
Jessica Sochol, majoring in Professional Writing and Psychology
Noelle Crochet, majoring in Creative Writing and English
After the information session, prospective majors joined the annual fall party for our undergraduate majors and minors and faculty.
Are you interested in an English Department major or minor but could not attend the information session? Please contact Kelly Delaney (Baker Hall 259, kellydel@andrew.cmu.edu) to set-up a meeting with an English Department advisor. Also, another information session will be held in the spring semester, so be sure to check back for the date, time, and location!