March 28, 2011
Department Celebrates New Professional Writing Studio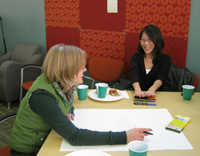 The English Department celebrated the opening of the new Professional Writing Studio on March 17, 2011, in the Facility Maintenance Services (FMS) building where the studio is located. 
Students in the Master of Arts in Professional Writing (MAPW) program have been using the newly renovated space since August 2010, and the department is now encouraging Professional Writing and Technical Writing majors to do the same. For these students, the event served as an introduction to their new home and workspace on campus.
The space serves as a quiet retreat and workspace for students in the professional writing programs and includes a large common area shared by graduate and undergraduate students. The shared space features wireless internet, individual desks with Ethernet connections, tables and whiteboards for working on group projects, quiet reading areas with comfortable seating, and even access to an adjacent kitchen.
The area also includes the department's new User Experience Labs where students can test documents and paper prototypes, hold interviews and focus group sessions, and conduct software or web usability tests. The labs feature video and audio equipment as well as state-of-the-art software that allows students to record, save, and edit data gathered in their usability testing.
An adjacent area includes the new MAPW work area and computer cluster.
The event, which was attended by current students and faculty, featured tours of the space as well as a contest to design a t-shirt for the professional writing programs.