October 13, 2011
Conference Features Panel of MAPW Speakers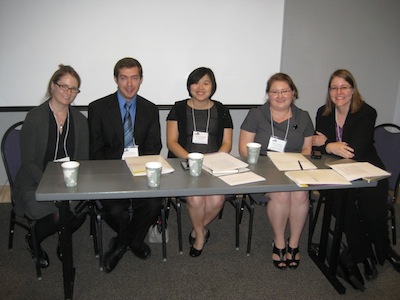 Faculty, current students, and an alum from the MAPW program presented at the 2011 Council for Programs in Technical and Scientific Communication (CPTSC) conference in Harrisonburg, Virginia, from October 6-9, at James Madison University.
This year's conference focused on academy-industry relationships and partnerships, featuring discussions on how educational programs can successfully balance the interests of the academy and the industry while providing students with the knowledge and skills needed for the workplace.
According to Professional Writing program director Necia Werner, "The theme of this year's CPTSC conference was a great opportunity to showcase some of the ways that Carnegie Mellon's English Department blends theory and practice in our professional and technical writing curriculum."
Conference attendees included students, writing program administrators, industry professionals, and leaders in the Society for Technical Communication (STC), such as Alan Houser, an MAPW graduate and current Vice President of STC.
During the event, the panel of speakers from Carnegie Mellon spoke on the topic "Aligning Programmatic Objectives with Industry Expectations for Student Experiences in Technical Communication." After Necia spoke as program director about the MAPW curriculum, objectives, and success, alum Jennifer Ciroli (MAPW 1995) discussed her role as an instructor and industry professional. Jennifer, an advisory information developer at IBM, teaches Software Documentation as an adjunct faculty member in the English Department. Finally, MAPW students Sam Myers, Diane Warner, and John Williams presented on how their required and elective courses prepared them for succeeding in internships and acquiring jobs in the technical communication field.
"This event was a great opportunity to find out more about the technical communication field," said MAPW student Sam Myers, adding, "In my part of the presentation, I decided to focus on how academics-especially the MAPW program-lays a foundation for getting into the tech comm industry, especially for someone who has no background in it."
Sam, who has secured a technical writing job with Oracle to begin after graduation, titled her talk "From Aristotle to Oracle: One Student's Journey From Philosophy to Technical Writing." After graduating, John will also work for Oracle, while Diane will be working for NetApp.
To learn more about the CPTSC, visit http://www.cptsc.org/.
Pictured above left to right: Jennifer Ciroli, John Williams, Sam Myers, Diane Warner, and Necia Werner