September 27, 2011
Andreas Karatsolis Receives TIEP Award for Research Project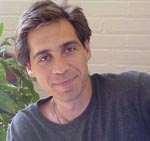 Andreas Karatsolis, Assistant Teaching Professor of Liberal & Social Sciences at CMU Qatar, has received an award from the Technology Innovation and Entrepreneurship Program (TIEP). The award will support his innovative, technology-based project entitled "Kairion: Supporting communities of researchers in selecting, organizing and visualizing relationships between documents and sources."
The prototype for Kairion was developed to support the rhetorical nature of academic citation practices, which involves referencing previous work to position one's own argument within the discipline. "Kairion--an adjective derived from the noun kairos, a central concept in Ancient Greek rhetoric referring to the appropriate or opportune time to present one's ideas--attempts to capture visually the steps that researchers use for this process, namely selecting a source, reading and evaluating a source, connecting the source to one's project, comparing sources, and finally using them to write up one's research," Andreas explained.
The goal of the TIEP program is to create start-up ventures and innovations based on cutting-edge research from around the world. The research must be related to energy, environment, health, or information and communication technology. Selected projects go through a pre-incubation stage with Qatar Science and Technology Park for one year, with the possibility of eventual full commercialization.
"The implications of this work extend beyond the needs of individual researchers to visualize the literature related to their project. Developing Kairion as a shared networked environment will also have implications for its use by communities of practice sharing a common understanding of the conversations at hand, as well as a teaching tool, helping new participants to the field scaffold their understanding," said Andreas.
Congratulations, Andreas.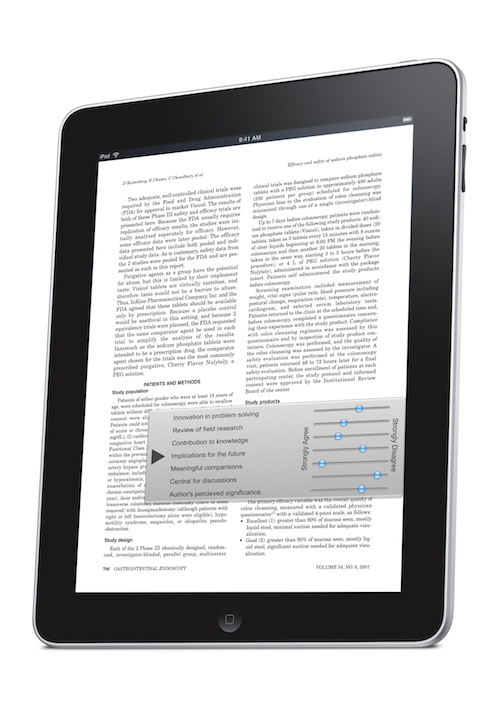 Above: prototype of the technology used on an iPad