June 24, 2011
Alum Sarah Smith Awarded Cleveland State University First Book Prize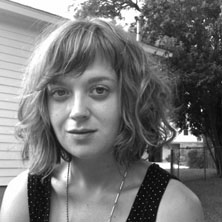 Sarah Smith has won the 2011 Cleveland State University First Book Prize. Her full-length book of poems, I Live in a Hut, will be published in spring 2012.
Smith graduated from Carnegie Mellon in 2005 with degrees in creative writing and English. Like many of her fellow alumni, she credits her early development as a writer to the nurturing environment of the Creative Writing program in the Department of English.
"It's still kind of incredible to me how much trust all of CMU's creative writing professors have in their students," she said. "None of them treat you like you're just a kid...Instead, they treat you as a regular old writer who has to deal with the same difficulties as any other writer, and they're generous in sharing their own writing process with you. This kind of unfailing generosity is so hard to come by, but it does an amazing thing: It prods you into trying to live up to it. I think that's the key to the success of the program. I was so lucky to be a student there."
Smith's talent was evident long before her time at Carnegie Mellon; she recalls writing and staging plays while she was still in elementary school. "That desire to make, to impose my will on words has always been the engine of the work rather than any particular subject," she said.
For more information about the First Book Prize, visit the Cleveland State University Poetry Center Awards website.