June 17, 2011
Alum Karen Rigby Wins Sawtooth Poetry Prize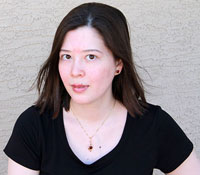 Karen Rigby has won the 2011 Sawtooth Poetry Prize for her manuscript Chinoiserie, which will be published by Ahsahta Press in January 2012. Rigby graduated from Carnegie Mellon in 2001 with degrees in creative writing and English. Chinoiserie will be her first full-length book.
"The earliest poems included in the book were written as a senior at Carnegie Mellon. It was here that my interest in writing and publishing increased," Rigby said. "Reading manuscripts for Professor Costanzo at Carnegie Mellon University Press remains a cornerstone of my time as a student—it is, in part, what has led me on the circuitous path toward co-founding a journal of literature, arts, and culture, and what kindled an interest in books as artifacts. Most of my coursework in poetry at Carnegie Mellon was with Professor Jim Daniels, who I credit with endless patience and an intuitive sense for what each student might require to evolve."
Rigby is also the author of two chapbooks, Savage Machinery and Festival Bone. In 2007, she received a National Endowment for the Arts literature fellowship. She is currently a freelance writer and a member of the National Book Critics Circle.
The Sawtooth Poetry Prize is an annual competition sponsored by Ahsahta Press. Based at Boise State University, Ahsahta publishes seven books of poetry each year, including the winner of the Sawtooth. For more information, visit the Ahsahta Press website.