December 09, 2010
Oopali Operajita (MAPW '95) Plays Key Role in India's Concert for President Obama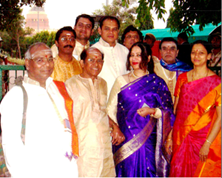 Noted choreographer and classical dancer Oopali Operajita (MAPW '95) served as the artistic director and choreographer for the Concert for President Barack Obama, hosted by Indian President Pratibha Patil at India's presidential palace on November 8, 2010.
The concert opened with an ensemble of classical percussionists from south India and included a performance from the Shillong Choir. Along with President Obama, the audience included Indian President Ms. Pratibha Patil; Prime Minister Dr. Manmohan Singh; UPA chairperson, Ms. Sonia Gandhi; cabinet members from the US and India; and leading industrialists from both countries.
In part, Ms. Operajita was chosen as artistic director and choreographer because of her familiarity with the American audience, a familiarity gained from spending 20 years in North America. While in the United States, she was a Distinguished Faculty Fellow at Carnegie Mellon and received an MAPW degree from CMU in 1995.
Ms. Operajita currently is an adviser in senior policy and international affairs for leaders in India's Parliament. She is chair and founder of the Al Gore Sustainable Technology Venture Competition and CEO of Cicero, a Trans National Advisory. She is also the first classical Indian artist to have performed at Carnegie Music Hall in Pittsburgh.