CMU Community Think Tank
Intercultural Problem Solving for Performance in Universities and WorkPlaces
Welcome to Carnegie Mellon Community Think Tank!
This website introduces students, teachers, and community members to the inner workings of the Think Tank. It suggests how— together—we can respond to problems in education and urban communities.
The CMU Community Think Tanks are organized by the students in the Leadership, Dialogue and Change course.   Recent Findings, posted on the Reports page, include inquiries into "The Culture of Stress at CMU," "Self-Advocacy," and "The Decision Dialogues Interactive Guide."
If you are interested in urban education and mentoring, we invite you to visit Decision Makers,  which guides high school writers and CMU mentors through a computer-supported educational project for planning, decision making, and self-assessment.  Decision Makers is part of another  CMU course that features community engagement:  Literacy: Educational Theory and Community Practice.
What is the Think Tank?
What is the Carnegie Mellon Community Think Tank?

The Carnegie Mellon Community Think Tank began as a culturally diverse body of problem solvers committed to bringing wider perspectives and collaborative action to urban issues. It created a structured dialogues, published in Reports, in which people from Pittsburgh's urban community, from business, regional development, social service, and education met to seek and evaluate workable solutions to social problems.  Recent Think Tanks have taken on social issues that arise on a university campus.
What does the Think Tank contribute?
What Can Intercultural Problem Solving Contribute?

The Carnegie Mellon Community Think Tank adds a missing link to the process of urban change and campus climate building, by creating a structured intercultural, interdisciplinary, and cross hierarchy dialogue.  See Brief #1 with an overview of the think tank process.
Its combination of research and deliberation:
Addresses real problems are they are perceived in the community and people's lives.
Brings normally silent voices not just "to the table," but into a print and a live, pragmatic search for solutions.
Draws out the untapped problem-solving potential of everyday people to analyze and improve their situation
Models and supports reflective decision making of individuals, working teams, and organizations.
What are the issues?
What are the issues that motivate the Community Think Tank's process of inquiry?
The Think Tank and its companion projects have focused on two areas for action:
Negotiating the World of Work

Urban communities have a history of struggle around work and a repertoire of strategies for dealing with limited resources, substandard schooling, and subtle racism. Yet many new employees still struggle with the challenge of cultural "cross-walking." They have trouble reading the complex, tacit expectations of their workplaces and must confront competing notions of teamwork, responsibility or respect. The Think Tank seeks to understand this process of intercultural negotiation by asking: how are employers, employees, and their supporters are reading these problematic situations—and each other's proposed actions, as they seek out options for change.
Issues explored include:
Healthcare and the dilemmas of turn over;
Underprepared workers facing the culture of work and technology,
Teamwork in the food service industry.
2. Negotiating the University Community
Entering a university like CMU sets challenges for all students, that are compounded for some dealing with social, cultural, racial diversity, working and self-support and/or first generation background.  Learning to meet these challenges for oneself—and coming to understand the experience and perspectives of others—is part of what a college education can offer.  Engaging in Think Tanks (and projects like Decision Makers) open a space and the tools for inquiry, at the same they draw people across the university community into  collaborative problem-solving dialogues.
Issues explored include:
Experiences and Struggles of Independent Students
The Culture of Stress
Self-Advocacy
What is the process?
What is the Think Tank process?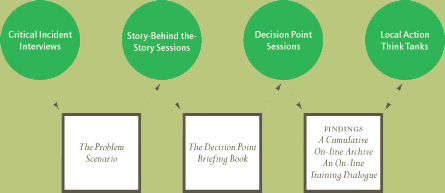 The Carnegie Mellon Think Tank team:
Lays the foundation for problem-focused community dialogues with research, interviews and writing (Steps 1 and 2)


Explores in collaboration with community members the reasons for problems and options for solving them (Step 3)


And, publishes their findings as the basis for local action (Step 4)
What are the findings?
What are the Think Tank's findings?
The results of this inquiry process, published as the Think Tank Findings, are organized around the key decision points faced by multiple stakeholders in both the world work (including employers, supervisors, employees, new workers and their networks of support) and in the university community (including diverse groups of students, faculty, administrators, advisors).   
The published Findings document the results of research and Round Table dialogues, organized around the different (often competing) ways people have represented the Problem, and the Options for action raised at the Round Tables, as well as insights into possible (often unanticipated) Outcomes of a choice.
Why initiate a Think Tank?
Why might I wish to initiate a Think Tank?
To address real problems in the community and people's lives.


To draw out the untapped problem-solving potential of everyday people to improve WorkPlaces and WorkLives.


To support the reflective decision making of individuals, working teams, and organizations.


See answers to questions asked by: 
Educators
,
Human Resource Developers
, and 
Community Organization leaders.