Undergraduate Spotlight: Kailani Small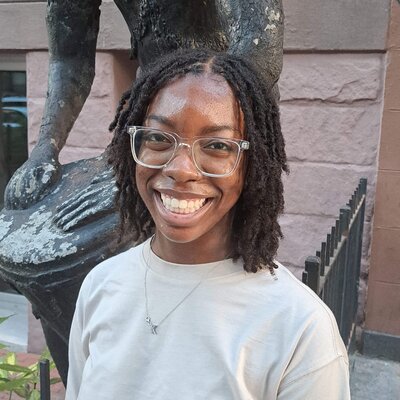 Kailani Small is a junior (Class of '24) majoring in Film & Visual Media.
Tell us something you're involved in here at CMU (clubs, tutoring, etc.).
I'm a member of SPIRIT, CMU's Black Student Union. Under SPIRIT, I'm a co-captain for SPIRIT Dance & Step Team, and am serving on its executive board as Publicity Chair — all starting in the Fall. I was excited about SPIRIT after hearing so much about it before I stepped foot on campus, and I can confidently say that it's one of the reasons why I have enjoyed CMU so much. I get to experience some of my greatest joys alongside people that identify like me.
What have you learned (or are learning) that's made a difference to you?
If you haven't heard it yet, students at CMU often talk about how hard academics can be here; and it can feel isolating when you happen to be struggling for the first time. Being comfortable in not having everything figured out right then and there is something I'm actively learning here, and I often need that reassurance the most when I feel overwhelmed by all of my classes, commitments, and personal life. Realizing that the reason why I'm at CMU is to discover and shape who I am and want to be, and getting that reassurance from my classmates and professors has made me feel less guilty about stepping back, and less overwhelmed over being confused.
What advice do you have for students who want to major in English?
You're here for a reason. You should always remind yourself of that. You deserve to be here, you deserve to have down time with yourself and your friends, and you deserve to enjoy what you're studying.