Over 200 CMU faculty, postdocs, graduate students, and staff participated in the first annual Teaching & Learning Summit on October 14th to celebrate and showcase the exciting ideas and evidence-based approaches that our colleagues are applying here at CMU and beyond. We joined together to hear about new instructional strategies and technologies, to learn about educational research by CMU instructors and learning scientists, and to share ideas and experiences.
Want to review highlights from the summit? Visit our Quickfire Talks page to watch videos of our speakers' presentations, Roundtable Discussions page to read summaries of the key topics & strategies discussed, and Poster Session page to view hi-res, digital versions of the posters displayed during the event.
Summit agenda:
Keynote: Daniel T. Willingham
Keynote: 
Critical Thinking: Why is it so hard to teach? 
Translating research into practical strategies
Dr. Daniel T. Willingham, Cognitive Psychologist
University of Virginia
Roundtable Discussions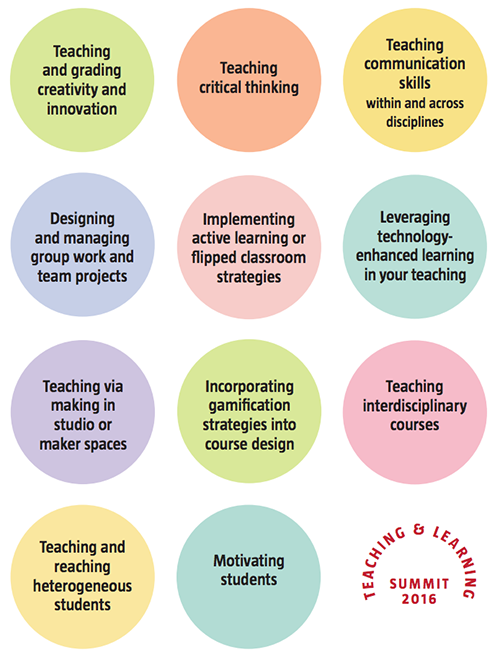 Looking for resources discussed at your table? What did other tables talk about?Review notes and linked resources from the roundtables on our Roundtable Notes
page.Roundtables give you a chance to discuss with your colleagues hot topics on teaching, e.g., flipped classroom, team projects, technology-enhanced learning,
maker spaces, creativity and innovation, communication skills across the curriculum.
---
Quickfire Interactive Talks
A variety of topics were presented in three room locations. Missed a talk you wanted to see? View each presentation in full on our Videos page.
---
Networking & Poster Session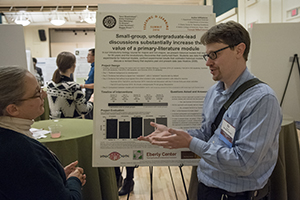 Showcasing exciting CMU projects and evidence-based approaches. Visit our Summit Posters page to view or download each high-resolution poster
---
Advisory Committee
We'd like to thank the Teaching & Learning Summit Advisory Committee members for their help in shaping this event:
Maggie Braun, Biology, MCS
Keith Cook, Biomedical Engineering, CIT
Drew Davidson, Entertainment Technology Center, CFA
Tylesha Drayton, Engineering and Public Policy, CIT
Charlie Garrod, Institute for Software Research, SCS
Amy Gijsbers Van Wijk, School of Drama, CFA
Rebecca Gulotta, Human Computer Interactions Insititute, SCS
Karyn Moore, HNZ
Clive Newstead, Mathematical Sciences, MCS
Susan Polansky, Modern Languages, DC
Stacie Rohrbach, School of Design, CFA
Garrett Stack, English, DC
Anita Woolley, TPR