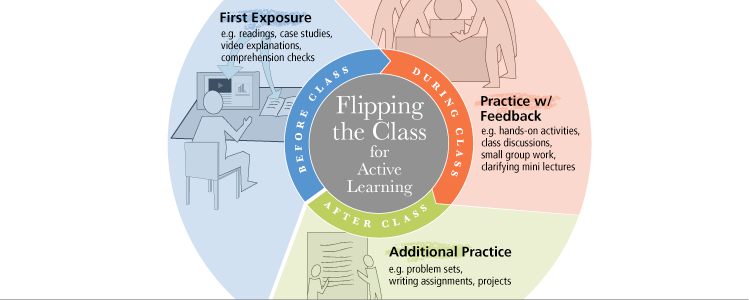 In a "Flipped Classroom," students' initial exposure to content is shifted outside of the classroom via readings, instructional videos, individual or collaborative activities, or a combination of these. Then during class, rather than lecturing, all or a significant portion of the time is used for practice, application exercises, discussion-based activities, team-based learning, or other active learning techniques. Some preliminary assessment, such as an online quiz or brief assignment, may be used to gauge student understanding and tailor instructional plans prior to class.
See what your faculty colleagues are doing!
"It was nice to point out to [students] that they were really able to do a lot of learning on their own, in a way that I think a lot of students don't believe they can."

"Why show up to class to listen to a talking book and then go home and try to apply the information on your own, when you could interact with peers and mentors to apply it during class?"

"When you flip a course, you close the feedback loop every day. It is an amazing experience to watch your students work and to see exactly what it is they are struggling with."

Charlie Garrod, Assistant Teaching Professor, Computer Science
What are the potential benefits?
What advice do early adopters offer to faculty colleagues?
How do I get started?
Other resources on flipped classrooms and related teaching strategies