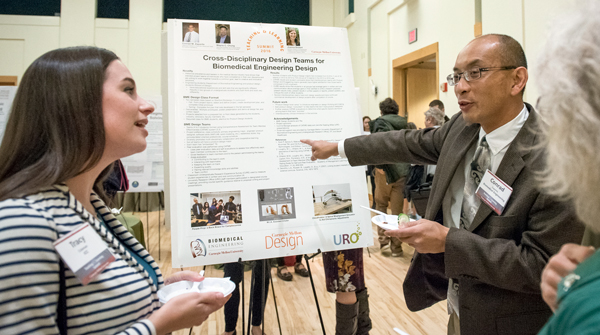 Join us to celebrate and showcase the exciting ideas and evidence-based approaches to teaching and learning that our colleagues are applying here at CMU and beyond.
2018 Agenda:

12:30 - 1:20 PM

Spotlight on CMU Teaching, Session A
Lightning Talks, "Teaching as Research" (TAR) Posters & "Technology-Enhanced Learning" (TEL) Demos
Coffee and pastries provided

1:20 - 1:30 PM

Laurie Weingart: Opening remarks
1:30 - 2:30 PM

Plenary Speaker: Randy Bass, Georgetown
Title: "Caution: The Moving Walkway is Ending": Imagining a Future for Higher Education

2:30 - 3:00 PM
Interactive Sessions: Quick-Fire Talks
3:00 - 3:30 PM
Interactive Sessions: Roundtable Discussions
3:30 - 4:20 PM

Spotlight on CMU Teaching, Session B
4-Corner Cutting-Edge Immersive Experiences, Lightning Talks, TAR Posters & TEL Demos
Appetizers and beer provided

4:20 - 4:30 PM
Amy Burkert: Closing Remarks + People's Choice Awards
Submit an abstract for a Poster and/or TEL Demo:
Lightning Talk Teaching Showcase

Do you have a cool classroom activity, assignment or teaching method that someone might be able to adapt for their context?

Share what you're doing in the classroom in a brief, 5-minute lightning talk

Presenters will have a table and can share resources (sample materials, poster, etc.) to accompany lightning talk

Teaching As Research (TAR) Poster

Share qualitative and/or quantitative data on student learning outcomes. Data required.

Poster template provided

Show and TEL: Technology-Enhanced Learning Demos

Like a poster session, but presenters bring their laptop, rather than a poster, and informally demo TEL as participants mingle.

If showcasing student work, can either present it anonymized or invite 1-2 students to share their own work.
---
Quickfire Talk videos
Poster submissions

And more information on the event
Register to Attend and add this event to your calendar: 
Teaching & Learning Summit, Thursday, November 1, 2018 from 12:30-4:30pm, in Rangos & McKenna-Peter-Wright, CUC.