Video: Block Center Celebration
On February 20, 2019, President Jahanian congratulated trustee Keith Block and his wife, Suzanne Kelly, for their visionary gift in establishing the Block Center for Technology and Society, an interdisciplinary project within the Heinz College of Information Systems and Public Policy. 
Video: Activation of Army AI Task Force
 
On February 1, 2019, President Jahanian welcomed Secretary of the Army, Mark T. Esper, along with several elected officials and researchers from nearly a dozen universities, to the activation for the Army AI Task Force at Carnegie Mellon. As the hub for this national effort, CMU will leverage its distinct strengths in artificial intelligence to assist the Army in building a vibrant AI innovation network.
Photo: Visit to CMU-Qatar Campus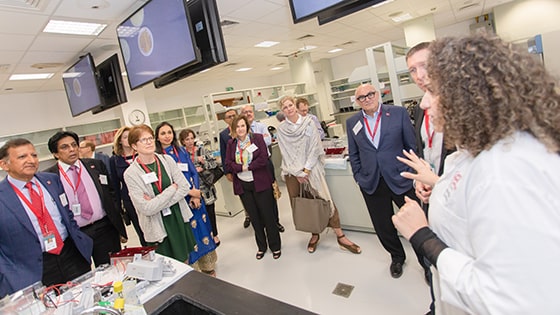 From January 27-28, 2019, President Jahanian and several university trustees visited with students, alumni and faculty at the
CMU-Q campus
in Doha, Qatar. This year marks the 15th anniversary of the campus, which reflects CMU's global mission to impact society and train tomorrow's leaders.
Photo: World Economic Forum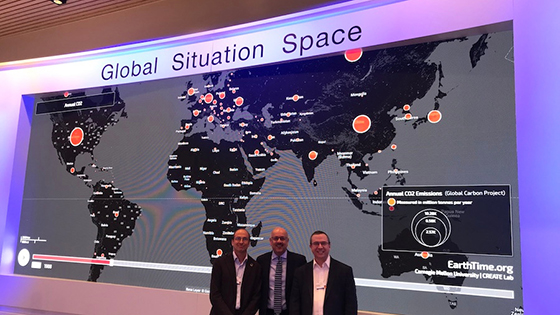 From Jan. 22-25, 2019, President Jahanian attended the World Economic Forum in Davos, Switzerland, where CMU displayed EarthTime, a billboard-sized visualization tool, throughout the week.
Photo: Veteran's Day Ceremony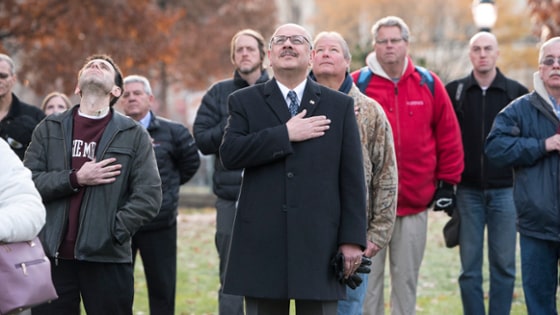 On Monday, Nov. 12, 2018, President Jahanian honored our veterans in a ceremony hosted by the CMU Naval ROTC Unit. The annual commemoration honors and remembers all those who have served our country.
Photo: Community Vigil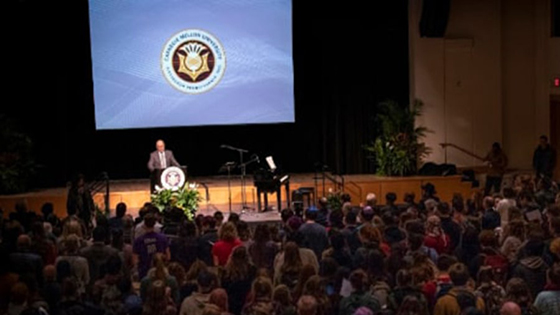 On Saturday, Oct. 27, a hate crime motivated by anti-Semitism took the lives of 11 people gathered to pray in the Tree of Life Synagogue and wounded four others. President Jahanian delivered remarks of unity and comfort to the CMU community.
Video: Dr. Jahanian's Inaugural Address
On Friday, Oct. 26, CMU Inaugurated Dr. Farnam Jahanian as its 10th President. His inspiring inaugural address outlined his vision for the university and introduced two extraordinary gifts that will cement CMU's place as a top-tier institution.
Photo: 2018 Andy Awards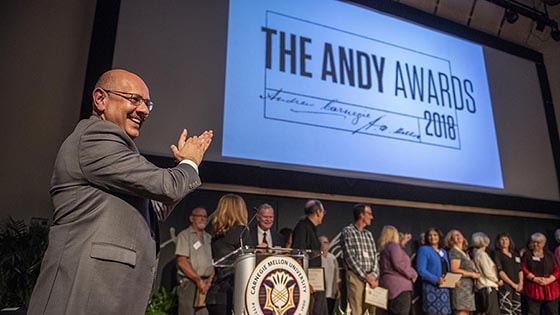 On Wednesday, Oct. 3, President Jahanian joined celebrations for the 24th annual Andy Awards . Named for Andrew Carnegie and Andrew Mellon, the Andy Awards are a tribute to the spirit of teamwork and dedication embodied by CMU's outstanding staff.