Photo: Community Vigil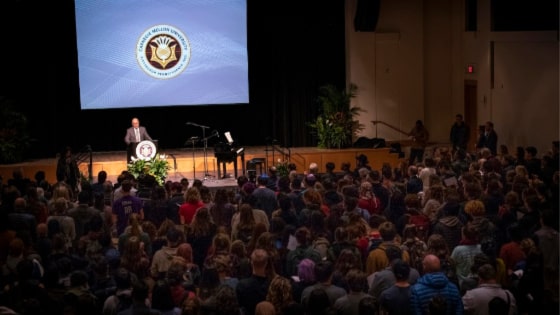 On Saturday, Oct. 27, a hate crime motivated by anti-Semitism took the lives of 11 people gathered to pray in the Tree of Life Synagogue and wounded four others. President Jahanian delivered remarks of unity and comfort to the CMU community.
Video: Dr. Jahanian's Inaugural Address
On Friday, Oct. 26, CMU Inaugurated Dr. Farnam Jahanian as its 10th President. His inspiring inaugural address outlined his vision for the university and introduced two extraordinary gifts that will cement CMU's place as a top-tier institution.
Photo: 2018 Andy Awards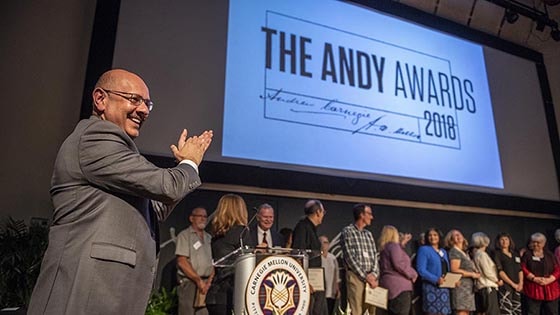 On Wednesday, Oct. 3, President Jahanian joined celebrations for the 24th annual Andy Awards . Named for Andrew Carnegie and Andrew Mellon, the Andy Awards are a tribute to the spirit of teamwork and dedication embodied by CMU's outstanding staff.
Photo: Tepper Quad Grand Opening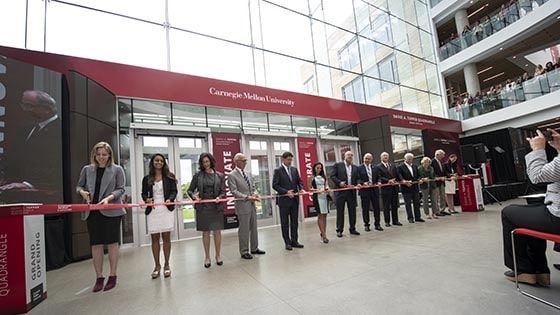 On Friday, Sept. 14, the Carnegie Mellon community celebrated the fruition of alumnus and philanthropist David Tepper's ambitious vision at the grand opening of the David A. Tepper Quadrangle, a new home for the Tepper School of Business, a new hub for campus life and a catalyst for the future of higher education.
Video: 2018 President's Welcome
To kick off orientation week for first-year students, Carnegie Mellon University President Farnam Jahanian welcomed students and parents of the Class of 2022+ to the official start of their college experience. Approximately 1,565 first-year students joined CMU this academic year.
Video: SelectUSA Panel Moderation
Carnegie Mellon University President Farnam Jahanian led an international panel discussion on the innovation ecosystem titled "Growth Beyond the Bottom Line" for the 2018 SelectUSA Investment Summit, hosted by the U.S. Department of Commerce, on June 21 in Washington, D.C. 
Photo: CMU at the Tony Awards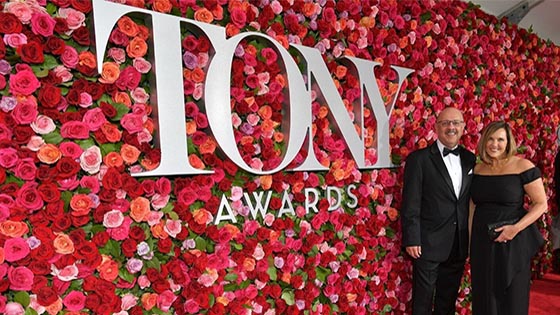 CMU partners with The Broadway League and the American Theatre Wing to recognize a K-12 educator with the Excellence in Theatre Education Award. Dr. Jahanian presented the award to Melody Herzfeld. Also Producer and CMU alumna Jamie deRoy took home three Tony Awards.
Photo: 2018 Staff Picnic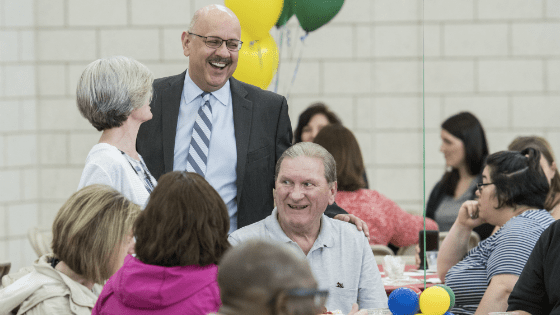 At the end of each academic year, CMU holds a picnic lunch in appreciation of the contributions of campus staff to another successful year. Dr. Jahanian personally thanked many staff members in person at the event on May 24, 2018.