Photo: 2019 Community Picnic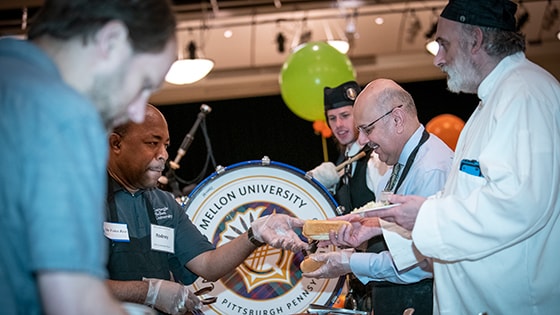 Nearly 4,700 staff members play an integral role in fulfilling CMU's mission. On Wednesday, May 22, President Jahanian helped serve lunch at the 2019 Staff Council Community Picnic celebrating the important and tireless work of our staff.
Photo: 2019 Commencement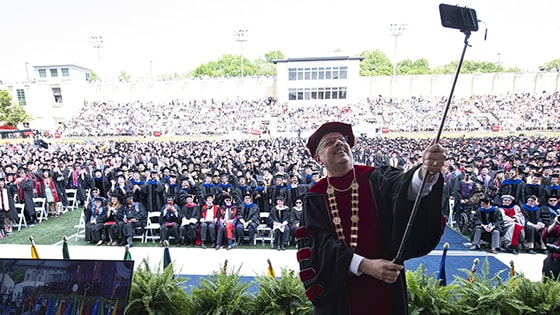 CMU celebrated the Class of 2019 at the university's 122nd Commencement Ceremony on Sunday, May 19. President Jahanian took one last opportunity for a selfie before these students joined more than 113,000 Tartan alumni around the globe. 
Photo: Celebration of Education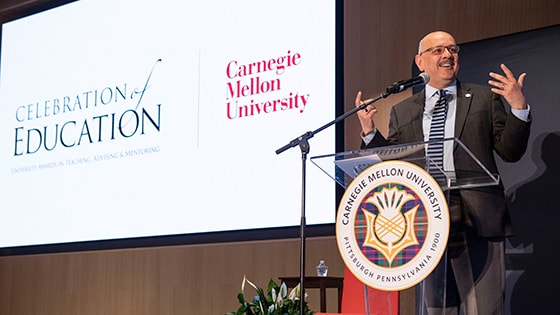 On Tuesday, April 30, President Jahanian presented awards to some of Carnegie Mellon's outstanding  educators at the 2019 Celebration of Education. This ceremony honors our most distinguished faculty, graduate students and advisors for their innovative and impactful teaching.
Photo: Spring Carnival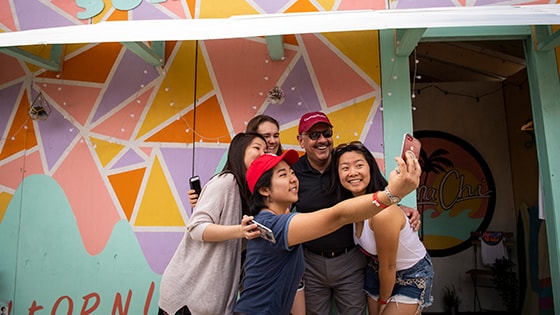 Spring Carnival is CMU's most anticipated weekend of the year. From April 16-18, President Jahanian participated in dousing the deans, applauding the Buggy victory, and celebrating the creative feat for booths on the Midway.
Video: Block Center Celebration
On February 20, 2019, President Jahanian congratulated trustee Keith Block and his wife, Suzanne Kelly, for their visionary gift in establishing the Block Center for Technology and Society, an interdisciplinary project within the Heinz College of Information Systems and Public Policy. 
Video: Activation of Army AI Task Force
 
On February 1, 2019, President Jahanian welcomed Secretary of the Army, Mark T. Esper, along with several elected officials and researchers from nearly a dozen universities, to the activation for the Army AI Task Force at Carnegie Mellon. As the hub for this national effort, CMU will leverage its distinct strengths in artificial intelligence to assist the Army in building a vibrant AI innovation network.
Photo: Visit to CMU-Qatar Campus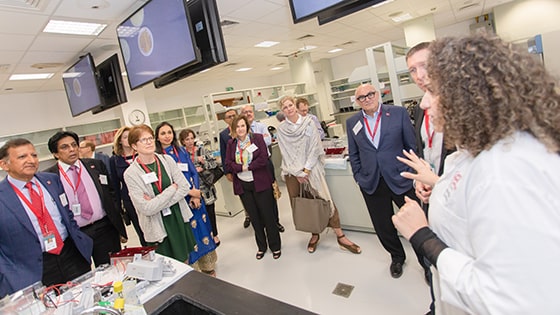 From January 27-28, 2019, President Jahanian and several university trustees visited with students, alumni and faculty at the
CMU-Q campus
in Doha, Qatar. This year marks the 15th anniversary of the campus, which reflects CMU's global mission to impact society and train tomorrow's leaders.
Photo: World Economic Forum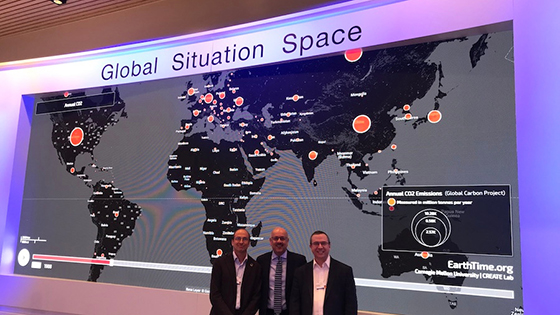 From Jan. 22-25, 2019, President Jahanian attended the World Economic Forum in Davos, Switzerland, where CMU displayed EarthTime, a billboard-sized visualization tool, throughout the week.