Photo: CMU's Energy Week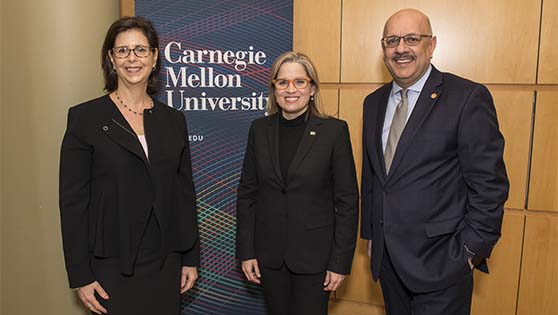 Interim Provost Laurie R. Weingart (left) and President Jahanian met with San Juan Mayor Carmen Yulín Cruz prior to her participation in the Distinguished Mayors Forum on Energy and Resilience as part of CMU's annual Energy Week. 
Photo: Presidential Announcement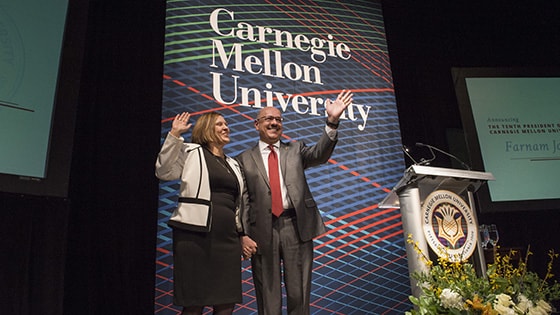 Carnegie Mellon's 10th president Farnam Jahanian and his wife Tris greet campus members who were on hand for the presidential announcement celebration on March 8. Visit the president's page or more information on the event, including highlights and a recording of the webcast.
Video: 50th Anniversary Convocation
Interim President Farnam Jahanian addressed the campus community, alumni and special guests at the 50th Anniversary Founders Convocation on November 10, 2017. He also introduced keynote presenter and Pulitzer Prize-winning journalist Thomas Friedman. Check out more photo and video highlights of the celebration.
Photo: World Economic Forum in Davos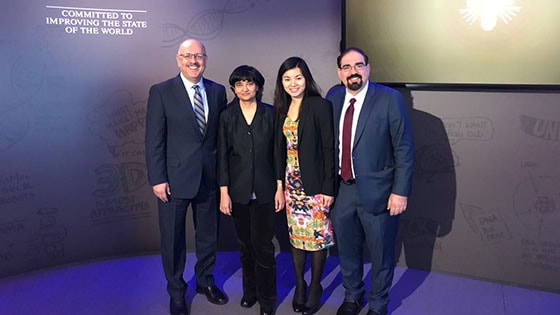 Interim President Farnam Jahanian poses with professors Rita Singh, Jean Yang, and Marios Savvides following the CMU IdeasLab Faculty Presentations at the World Economic Forum in Davos on Friday, January 26, 2018. The faculty presented their work in the area of biometrics and cybersecurity.
Photo: Hazelwood Green Groundbreaking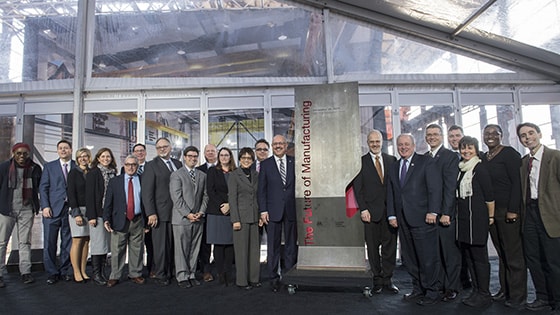 On November 20, 2017, Interim President Farnam Jahanian gathered with more than 250 dignitaries from business, government and Carnegie Mellon University came together to celebrate the groundbreaking of the site of one-of-a-kind hub for advanced manufacturing, a collaboration among researchers, the U.S. Defense Department and companies from across the region.
Photo: CMU-Q Dean Installation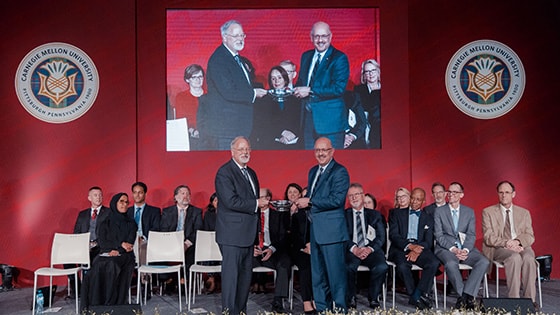 Dr. Jahanian presents a quiache, a traditional Scottish vessel, to the new dean of CMU-Qatar, Michael Trick, during an installation ceremony at the Education City campus on November 5, 2017.
Photo: Family Weekend 2017
Dr. Jahanian visited with students at the Paws to Relax open house during Family Weekend, an annual event that brings together students, their families and friends for several days of a unique Carnegie Mellon experience.