Neighbors Helping Neighbors
Carnegie Mellon University's Commitment to Community Engagement
Since Andrew Carnegie founded the Carnegie Technical Schools to educate the children of Pittsburgh factory workers, community engagement has been part of CMU's "DNA." But it's not just part of our past. It's a critical part of how we operate today.
During the last academic year, CMU students volunteered over 63,000 hours, raised over $122,000 for local food security, and mentored over 6,000 high school students in computer science – and those are just a few examples.
Find out more about how CMU is helping our community through service, education, research and arts and culture.
Serving Our Community
At CMU, service isn't just the right thing to do. Nurturing and strengthening the communities where our neighbors live, work, and play is an essential part of every student's education, from day one through graduation.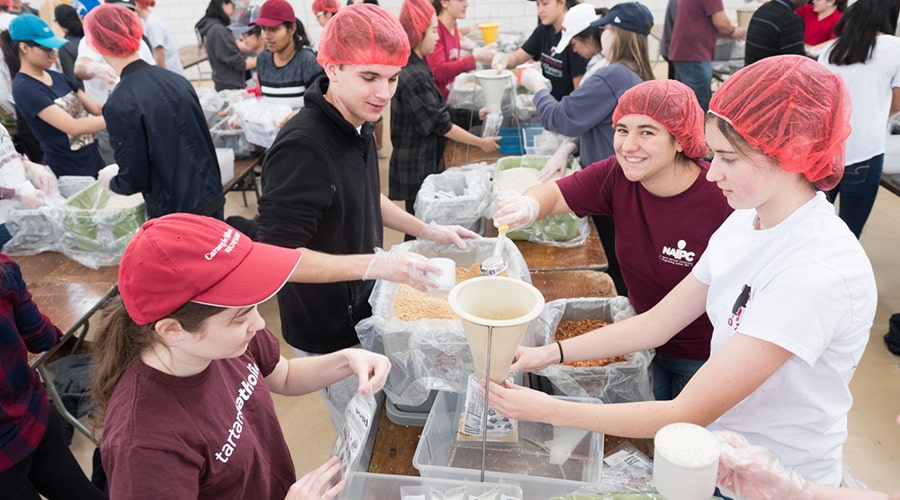 In November 2019, the CMU community packaged over 30,000 meals for families in need at the annual Rise Against Hunger event.
On Service Saturdays, students volunteer to help Pittsburgh non-profits such as Computer Reach, which refurbishes and donates used hardware to underserved schools and non-profits, and Family House, which offers a home away from home for families of patients visiting Pittsburgh for life-saving medical treatment.
CMU students are free to serve in the way they find most meaningful. There are more than 40 student-run organizations on campus whose primary purpose is community service. Some of these include FORGE (Facilitating Opportunities for Refugee Growth and Empowerment), which provides mentoring, tutoring, and support for immigrant families and their children; Habitat for Humanity, which builds houses for low-income families; Camp Kesem, which runs a summer camp for kids whose parent or parents have cancer; and Strong Women Strong Girls, a national mentorship program for girls and college women in the Pittsburgh area.
Learn how the Office of Student Leadership, Involvement, and Civic Engagement (SLICE) connects CMU students with service organizations and activities.
Educating the Next Generation
As a higher education institution, CMU has a special obligation to equip both learners and educators with the tools they need to succeed. Our education initiatives mentor and support learners of all ages and backgrounds. Many of them focus on computer science, artificial intelligence (AI), and robotics – fields that offer important pathways to opportunity and mobility.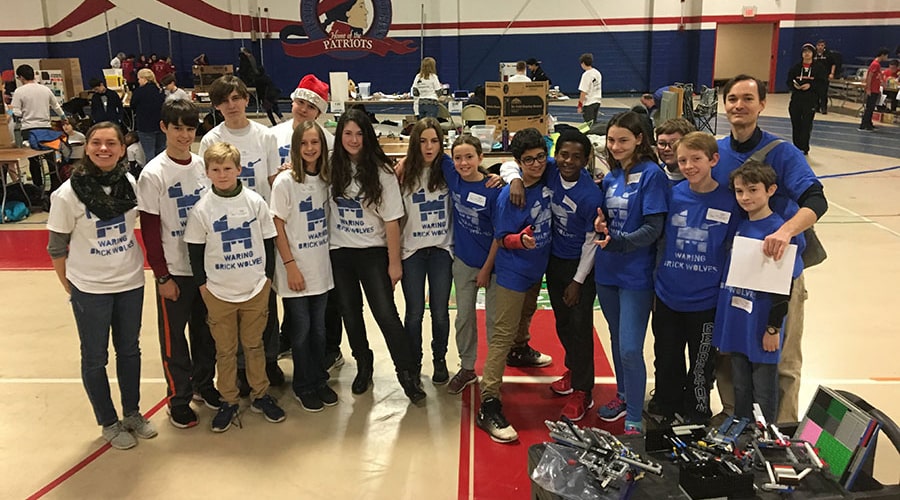 Francis Schaeffer, teacher at Waring School in Beverly, MA, used CMU's Robotics Academy resources to start the Blackwolves robotics teams.
Few things pique people's interest in science and technology like robotics. The Robotics Academy, housed in CMU's Robotics Institute, explores this fascinating field through research-based and classroom-tested curricula. On a global scale, the Institute has trained over 3,000 teachers and its materials have been used in over 16,000 schools. Locally, through a pilot with the non-profit Bridge Pittsburgh, the Institute also runs the SMART Robotics Technician Curriculum. These micro-certification courses in mechanical design, circuitry, fabrication, software, and robotics integration help people quickly track into careers in advanced manufacturing and robotics.
Training the teachers is another important aspect of our outreach. Each year, on average, 175 educators from around the region participate in professional development sessions led by CMU's Leonard Gelfand Center for Service Learning and Outreach. The sessions are designed to help them introduce cutting edge research and the latest technology to their classrooms.
Research with Impact
When CMU faculty and students collaborate with government and neighborhood leaders, non-profit organizations, and businesses or startups, it is an expression of our deep commitment to societal impact.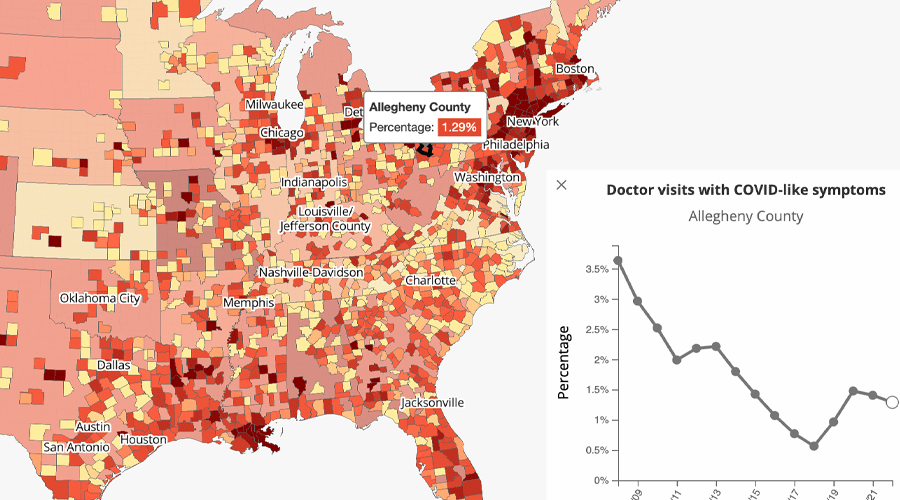 CMU's Delphi Research Group partnered with numerous organizations, including Facebook and Google, to track COVID-19 and better forecast its spread at the county level.
When the COVID-19 pandemic hit during the last academic year, CMU faculty leveraged years of research and expertise in forecasting nationwide influenza activity to predict the spread. Through a partnership with Facebook and Google, the research team estimated the spread of the virus weeks in advance. CMU researchers used those estimates to provide forecasts that helped hospitals, first responders, and other health officials anticipate the number of COVID-19 hospitalizations and ICU admissions likely to occur in their locales several weeks in advance. As a result, local, regional, and national leaders were ready to respond and deploy resources to the communities where the virus hit hardest.
Motivated by the need to improve the region's air quality and community health, CMU researchers were recently awarded a grant from the U.S. Environmental Protection Agency (EPA) to monitor regional pollution. They deployed air quality monitors in neighborhoods throughout Pittsburgh and Allegheny County, gathering hyperlocal, real-time pollutant levels for which the EPA had no existing data. The resulting data was valuable for determining exposure levels, implementing traffic control strategies, and tracking progress in reducing pollutants.
Arts and Culture
The arts, design and architecture were an essential part of Andrew Carnegie's founding vision for Carnegie Mellon University.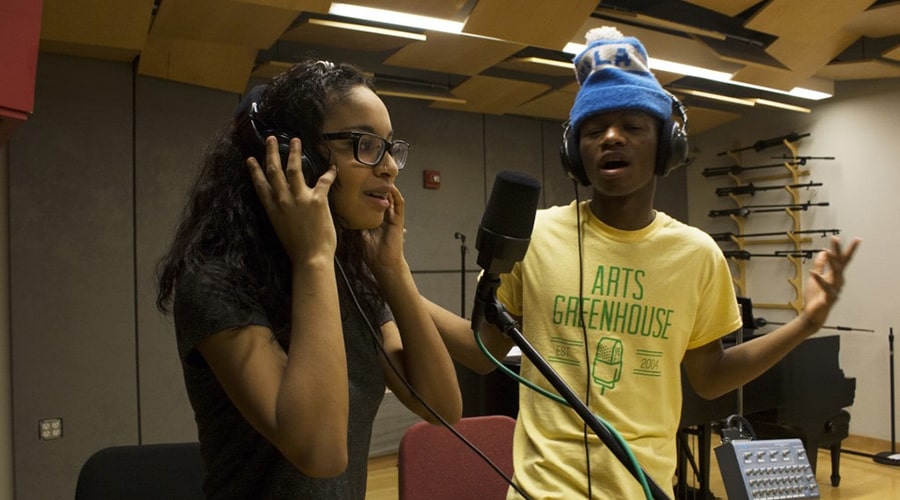 Founded in 2003, Arts Greenhouse is an arts and humanities education initiative that fosters the expressive and intellectual development of Pittsburgh's youth.
To this day, arts and culture play an integral role in the foundation of education for every student; all have the opportunity to explore their creativity here. That creative knowledge has moved beyond the campus community, reaching into the neighborhoods surrounding campus and even extending further into our city, state and region.
Through arts and culture, Carnegie Mellon helps to frame problems, construct solutions, challenge audiences, perfect craft, and celebrate human vitality. From Project RE, a collaborative space to reuse materials, rebuild communities, and restore lives, to our partnership with the Carnegie Museum of Art on the photo archive for Charles "Teenie" Harris, we continue to build on the rich history of free expression and the world-changing capacity of creativity to transform and advance culture and society.
Exposure to creative experiences positively influences our community, helping members to become more empathetic human beings, more aware of the larger world in which they will make their mark, and more well-rounded individuals who will lead with ideas and bring unparalleled experience, ethics and passion into the future.
Impact by the Numbers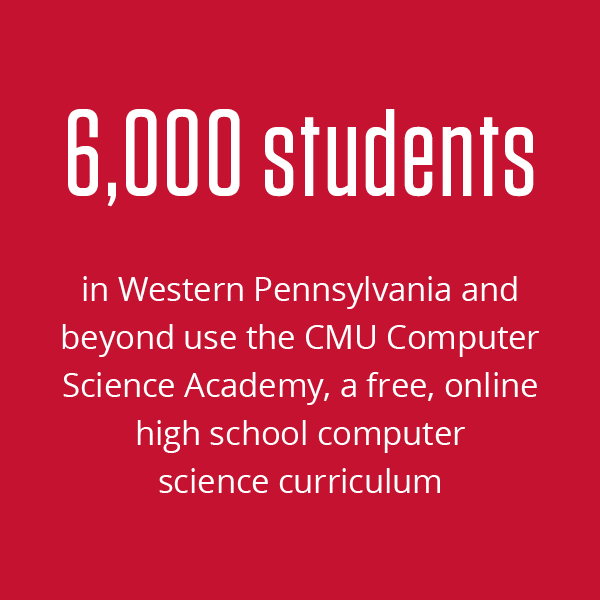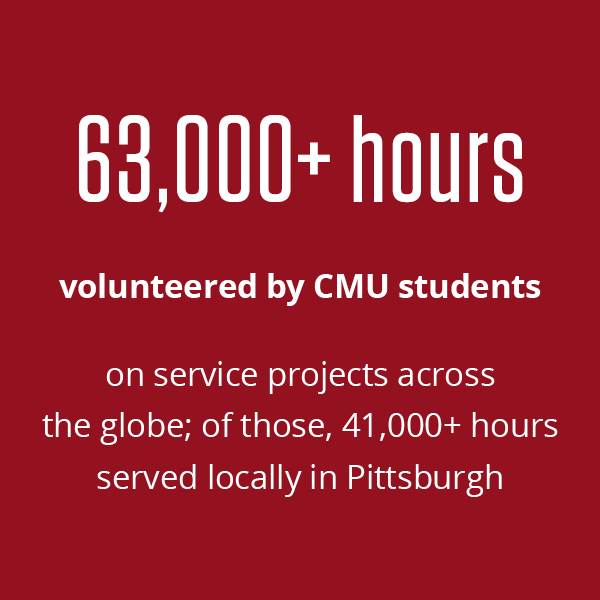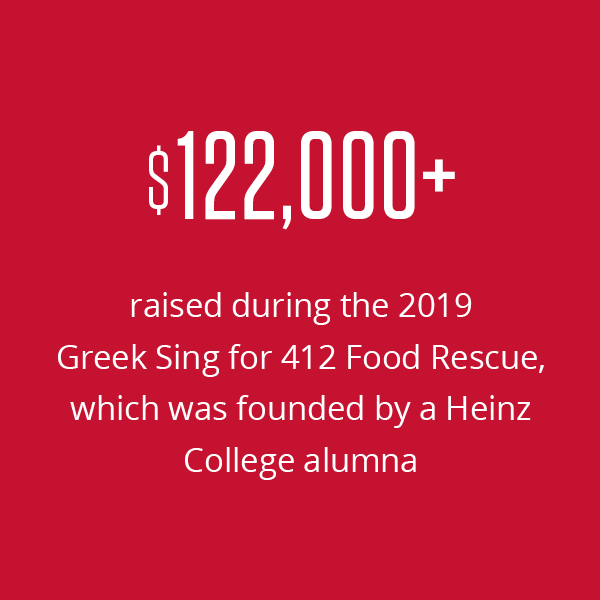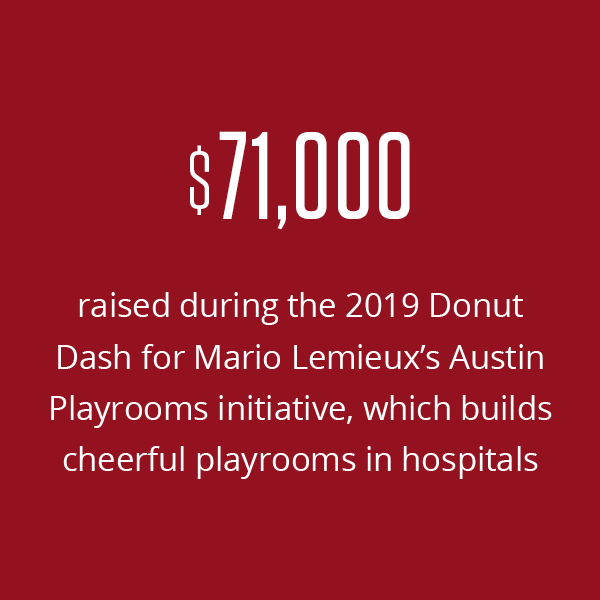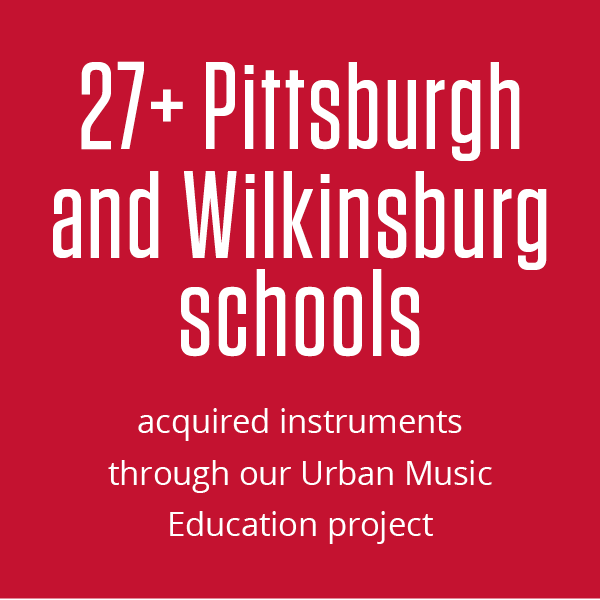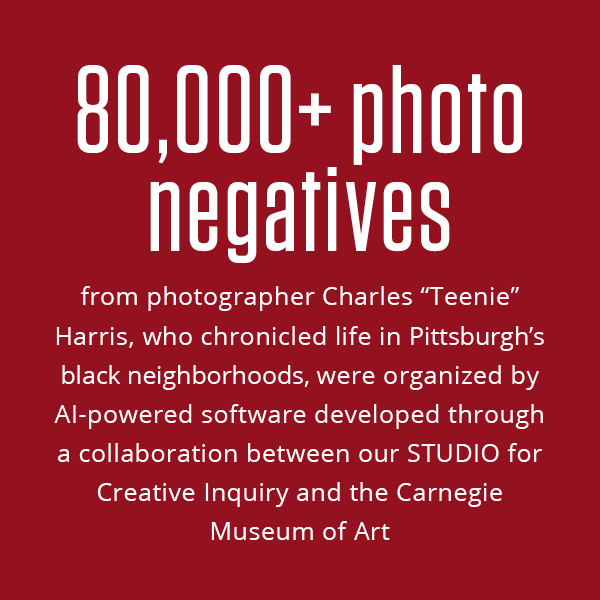 Get Involved
Volunteer or partner with us to help create lasting economic and community impact in the region.