May 18, 2023
A Time to Celebrate
Dear Members of the CMU Community,

Following our exciting Commencement exercises on the CMU Pittsburgh campus this past weekend, I am reminded of how Carnegie Mellon's faculty, students and staff continue to have an impact on the world through our collective research, creativity and innovation.

I am immensely proud of how our global community is advancing our mission to transform society through work that matters. Your dedication has fueled developments across disciplines that have not only benefited CMU, but have extended beyond our campus to improve our region, nation and world. Thanks to your commitment to our university, we are engendering advancements across the future of education, the CMU experience, research and societal impact.

This past year, we accelerated our community's momentum, and I am pleased to share with you a few of the highlights that exemplify our collective success.
A Buzzing Campus

We returned fully to campus this past fall for the first time since the start of the pandemic. Kicking off the year with a thrilling Orientation Weekend, we welcomed the Class of 2026+, including students from 46 U.S. states and 42 nations around the world, with alumni, parents, family members, friends and loved ones. We enjoyed quintessential CMU traditions like Parents Weekend and Spring Carnival. During Commencement exercises on our Doha, Pittsburgh and CMU-Africa campuses, we welcomed 6,500 graduates to our Tartan alumni community of 125,000!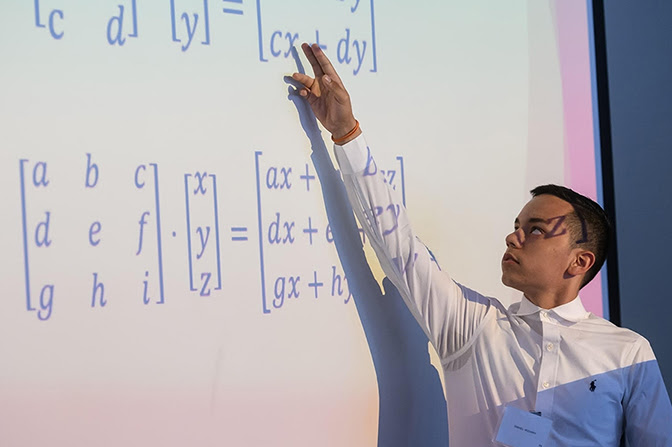 Building on Historical Momentum

Our community continued to drive the future of education by preparing tomorrow's leaders for careers that have not even been invented yet. Over the course of the year, we made several important advances across our educational mission.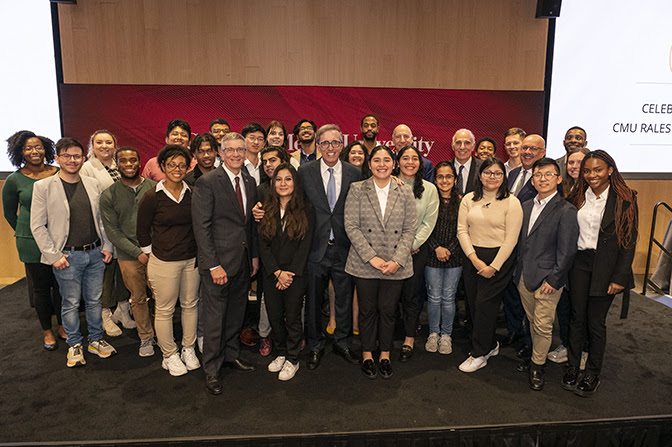 Recognizing our students' time at CMU is extremely formative both personally and professionally, we continued ongoing work prioritizing holistic student success and well-being as well as a unique experience that fosters professional growth.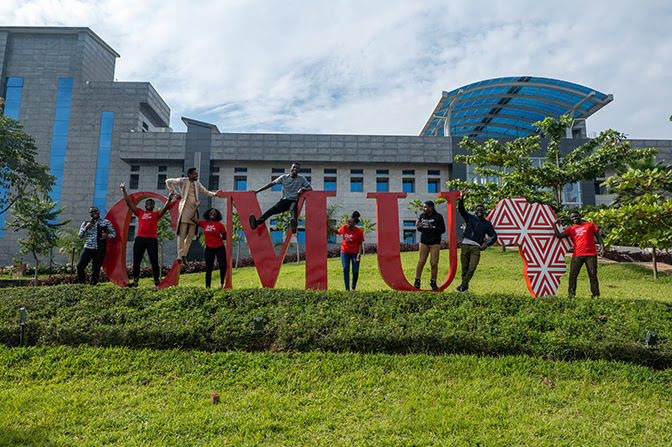 We advanced our leadership at the nexus of science, technology and society by innovating in multidisciplinary ecosystems and through the generous contributions from our partners.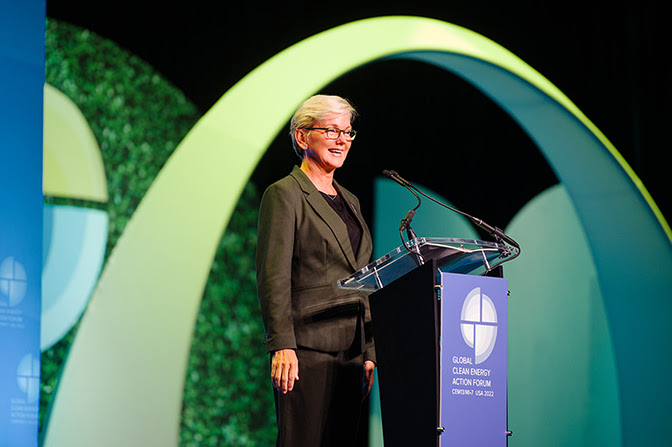 What has always set CMU apart is our passion for engaging in collaborative discussion, research and creative inquiry to shape society. Over this past year, we broadened our societal, cultural and economic impact by enriching our external partnerships and through the achievements of our faculty, students, staff and alumni.
A CMU contingent

 

joined President Biden for the signing of the historic CHIPS and Science Act, a $280 billion package aimed at boosting semiconductor manufacturing in the U.S., improving global competitiveness and fueling scientific research and development.
CMU teams and centers have received major federal funding awards to advance innovative research, such as the

 

NSF AI for Societal Decision Making Institute, U.S. Department of Transportation National University Transportation Center and the

 

NASA Institute for Additive Manufacturing.
CMU alumni, faculty and staff continue to act as thought leaders and advisers shaping the national research and education agenda by serving appointments or leadership roles on the

 

President's Advisory Committee for Trade Policy and Negotiations, the Geographic Geospatial Science Committee of the National Academies of Sciences, Engineering and Medicine,

 

the President's Export Council

 

and

 

U.S. Chamber of Commerce's Commission on Artificial Intelligence Competitiveness, Inclusion and Innovation.
A testament to our work and research that combines clean energy technologies and policy solutions to advance the global energy transition, Carnegie Mellon co-hosted the international 2022

 

Global Clean Action Energy Forum

 

in Pittsburgh with the Department of Energy, welcoming thousands of delegates, energy officials, leaders and innovators to share their ideas on how to move toward a clean and sustainable future.
CMU collaborated with more than 90 partners in the Pittsburgh region to help Southwestern Pennsylvania

 

win a $62.7 million Build Back Better Regional Challenge grant. The grant aims to expand the reach of robotics, AI and automation to more sectors of the regional economy, including through CMU's Manufacturing Futures Institute, Block Center for Technology and Society and Robotics Institute.
Students and faculty from the School of Drama in our College of Fine Arts produced Godspell on campus for the first time in 50 years.
The Grammy Awards recognized two CFA alumni making incredible strides in the arts.

 

Patina Miller (School of Drama)

 

took home a Grammy for her role in Into the Woods.

 

Shauna Quill (School of Music)

 

was part of a historic win for the New York Youth Symphony, the first youth symphony to ever win a Grammy.
Four CMU alumni were

 

nominated for seven Tony Awards

 

this season. As the exclusive higher education partner of the Tony Awards, CMU will award a joint CMU-Tony Excellence in Theatre Education Award during this year's ceremony on June 11 – I hope you'll tune in.
A Bright Future

As evidenced by these highlights, our community has innumerable reasons to be optimistic about the future. We have accomplished so much together, and the success of our Make Possible campaign positions us to continue capitalizing on our momentum. I am so grateful for all of your passion and commitment to this institution, and I am very excited to see many of you back on campus for the beginning of the fall semester in a few months. In the meantime, please enjoy a wonderful summer filled with rest, relaxation and good company!

Sincerely,

Farnam Jahanian
President
Henry L. Hillman President's Chair