August 29, 2022
A New Year at CMU
Dear Members of the CMU Community,

Hello, and welcome to an exciting new academic year at Carnegie Mellon!

To our returning students, we are thrilled to welcome you back! I hope you all had a restful summer. And to the more than 5,000 incoming students joining CMU across all locations, welcome to Carnegie Mellon University! We are truly delighted to have you join our community. Especially after the past two years of the pandemic, it is a joy to see our campuses full of life. I am also grateful for our extraordinary faculty and dedicated staff's unwavering commitment to CMU, to our mission and to our students.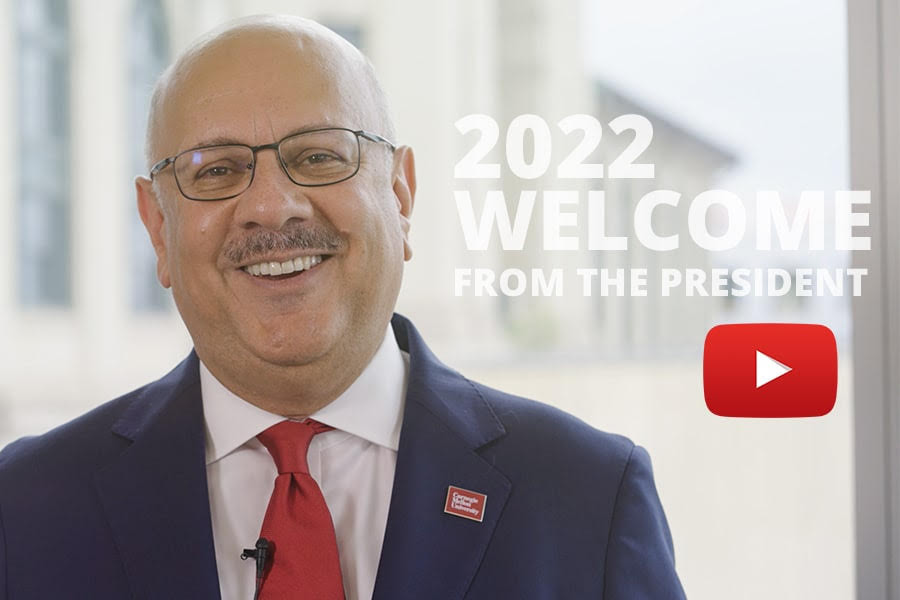 This year, we once again broke the university's previous record for the number of applicants vying for a spot in our incoming undergraduate class, and about 45 percent of admitted students accepted their offers to attend CMU – also a new record! Our new undergraduate and graduate students – from 46 U.S. states and 85 countries – chose CMU because we offer a transformative education and experience that emphasizes holistic development. You may have noticed improvements underway on our campuses that are designed to promote individual growth and community engagement. From new residence halls to the construction of the Highmark Health Wellness and Athletics Center, we are building and sustaining a physical environment that meets our community's needs in mind, body and spirit.

Welcoming our newest Tartans offers us a chance to create new connections and bring new perspectives into our conversations. Together with our commitment to inclusion, this open exchange of ideas is truly at the heart of our intellectual landscape, and I hope each of you will take advantage of the spontaneous learning and discovery that comes from engaging with one another. We can embrace and nurture this sense of community by letting mutual respect and compassion guide our interactions. Whether you are brand new to CMU, a longtime staff or faculty member or somewhere in between, I hope this year brings opportunities to find connections, break down boundaries and forge new collaborations.

There is so much to be inspired by at Carnegie Mellon, especially at a time when our strengths in cutting-edge science and technology are aligned with the needs of society, and when our arts and humanities leadership is helping to shape our modern culture. On behalf of the university's leadership team, I wish you all an engaging and productive academic year ahead, and I look forward to seeing you around campus!

Warm regards,

Farnam Jahanian
President
Henry L. Hillman President's Chair