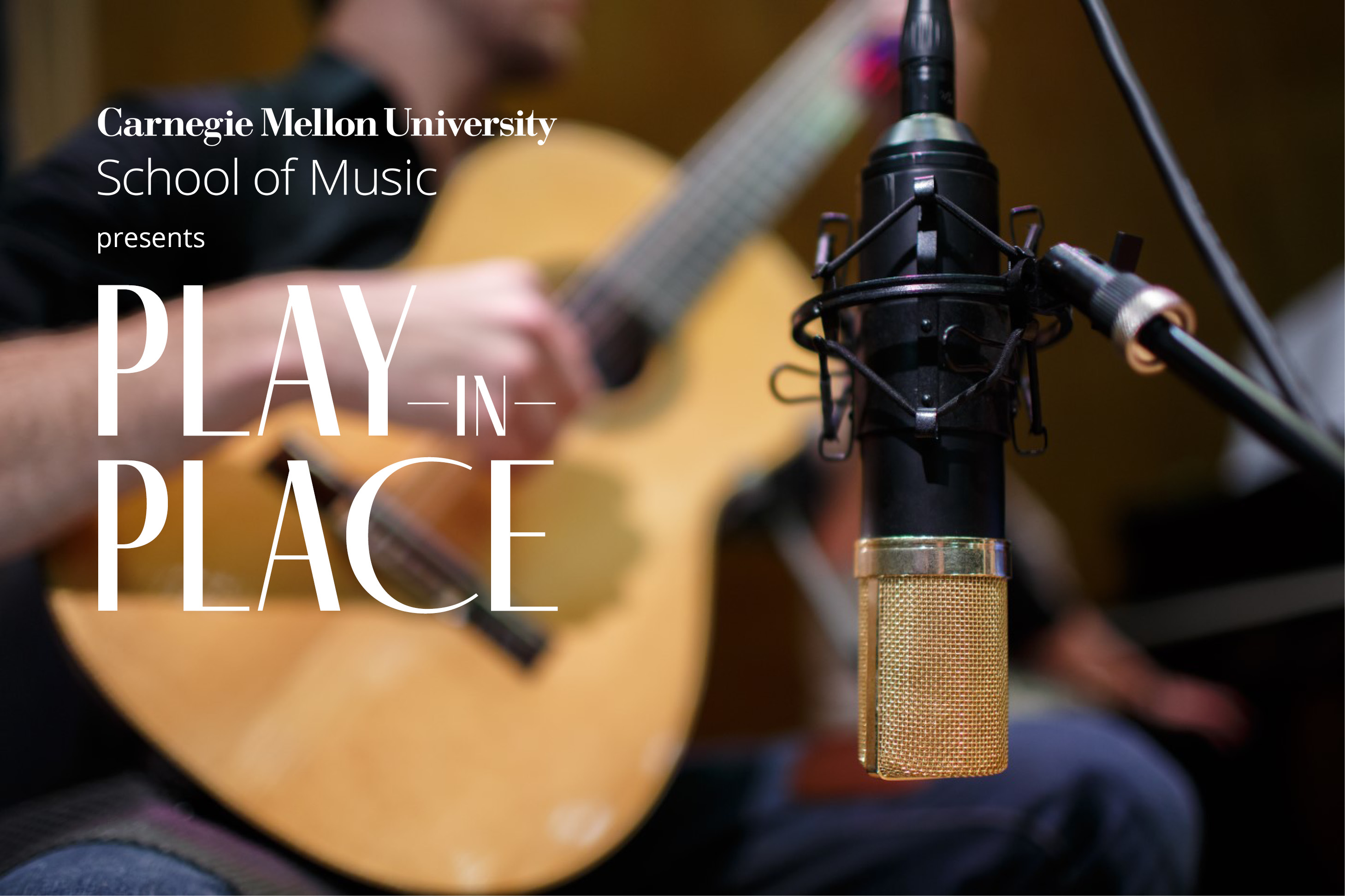 Music happens in spite of our circumstances, not because of them.
The Carnegie Mellon University School of Music had a successful year of hybrid in-person and remote learning in 2020-2021, while adhering to CMU's COVID-19 safety protocols. Students and faculty gave many exhilarating virtual performances. Despite all challenges, CMU's spirit of innovation is still strong, demonstrated by current students, faculty and alumni.
In this running series, Play–In–Place, the talented artists of the School of Music submitted performances recorded in their living rooms, porches, offices, back yards, or wherever they are. See the videos below, or subscribe to our YouTube channel to get notifications of new videos.
Play–In–Place is open to students, faculty and alumni of the CMU School of Music. Please submit your videos below, and see the submission guidelines here. We may not be able to post every single submission, but a selection will appear on this page and on our YouTube channel.
---
Videos
Faculty members Andrés Cárdenes and Monique Mead perform with their children, Isabel and Tino, playing "Lo, How a Rose E'er Blooming," "The Christmas Song," and "Ding Dong Merrily on High" arranged CMU alumnus Sean Salamon.
---
Alexander Chen graduated in May 2020 with his bachelor's degree in cello performance and Kelia Ingraham just earned her master's degree in collaborative piano. Together, they perform Astor Piazzolla's "Oblivion": Chen from his home in Philadelphia and Ingraham from her home in Pittsburgh.
---
Alexander Chen and Kyle Johnson are both May 2020 graduates in cello performance. They perform Shostakovich's "Prelude" for 2 cellos and piano: Chen from his home in Philadelphia and Johnson from his home in Pittsburgh (also playing the piano part).
---
Tino Cárdenes is a student in the Carnegie Mellon Music Preparatory School studying piano with Jeffry Harris. Here Tino performs all the parts for Rachmaninoff's Romance for Six Hands, recorded and edited by him from his home in Pittsburgh.
---
Katelyn Croft, a 2020 graduate with her master's degree in performance (harp), here performs an excerpt from her spring recital, recorded from her apartment in Pittsburgh. The piece is Bach's Bourree from Violin Partita No. 1, Op. 45, arranged by M. Grandjany.
---
Ian Woodworth graduated in 2016 with his master's degree in music performance (oboe), having studied with Cynthia Koledo DeAlmeida, and he continues to freelance in and around Pittsburgh. Here he is performing the exposition from the first movement of Haydn's Symphony No. 6 "Le Matin," recorded from his home in Regent Square.
---
Maya Das is a student in the Carnegie Mellon Music Preparatory School, studying classical guitar with James Ferla, artist lecturer in the School of Music. For Play-In-Place, Maya performs Carcassi's Study in A, Op.60, No.3.
---
The CMU Jazz Combo recorded this extraordinary performance of George Gershwin's "Embraceable You," under the direction of Eric DeFade, Director of the Jazz Orchestra and Artist Lecturer in Saxophone. The CMU Jazz Combo is comprised of students from several different departments: Julianna Austin, vocals; Justin Bender, saxophone; William Meckley, saxophone; Griffith Gentilcore, trumpet; Andrew Lei, bass; Nicholas Pawlowski, drums; and Miles Scharf, guitar. Each audio track was recorded separately from each student's quarantine space and edited together with a special slideshow.
---
Chantal Braziel is studying for her master's degree in vocal performance at CMU. Here, she performs "Climb Every Mountain" from "The Sound of Music" from her home in Pittsburgh.
---
Next up on Play-In-Place we have Emily Gallagher, a 2019 graduate and assistant at the School of Music, and Joseph Sandler, a 2019 graduate and current Advanced Music Studies student. They perform the duet "Where's My Shoe?" from the 1963 musical "She Loves Me" by Bock and Harnick from their quarantine in Pittsburgh, recorded by their roommate and fellow School of Music graduate Ivan Plazačić.
---
Ziming (Christopher) Zhu, a master's candidate in music, performs the lively "Le Basque" from "Five Old French Dances" by Marin Marais, for horn and piano.
---
Brian Kelley, a 2019 graduate and current Advanced Music Studies student, performs his own arrangement of "The Swan" from Camille Saint-Saëns' Carnival of the Animals for tuba and harp, from his apartment in Pittsburgh.
---
John Quinlan is in the BXA interdisciplinary degree program, studying oboe performance and computer science. Here he performs the introduction to Camille Saint-Saëns' Sonata for Oboe and Piano, from his home in La Grange Park, IL. Says Quinlan: "I wanted to thank my oboe professor, Cynthia DeAlmeida, for helping me with this piece in our Zoom lessons!"
---
Vocal major Alyssa Vieau and composition major William Torres, Jr. created this moving version of "Stay Awake" from Mary Poppins, arranged by William Torres, Jr. — while quarantined 500 miles apart.

---
Submit a Performance
We welcome Play–In–Place video submissions from current students and faculty of the CMU School of Music. Please use the linked Google Form to submit your information and your video file, in any format. Submission Guidelines.
---
"Play–In–Place" Submission Guidelines
Though recitals and ensemble performances have been canceled or postponed, the music-making continues! Play–In–Place will be a series of musical performances by CMU School of Music students, faculty and alumni recorded wherever they may be and shared with the wider community. Here are the guidelines for submitting a recording:
Perform in whatever space you have available, whether it is your living room, porch, office, dorm, back yard, etc.
Recommended length of performance is 1 to 3 minutes.
Videos must be recorded in horizontal orientation.
The better audio you can provide the better, but we are not looking for professional quality audio. Your performance is the most important thing. Use whatever audio and video you have available to you. Please listen to your recording carefully after you make it and make adjustments. For example, if you are overwhelming your phone's microphone, try it with your device on the other side of the room.
Play whatever musical selection inspires you. It could be an excerpt you find beautiful or exciting that you are preparing for a recital or a gig. It could be a theme from your favorite popular song or movie, or even a piece you've written yourself.
You must adhere to social distancing guidelines at all times, including in this performance, so it should be a solo performance (unless you are performing with a partner or family member that you are already self-quarantining with). However, feel free to dream up creative ways of using technology to perform with other people - or with yourself!
Please do not add any titles or captions yourself; we will do that before publishing your video. For the same reason, do not introduce yourself verbally.
Use the Submission Form to send us the important details and to upload your file.
Have fun!