Music Entrepreneurship
We believe that the current times offer unprecedented potential for musicians to thrive as entrepreneurs. The Music Entrepreneurship program trains you to identify new performance and business opportunities—and take action. Anyone with a passion for creating something new, making an impact on society, or solving problems will benefit from the content and professional connections offered by the Music Entrepreneurship faculty. Students pursuing a more traditional career path benefit from classes in mental training, professionalism, and audience engagement. This is an experience-based program, tailored to help you create your unique path in music and connect with others who will support you.
In addition to electives, we offer a one-year Advanced Music Studies certificate program in Music Entrepreneurship.
Professional Partnerships
Through the Music Entrepreneurship program, you will meet professionals from organizations ranging from Twitter to Tanglewood and explore the many areas in which musicians are needed. We are also able to connect you with mentors in your area of interest and offer internships with community partners such as the Pittsburgh Symphony Orchestra, WQED, new music ensembles, Carnegie Museums, and Pittsburgh Opera as well numerous schools, local businesses, and international festivals.
Music Start-ups
For those ready to pursue a big idea, the Music Entrepreneurship Certificate offers the structure to work on your business while you're in school so that you can work in your business once you graduate.
---
Preview of "Mental Training for Peak Performance"
See below for course listings
Elective Courses Offered:
The Freelance Musician
Faculty: Monique Mead
Interpersonal skills, stage presence, and a professional portfolio are the deliverables for this class.  Faculty guests share their experiences in handling the many aspects of professional life that are not performance-related.
You will learn to:
Lead with purpose: articulate your contribution to society and the difference it makes.
Create a professional portfolio (bio, photo, contract, invoice, mission statement, etc.)
Practice interpersonal skills (introductions, negotiating payment, proposing a toast, giving interviews, signing autographs, etc.)
Make an impact by the way you present yourself on stage.
Develop an audience-centered approach to public speaking and programming.
Communicate professionally with your client as your plan and perform an event.
Demonstrate proper etiquette relating to attire, timeliness, payment, email, telephone, dining, thank-you's, and social media
Guest Speakers: Maria Spacagna, Cynthia DeAlmeida, Andrés Cárdenes, Gregory Lehane, Thomas Douglas, Jennifer Aylmer, Daniel Teadt, and David Harding.
Reading List:
"The Inner Voice," Renée Fleming.
"Beyond Talent: Creating a Successful Career in Music," Angela Beeching.
"The Savvy Musician," David Cutler.
"Start With Why," Simon Sinek.
"Stage Performance," Livingston Taylor.
Mental Training for Peak Performance
Faculty: Monique Mead
Everyone gets nervous, but it doesn't need to be debilitating.  In this course you learn strategies to calm your mind and turn nervous energy into mental focus.  Guest faculty, PSO musicians, and visiting artists share their challenges and offer strategies for audition preparation, effective practicing, self-care, conflict resolution, and other mind-body topics. 
By the end of this course, you should be able to:
Better understand how the mind works
Use techniques to counter nervousness and feel more relaxed on stage
Manage time wisely and establish an effective practice routine
Get the most out of your private lessons and student/teacher relationships
Practice professional courtesy in ensembles, and know what is expected of you at auditions, competitions, and festivals
Manage a crucial conversation in stressful situations
Guest speakers: Jeanne Baxtresser, Craig Knox, Luz Manriquez, Lorna McGhee, and Stephen Neely. 
Spring 2021 Schedule: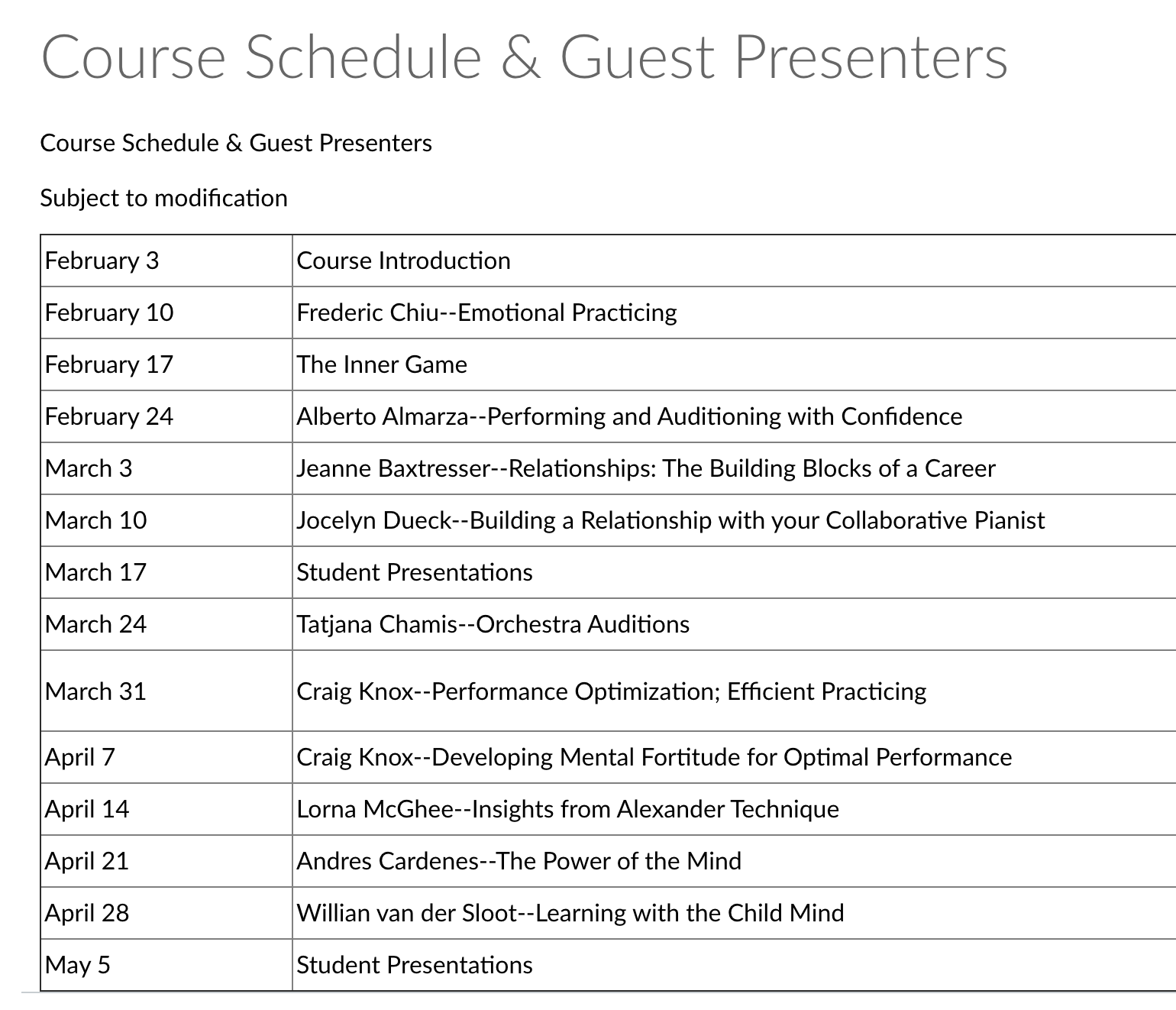 Art of Audience Engagement
Faculty: Monique Mead
Who is your audience?  What do they care about?  How will you connect?  These are the questions you'll answer as you choose from a diverse range of community partners and develop an innovative, interactive program with a student team.  Discover how much fun performing becomes when formality falls away and you create something that fully engages your audience!
You will learn to…
Make connections between current events, the business community, and your current repertoire to create musical events that add value to modern society.
Conduct client research that leads to synergetic collaborations.
Speak to diverse audiences in a way that is inclusive and engaging.
Draw new audiences to your concerts.
Create a portfolio that includes a project timeline, media interview, budget, instrumental arrangements, performance script, project management, and documentation. 
Teaching Artist Training
Faculty: Monique Mead
In a world where cultural institutions are focused on educating new audiences and developing a more diverse community for their art, skilled teaching artists in high demand, making this one of the most lucrative areas for professional musicians.  In this course, you will be working alongside successful professionals in the field as you work on "real projects" in the community and abroad.  Students will learn to be ambassadors for their art, and those going into orchestral careers will learn essential "outreach" skills that will make them an even greater asset to the organizations they serve.
Since students come with specific interests, projects are tailored to your needs and may include:
Creating an engaging video for an upcoming program
Setting up a private teaching studio
Preparing an inspiring masterclass
Exploring the use of technology for teaching
Public speaking and audience engagement skills
Shadowing professional teaching artists
Creating and presenting a curriculum for adult education
Presenting a school workshop or assembly
Creating a theme-based interdisciplinary concert
Creating online teaching materials and videos
Documenting your projects for your professional portfolio
Business of Music
Faculty: Lance LaDuke
This class will teach you the fundamentals of how to survive in the music industry. A diverse set of speakers, hands-on projects tailored to your interests and needs and group activities will introduce you to the challenges you'll face during your career. How to manage your money, what you need to know about copyright, whom do you need on your side? We'll cover all of these and more!
By the end of this course you should be able to:
Understand the basics of copyright, performing rights organizations, contracts, business formation and forms of incorporation
Understand the state of the industry
Identify opportunities in the market and develop projects to meet those needs
Work with teams to develop businesses from the ground up
Create a business model canvas to help chart the course in any new venture
Create and execute surveys and focus groups
Understand your own unique skills and strengths and how to chart a course towards a satisfying career
Identify competitors in the market and how best to deal with them
Pitch your ideas in a clear, concise fashion
Marketing & Communication
Faculty: Lance LaDuke
What is your message? Who is your audience? How do you reach them? These are among the topics we'll explore in this course. Group projects and case studies help us identify the key aspects of one of the most important aspects of any music career. Being a great musician won't do you any good if no one knows you exist!
By the end of the semester, you should be able to:
Understand such concepts as branding, marketing, reach and advertising
Identify audience segments and target messages to those segments
Create compelling marketing materials
Work with teams to try out a variety of marketing strategies in real-world circumstances
Learn to capitalize on social media and use it to effectively build and communicate to an audience
Learn to write effective and powerful marketing copy (bios, sales pieces, etc.)
Examine competitors and market leaders to look for opportunities and best practices
The Artist as Entrepreneur
Faculty: Monica Yunus
We will explore the concept of arts entrepreneurship while cultivating the knowledge base and skill set necessary to make the leap from student to professional. Students will be introduced to the fundamentals of brand building, budgeting, and managing one's career, and guest artist entrepreneurs will present real-world case studies. We will delve into the practicalities of the business as well as the steps involved in building one's own personal creative brand. You are the CEO of YOU LLC, and this course will help prepare you for what happens post-graduation.
Inside the Music & Video Technology Industry
Faculty: Jay LeBoeuf
Inside the Music and Video Technology Industry explores how leading audio, music, and video technology companies, such as Sonos, Adobe, Pandora, Avid, Dolby, and iZotope bring products from idea to market. We examine best practices, roles, day-to-day responsibilities, desired skill sets, and department/team function. Students are introduced to full time and internship roles available for College of Fine Arts and Engineering students in this amazing industry, such as marketing, product management, software and hardware engineering, design, and more.
Collaborative Project in Music Entrepreneurship
Faculty: Monique Mead
This is the most advanced entrepreneurship course and requires a solid foundation of project management and interpersonal skills (from the courses above) as well as a self-defined project that has business potential or solves a problem.  Students work as a team, usually in collaboration with an outside client.  Expect a strong focus on leadership and presentation skills.
Your portfolio will include a problem statement, research, meeting agendas and minutes, task lists, data sheets, business portfolios, and slideshow/video documentation.
Project example: Volta Music Foundation
Introductory Courses
Fall Semester - Year 1
Business of Music
The Freelance Musician
Mental Training for Peak Performance
Spring Semester - Year 1
Marketing and Communication
Art of Audience Engagement
The Artist as Entrepreneur
Inside the Music & Video Technology Industry
Advanced Courses
Fall Semester - Year 2
Teaching Artist Training
Collaborative Project in Music Entrepreneurship
Spring Semester - Year 2
Entrepreneurship for the Creative Industries*
Collaborative Project in Music Entrepreneurship
Internship in Music Entrepreneurship
* Tepper School of Business course