Arts and Culture
The arts, design and architecture were an essential part of Andrew Carnegie's founding vision for Carnegie Mellon University.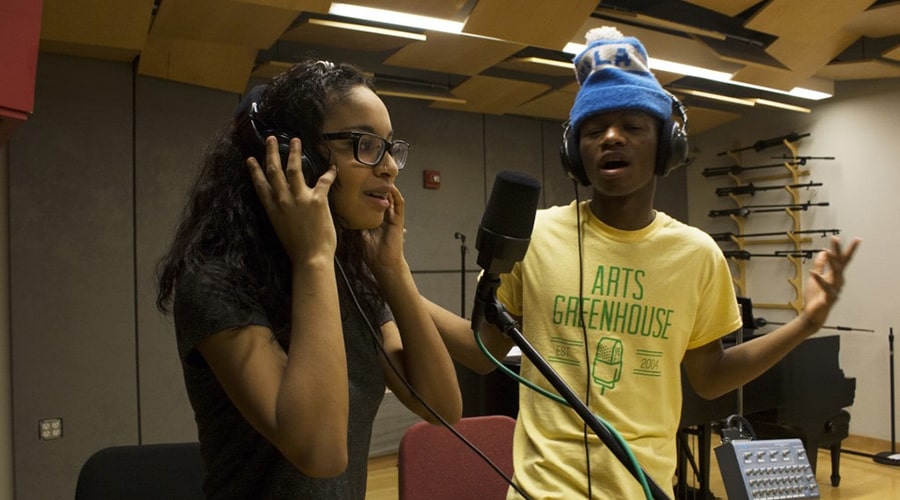 Founded in 2003, Arts Greenhouse is an arts and humanities education initiative that fosters the expressive and intellectual development of Pittsburgh's youth.
To this day, arts and culture play an integral role in the foundation of education for every student; all have the opportunity to explore their creativity here. That creative knowledge has moved beyond the campus community, reaching into the neighborhoods surrounding campus and even extending further into our city, state and region.
Through arts and culture, Carnegie Mellon helps to frame problems, construct solutions, challenge audiences, perfect craft, and celebrate human vitality. From Project RE, a collaborative space to reuse materials, rebuild communities, and restore lives, to our partnership with the Carnegie Museum of Art on the photo archive for Charles "Teenie" Harris, we continue to build on the rich history of free expression and the world-changing capacity of creativity to transform and advance culture and society.
Exposure to creative experiences positively influences our community, helping members to become more empathetic human beings, more aware of the larger world in which they will make their mark, and more well-rounded individuals who will lead with ideas and bring unparalleled experience, ethics and passion into the future.
Get Involved
Volunteer or partner with us to help create lasting economic and community impact in the region.