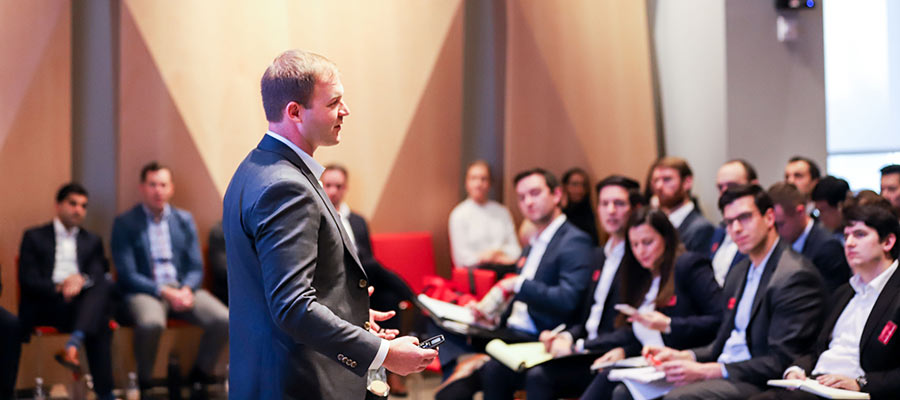 Schedule a Corporate Recruiting Presentation for MBA and other Master's Students
We provide opportunities for companies to meet with students and present corporate information, available positions, geographic locations, and networking opportunities.
Types of Corporate Presentations
Afternoon Events
Monday-Friday
Evening Events
Monday – Thursday
Masters Career Fair (MBA, MSPM, MSBA)
Friday, Sept. 22
12 to 3 p.m. EDT

This event is an opportunity to attend an in-person career fair and meet with Tepper School students majoring in Master of Business Administration, Master of Science in Project Management, and Master of Science in Business Analytics.

Career fair details coming soon!
Office Hours 
Monday – Friday
Recruiters can meet with particular students by invitation or open the event to all students. Students may either sign up on a pre-determined schedule or informally come and go as it is convenient to them.
Steps for Arranging Corporate Presentations
1. Schedule a Date
Contact Lynn Urso, Associate Director, Recruiting at lurso@andrew.cmu.edu to request a presentation date. You can also request a date online in the Masters Career Center Recruiting Portal. If requesting an interview date, the assistant director will also inquire about plans to reserve a presentation date.
2. Submit Corporate Presentation Information
You will be prompted to submit information about your corporate presentation in the Masters Career Center Recruiting Portal. Once submitted a member of the recruiting team will reach out to confirm the date/time. You may log back into the MCC Recruiting Portal to update event details as needed.