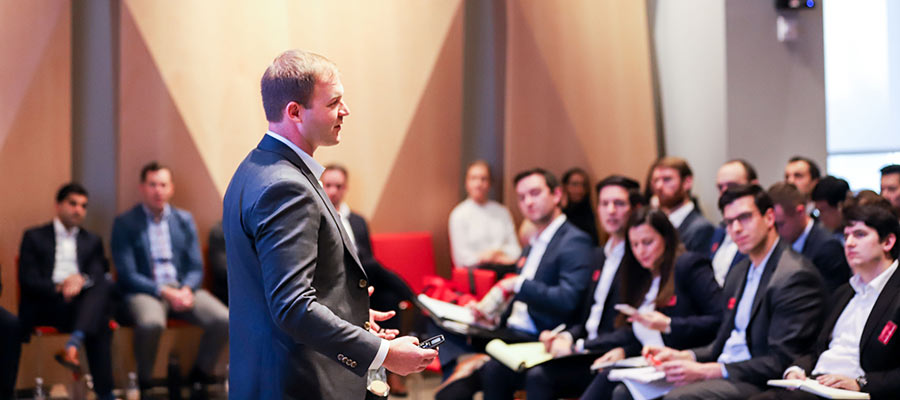 Schedule a Corporate Recruiting Presentation for MBA Students
We provide opportunities for companies to meet with students and present corporate information, available positions, geographic locations, and networking opportunities.
---
In our experience, the most successful corporate presentations are those that utilize a team approach. Students are eager to meet and hear from senior members of the management team, but they are also interested in relevant information from recent graduates, particularly alumni.
During the past year, we hosted more than 100 corporate recruiting events for students. These forums are the most popular recruiting method for the initial introduction between our students and employers.
All corporate presentations are held in classrooms that are fully A/V equipped.
Types of Corporate Presentations
Lunch Events
12:30 to 1:20 p.m. 
Monday – Friday
These events typically include a company-sponsored box lunch and beverages.
Evening Events
5:30 to 6:20 p.m. 
Monday – Thursday
These events usually include a company-sponsored reception held after the presentation from 6:20 to 7:30 p.m. in a reception room with beverages and hors-d'oeuvres.
MBA Network Nights
5:30 to 7 p.m. 

These events are an opportunity to attend a mini-career fair environment with several other companies in a reception room with beverages and light refreshments.
Pre-Interview
5:30 to 7 p.m. 
Monday – Thursday
Held the evening before the interview day, recruiters meet with the students on their interview schedule.
Office Hours 
9 a.m. to 5 p.m.
Monday – Friday
Recruiters can reserve space, if available, to meet with particular students by invitation or open the event to all students.
Steps for Arranging Corporate Presentations
1. Schedule a Date
Contact the assistant director of recruiting at lurso@andrew.cmu.edu to request a presentation date. You can also request a date online in the Masters Career Center Recruiting Portal. If requesting an interview date, the assistant director will also inquire about plans to reserve a presentation date.
2. Submit Corporate Presentation Information
You will be prompted to submit information about your corporate presentation in the Masters Career Center Recruiting Portal. Once submitted, your event is confirmed. You may log back into the MCC Recruiting Portal to update event details as needed.
3. Confirm Catering Arrangements
We ask that companies handle all catering arrangements directly with local caterers. You will be billed directly by the vendors. Students are asked to register for corporate presentations, and the RSVPs will be available two working days prior to your visit.
Carnegie Mellon University Catering: 412-268-2129
The Common Plea: 412-281-5140
The Fluted Mushroom: 412-381-1899
4. Make Parking Arrangements
The most convenient parking location for our recruiters is the East Campus Garage, which is just past the Tepper Quad on Forbes Avenue. Please call our front desk at 412-268-2278, or email tepper-mcc@andrew.cmu.edu at least three weeks prior to the event to arrange parking.
5. Mail Presentation Materials
Company presentation materials should be mailed at least two weeks before the event to:
Attn: Recruiting Events Coordinator
Masters Career Center
Tepper School of Business, Suite 3600
4765 Forbes Avenue
Pittsburgh, PA 15213