Diagram of the curriculum review process
This diagram shows a part of a larger process that the Eberly Center uses with departments and schools interested in curriculum review and revision. Because departments/schools are often at different stages when they seek our support, we have "entered the process" at different phases (e.g., data is already collected but department is unsure how to use it to identify gaps and overlaps; data is limited and does not include all stakeholders; curriculum objectives are not clearly articulated). Click to enlarge diagram (pdf)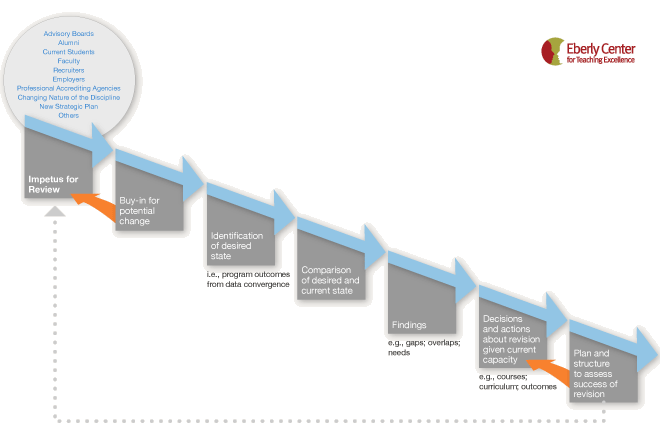 Click to enlarge diagram (pdf)
Identification of desired state, i.e., program outcomes from data convergence
The discussion of the "desired" or ideal state for the program typically includes data or information from alumni surveys, advisory board reviews, employer surveys, professional accreditation reviews, and data or information from other sources that can provide feedback on such things as how well graduates of the program perform in their current positions, where the field is going, etc.  It is sometimes a useful exercise for program faculty to think about the larger picture of the developing professional and what students can accomplish in the time they spend in the program. For such a discussion, it is often helpful to use the mastery grid as a tool to facilitate that discussion.
---
Comparison of desired and current state

This matrix represents one way to determine the degree to which courses map to program outcomes, allowing the department to see where there are gaps that need to be filled, necessary and unnecessary overlaps, and unmet needs (i.e., outcomes not supported by courses or courses not supporting outcomes).
Download matrix (pdf)
CONTACT US to talk with an Eberly colleague in person!