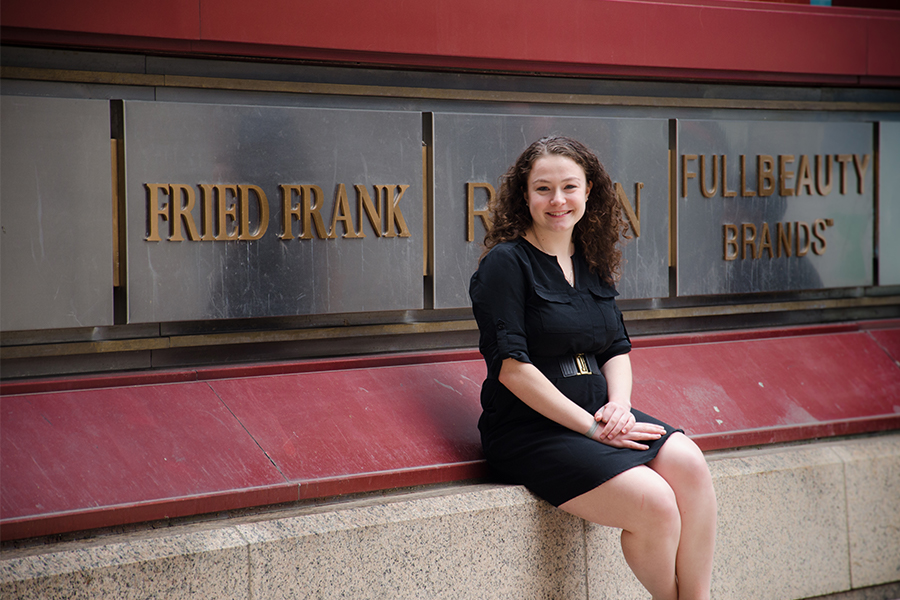 Sarah Gutekunst (DC'17) graduated with a degree in professional writing and landed a job with the international law firm Fried Frank as a communications associate.
Undergraduate Career Opportunities
Dietrich College students graduate from academic departments that are home to world-renowned faculty who are at the forefront of their disciplines research and education.
Below are sample paths taken by Dietrich College undergraduate students.
Economics
Graduates pursue careers as analysts and economists in banking, consulting, government, informatics, marketing and technology.
Behavioral economics students have worked in industry sectors from finance and human resources to entertainment, marketing and technology as well as in government and public policy positions.
Students also go to graduate school to study business administration, economics, finance, informatics, medicine and statistics.
Department of English
What graduates are doing now:
Some are continuing their education in graduate programs at top institutions, including Columbia University, the Art Institute of Chicago, Johns Hopkins University and the University of Pittsburgh.
Others are working for companies such as Apple, Microsoft, Time Warner, Hewlett Packard, Paramount Studios, Google, Salesforce, Oracle and Fulbright.
Department of History
Graduates from the History Department have gone on to:
Information Systems Program
Undergraduate students who pursued a degree in information systems have had internships in a variety of industries and at international corporations including Apple, Capital One, Microsoft, Amazon and Boeing. They have gone on to become successful entrepreneurs and technology experts in many fields.
Institute for Politics and Strategy
Graduates from the Institute for Politics and Strategy have gone on to:
Department of Modern Languages
Some now work in the U.S. or abroad for companies like Google, Microsoft, Siemens, L'Oréal and the Language Company, or for the State Department, the Environmental Protection Agency and the National Institutes of Health. Others have continued as Fulbright Fellows or in graduate programs at the University of Pittsburgh, Stanford University, the University of Washington, Universidad del Norte and many others.
Department of Philosophy
Graduates from the Department of Philosophy routinely intern at different companies and organizations, giving them solid experience to enter the work force or continue their educations. Recent internships have been at:
Department of Psychology
What graduates are doing now:
Department of Social and Decision Sciences
While pursuing a degree in the Social and Decision Sciences Department, students have held internships with companies such as Accenture, Boeing, First Republic Bank, Google, Go Fund Me, Deloitte, Disney, IBM, Levi Strauss, PNC, Prudential Financial, Tesla and the U.S. Congress.
After graduating, Social and Decision Sciences students have started their careers as data analysts, digital marketing analysts, business management consultants, statistical consultants, data scientists, policy coordinators and project managers.
Department of Statistics & Data Science
Students in the Statistics & Data Science Department have held internships with BNY Mellon, Capital One, Facebook, Highmark Health and Microsoft. They've also started their careers as data analysts, data scientists, software analysts, software engineers and consultants.