Grad News
As the Grad PR, my mission is to update the department on recent news & events that happen to graduate students. I will thus be providing information on the latest research milestones and achievements of Psychology graduate students, and will keep everyone posted throughout the year.
January & February | March & April | May & June | Archive of 2020 News
I hope that everyone has been able to enjoy their summer so far! I am excited to see all of you in person as we slowly start to come back to campus on a more regular basis. For the time being, it is my pleasure to share with you the most recent grad news from May & June 2021.
Sit back and enjoy some good news and sunny vibes!
New published papers
Seow, R. Y. T., Betts, S. A. & Anderson, J. R. (in press).  A Decay-Based Account of Learning and Adaptation in Complex Skills. Journal of Experimental Psychology: Learning, Memory, and Cognition.
Helgeson, V., Horner F.S. & Naqvi, J. (in press). Partner Involvement in Type 2 Diabetes Self-Management: A Mixed Methods Investigation. Diabetes Spectrum.
Awards & Breakthroughs
Paper submissions
Patience Stevens submitted her literature review entitled "From decomposition to distributed theories of morphological processing in reading" to Psychonomic Bulletin and Review.
Nick Blauch submitted a paper entitled "A connectivity-constrained computational account of topographic organization in high-level visual cortex" to the Proceedings of the National Academy of Sciences. Preprint is available.
Research progress
Jeanean Naqvi and Fiona Horner are working with Melissa Zajdel (CMU Alumnus) and Prof. Vicki Helgeson on a revised version of their paper on "Communal Coping Manifested in Daily Life: A Focus on Gender and Race", submitted to the Journal of Social and Personal Relationships.
Talks & Conferences
Michael Granovetter gave a talk at the Annual Meeting of the Vision Sciences Society in May 2021 and received an Elsevier/Vision ResearchTravel Award to present this work. The name of his talk was "Repetition suppression to visual stimuli following pediatric occipitotemporal cortical resection."
Nick Blauch gave a talk at the Annual Meeting of the Vision Sciences Society in May 2021. The name of his talk was "Developing topographic organization in a recurrent neural network model of inferotemporal cortex." Watch the video.
Pierre Gianferrara presented his research project on "Simulations of human periodic tapping and implications for cognitive models" at the 19th International Conference on Cognitive Modelling (ICCM). Watch the video.
Dissertation proposals
Cassie Eng proposed her dissertation on May 20. Proposal title: "Combined Physical Exercise with Simultaneous Cognitive Training as a Context for Fostering Executive Function and Prefrontal Cortex Development."
Outreach
Nick Blauch served as project TA at the NeuroMatch Academy Computational Neuroscience summer school.
Miscellaneous
Jaeah Kim has moved to her new home in Tübingen, Germany and she is currently working on an NSF grant application. The goal of the grant is to fund post-doctoral work related to her dissertation. Stay tuned for more information on the grant application!
As the 2020-2021 academic year is coming to an end, I am thrilled to share the most recent grad news from March & April 2021. Despite the COVID-19 pandemic, our department has maintained a remarkably high level of productivity. Certainly, there were many challenges and roadblocks along the way. Yet, graduate students continued to make outstanding research progress as evidenced by the following news items.
For this special end-of-the-year edition, I included a special section for grants, awards, and prizes to take a moment to celebrate our department's graduate students' achievements.  without further ado, let me introduce to you the past two months' latest news!
New published papers

Yetter, M.*, Robert, S.*, Mammarella, G., Richmond, B., Eldridge, M. A., Ungerleider, L. G., & Yue, X. (2021). Curvilinear features are important for animate/inanimate categorization in macaques. Journal of Vision, 21, 3.
Ayasse, N. D., Hodson, A. J., & Wingfield, A. (2021). The Principle of Least Effort and Comprehension of Spoken Sentences by Younger and Older Adults. Frontiers in Psychology, 12:629464. 
Paper submissions & preprints

Lakshmi Kumar submitted a paper entitled "Associations of state and trait empathy with daily alcohol use" to Psychology of Addictive Behaviors.
Robert Vargas submitted a paper entitled "Similarities and Differences in the Neural representations of Abstract Concepts across English and Mandarin" to Human Brain Mapping.
Conference papers

Conferences

Lakshmi Kumar's abstract on her project entitled "Theory of mind and alcohol use/problems in underage drinkers" was approved for a poster presentation at the Research Society on Alcoholism conference.
Pierre Gianferrara's abstract on his project entitled "Modeling error correction in a self-paced periodic tapping task" was approved for a poster presentation at the Society for Mathematical Psychology/International Conference on Cognitive modeling 2021.
Jeanean Naqvi presented a poster entitled "Racial/Ethnic Differences in the Social Support Process" at the Society of Behavioral Medicine Annual Meeting.
Fiona Horner presented a virtual poster on a project entitled "Affective Links to Communal Coping in Patients with Type 2 Diabetes" at the Society of Behavioral Medicine virtual conference. 
Grant submissions

Urszula Oszczapinska assisted Prof. Laurie Heller with a grant submission to the Ream Foundation.
Robert Vargas and Kevin Jarbo submitted an APF Visionary Grant aimed at investigating the relationship between implicit biased attitudes and implicit biased action. The grant is entitled "Using fMRI-measured Attitudes and Actions to Predict Biased Decisions to Punish among White and Chinese Americans."
Research progress

Jeanean Naqvi applied for two scholarships: the APA Queen Nellie-Evans Scholarship and the Society for Health Psychology Graduate Student Award. Although Jeanean did not receive either scholarship, she learned from the application process and highly recommends other students apply for awards as well.
Roderick Seow has resubmitted his revised paper to the Journal of Experimental Psychology: Learning, Memory, and Cognition, which included a follow-up modeling experiment.
Symposia

Talks
Cassie Eng gave a talk entitled "Employing Neuroscience to Optimize Child-Computer Interactions to Enhance Learning and Cognition" at the House of Assessment & Evaluation Immersive Learning Research Network (iLRN) conference on the VirBELA Platform. 
Cassie Eng gave a talk entitled "Applying theories in developmental science to enrich the experiences children have with technology and educational media" at Virginia Tech's Cognition, Affect, & Psychophysiology (CAP) Laboratory.
Outreach

Eight CMU Psychology graduate students participated in the Psychology outreach program and joined a virtual middle school Psychology class for three weeks. Each graduate student acted as a mentor for a small group of students. 
Miscellaneous

Emily Keebler recently had a baby in April. Congratulations on this new addition to your family, Emily!
Graduate Awards, Grants & Prizes

Grants
Jeanean Naqvi's F31 grant submission was approved, which included funding for her research project on racial & ethnic differences in social support and health among individuals with Type II diabetes.
Chisom Obasih and Sophie Robert both obtained NSF Graduate Research Fellowship Program (GRFP) funding.
Urszula Oszczapinska and Austin Luor were awarded NSF GRFP Honorable Mention.
Awards & Prizes 
Ven Popov (CMU Alumnus) won the Glushko Prize awarded by the Cognitive Science Society for his Ph.D. dissertation.
Michael Granovetter obtained a Graduate and Professional Student Government Leadership and Service Award from the University of Pittsburgh.
Cassie Eng and Robert Vargas obtained the Dick Hayes Departmental Service Award (see picture below).
Cassie Eng was awarded the Roberta Klatzky Departmental Outstanding Publication Award.
Cassie Eng received a CMU Graduate Student Assembly/Provost Conference Funding Award for The Biennial Society for Research in Child Development Meeting.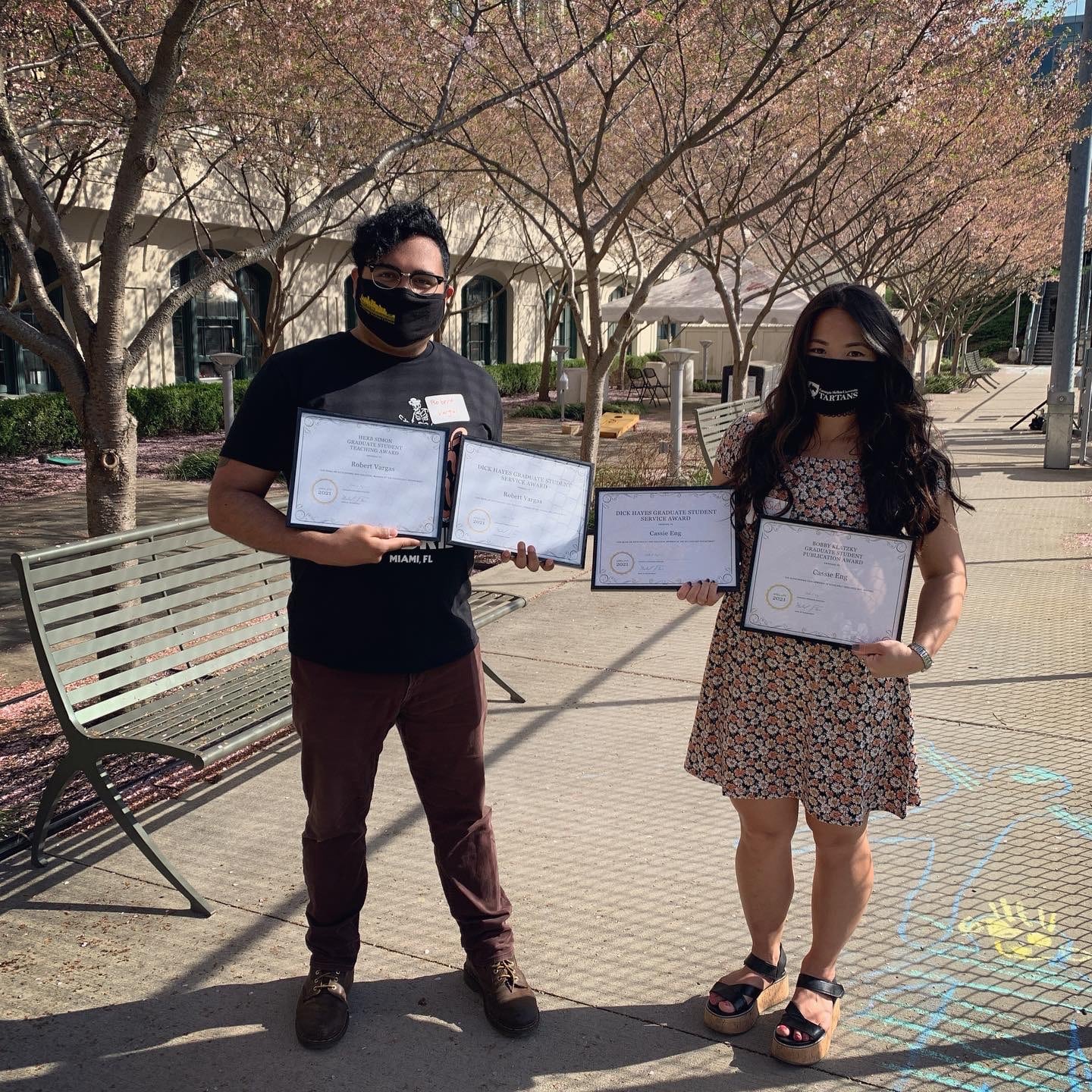 Congratulations to all the grad students for their sustained efforts and outstanding accomplishments over the past academic year! We wish you all an amazing start of the summer.
Stay tuned for the next research updates! 
Awards
Cassie Eng was awarded Dietrich College of Humanities and Social Sciences 2020-2021's Graduate Presidential Fellowship.
Paper submissions & Preprints
Pierre Gianferrara submitted a paper entitled "Cognitive & motor skill transfer across speeds: A video game study" to PLoS One.
Keela Thomson submitted a paper entitled "The (effort) elephant in the room: What is effort, anyway?" to Perspectives on Psychological Science in January.
Krista Bond published a preprint of her paper entitled "Dynamic decision policy reconfiguration under outcome uncertainty."
Stephanie Permut submitted her paper entitled "How close is too close: The effect of near-losses on subsequent risk taking" to Psychological Science.
Cassie Eng submitted her paper entitled "Longitudinal Investigation of Executive Function Employing Behavioral, Observational, and Neurophysiological Multimethodology" to Developmental Science.
Research progress
Roderick Seow has received feedback from the Journal of Experimental Psychology: Learning, Memory, and Cognition and is now addressing the reviewers' comments before resubmitting his manuscript.
Krista Bond has received feedback from eLife and is now addressing  the reviewers' comments before resubmitting her manuscript.
Patience Stevens designed and posted an online experiment to investigate how different characteristics of complex words impact the speed with which skilled readers recognize them.
Jeanean Naqvi has received minor revisions from Social Psychological and Personality Science for a paper entitled "Harmonious relations: Relational interdependence moderates affective reactivity to interpersonal stressors".
Talks
Cassie Eng was invited to give a talk at Stanford University's Center for Interdisciplinary Brain Sciences Research (CIBSR). The name of the talk was "Technology-enhanced Exercise as a Context for Fostering Executive Function and Prefrontal Cortex Development".
Dissertation defenses
Anita Delahay completed her Ph.D. defense and successfully became Dr. Delahay! Thesis title: "Prior Knowledge Consistently Explains Novices' Domain Learning, but Not the Prior Knowledge We Think: The Case for Ancillary Prior Knowledge".
Conferences
Michael Granovetter attended the NINDS Curing the Epilepsies meeting as a Junior Investigator Travel Award recipient.
Michael Granovetter presented posters at the SfN Global Connectome event and at the Innovations in Medical Education Conference.
Cassie Eng submitted two papers to the 43rd Cognitive Science Society Conference. The first one is an eye-tracking study on attention and comprehension in children and the second one evaluates the construct and criterion validity of a cognitive game-based assessment in the context of cognitive control.
Outreach
The outreach program has been mentoring a middle school psychology class where students design, run and interpret their own studies. The program started on March 1st and is continuing until March 18th.
Miscellaneous
Cassie Eng and Robert Vargas created and filmed a Virtual Tour of the Psychology Department to give visiting students a feel of the department and our community here at CMU.
Announcements
The 4th year cohort would like to make a special announcement for an upcoming event.
-------------------------
Have you ever wanted to give a ridiculous presentation that was ALMOST scientific... but not quite? Well your time has come! Stay tuned for more about this summer's inaugural Methodologies for Emergent Communal Hemispherectomies As a Nonparametric Identity Self-Measurement (MECHANISM) Conference*, slated to happen some time in the first two weeks of June 2021. This conference is open to any and all members of the CMU Psychology department, including staff, postdocs, graduate students, and faculty members. Presentations should be between 5 and 10 minutes, though you may be creative about the presentation format. Spread the word and start brewing your ideas! Future emails will provide additional information regarding submission procedures and deadlines.
(Though of course, please remember to be respectful and sensitive with your presentations or topics. Silly does not mean offensive!)
-Jeanean Naqvi, Krista Bond, Patience Stevens, and Phoebe Dinh MECHANISM 2021 Program Co-Chairs

* formally known as the Conscious Representational Interactionism during Nativist Goal-oriented Emergence (CRINGE) Conference
-------------------------
Congratulations to all the grad students for their outstanding accomplishments and research progress! We wish you all the best for the second part of the Spring semester.
Stay tuned for the next research updates!