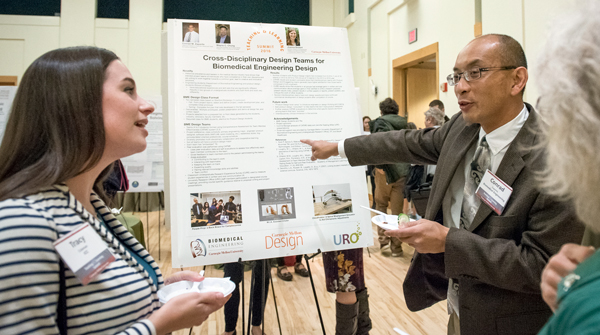 Join us to celebrate and showcase the exciting ideas and evidence-based approaches to teaching and learning that our colleagues are applying here at CMU and beyond.
---
2017 Agenda:
1:00 - 2:30 PM Plenary Session: Inclusive Teaching Strategies
2:30 - 2:45 PM Break
2:45 - 3:45 PM Interactive Concurrent Sessions: Quick-Fire Talks
3:45 - 4:00 PM Break
4:00 - 5:00 PM Poster & Networking Sessions
Submit an abstract for a poster and/or networking session:
Teaching as Research Poster Session

Present a poster on educational research (pre-K, K-12 or college-level; course- or program-level).

Show and TEL: Technology-Enhanced Learning Demos

It's like a poster session, but presenters bring their laptop, rather than a poster, and informally demo TEL as participants mingle. 
---
Quickfire Talk videos
Poster submissions
And more information on the event
Register to Attend and add this event to your calendar: 
Teaching & Learning Summit, Thursday, October 19, 2017 from 1:00-5:00pm, in Rangos, CUC.