Planning Your Student Organization Events
The Office of Student Leadership, Involvement, and Civic Engagement (SLICE) is here to help you create your Carnegie Mellon experience through your student organization's programs and events. Use the event management cycle to ensure information lives on to maximize your events' potential.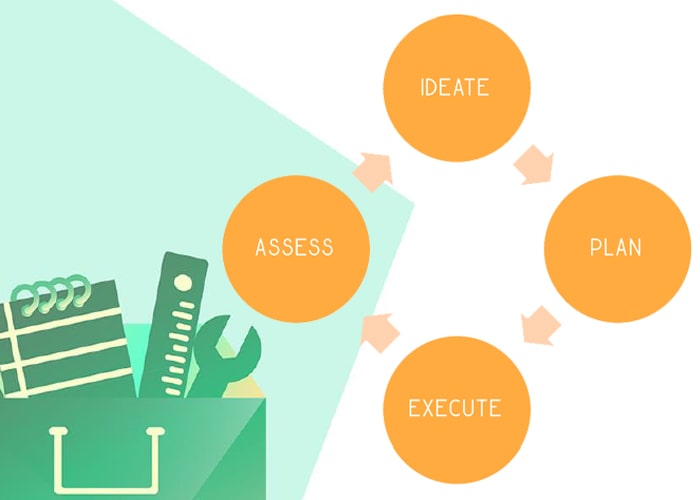 Event Management Cycle
1. Ideate
Why are you holding an event? Do you want to gain new members? Are you raising awareness for a social cause? Does your audience consist of first years or graduate students? Exploring your event objective(s) and goal(s) should be the first step in planning your successful event.
Objective
What are we trying to do?
What goals do we have?
How do we want attendees to feel?
Audience
Who are we trying to reach?
How many people do we expect or would like to reach?
Ideas
Host a brainstorming session. Utilize the strategies in this section to foster open brainstorming.
Set reasonable goals: one great event is better than four average ones.
2. The Plan
SLICE has put together an easy-to-use Event Planning Checklist that designates who should be doing each task and can be recycled for all of your events. Does your student org want to plan a virtual event? SLICE has you covered!
Inviting a Speaker or Performer
Speakers and performers may involve a contract and payment for their services. Utilize the SLICE Office's resources and guidance on how to use your student organization funds and negotiate contracts if you plan to invite a speaker or performer to your next event.
Speaker/Performer Process
Please allow 6 weeks to complete the contract process

—

the sooner the better.
All services

—

whether payment is being exchanged or not

—

require a contract.
Students Organizations MUST work directly with the SLICE office to review and to execute contracts, which are required for the payment of all services (inclusive of rentals).
Students MAY NOT email the contracts office directly. You must work with SLICE to obtain a signed agreement from the University.
All contracts should be between the service provider and "Carnegie Mellon University."
If you are using agency funds (JFC funds) and your event is off-campus, you MUST sign your own agreement.
Food Services & Catering Your Event
For events located in or managed by the Cohon Center, catering must be provided by University Catering or a university-preferred vendor, as indicated in the Cohon Center Catering Policy. Otherwise, there is a non-preferred vendor fee for set-up and clean-up. If an organization is providing food (for events, tabling, etc.), you must follow the Cohon Center's Food Safety Policy.
Having Alcohol at Your Event
Are you thinking of having alcohol at your event? Please read through the complete
University policy
governing social activities with alcohol. Meet with a SLICE staff member to discuss the event and the logistics that go into planning an event with alcohol. A trained social host must submit the
alcohol event registration form
at least 72 hours prior to the event.
Working with Suppliers & Contracts
Q: My supplier sent me a contract to sign. What should I do?
If a supplier sends you a contract to sign, do not sign it.
Email

 

SLICE to schedule an appointment.
Review the agreement and consider what you are okay agreeing to and what you would like to negotiate (proving transportation, meals, private dressing room, etc.).
Complete the steps to Pay for a Service. It is important that whoever the party being PAID is the same as the party on the contract. To determine this, ask the vendor for a w9 upfront. 
Q: My supplier does not have a contract. What should I do?
Determine the who, what, where, when, why, and how much are you paying the vendor. Email

 

SLICE with this information.
Complete the steps to Pay for a Service. It is important that whoever the party being paid is the same as the party on the contract. To determine this, ask the vendor for a w9 upfront.
Requesting Technology
Minimizing Risk
Risk management and event planning go hand-in-hand. You should be thinking about the potential risks you are taking on and whether they are physical/financial/reputational. What is the likelihood and potential impact of those risks? What are all the various strategies that you could use to mitigate that risk so you are comfortable moving forward?
5 tips for ensuring safety at your events
Meet with a staff member in the SLICE Office to discuss your event as early as possible in your planning stages.
Do not sign any contracts and agreements without reading and understanding EVERY clause. For events on campus or events using the Carnegie Mellon University name, only authorized university employees are permitted to sign these agreements.
Avoid risky activities, including the presence of alcohol. Even if you are not directly serving alcohol, its mere presence at your event increases your risk of something bad happening during or after your event.
Consider the use of an activity release waiver. A SLICE staff member can help you obtain the release waiver from the University's General Counsel.
Be thorough. Most liability lawsuits stem from negligence. Do your due diligence when planning an event and think through every possible scenario.
For more detailed information about the University's Risk Philosophy, please visit the Enterprise Risk Management Department.
Hosting Events with Minors
CMU is committed to providing a safe and secure environment for all minors involved in any programs or activities sponsored by the university.
Upholding University Policy
Reserving Space
Academic Building Spaces
Academic spaces can be reserved before each semester via 25Live (login required). Academic reservations take priority and are complicated. Organizations may not receive confirmation until the first week of each semester. Contact esrooms@andrew.cmu.edu with any questions.
Cohon University Center
The Jared L. Cohon University Center is a hub of the CMU campus. Designed to support health, wellness, and community engagement, the center offers conference space and meeting rooms, a studio theater, a state-of-the-art fitness center, gymnasium, swimming pool, multiple dining locations and plenty of gathering and study space. Spaces in the Cohon Center can be reserved a year in advance. Email ucres@andrew.cmu.edu

 with any questions.

Study rooms are available for students to reserve via 25Live (login required). Study rooms are available Sunday through Thursday, 7:00 pm to 1:30 am. There are 25 rooms of different sizes and each room features at least two chairs, a table, and a whiteboard. Walk-ins are also welcome.
The Tartan Collaborative Commons (TCC) is a newer space designed by the Undergraduate Student Senate for students to have a space for individual and small group work. There are several seating options available and two small enclosed conference rooms with media functionality. There are also several glass boards throughout the space. Fill out the TCC Conference Room Reservation Form to reserve a conference room; rooms are reserved on a first-come, first-serve basis.
Conference Rooms
Looking for a conference room for a meeting or event? SLICE manages space reservations for two conference rooms (306 and 329) supported by Student Government for recognized student organizations. The conference rooms are located on the third floor of the Cohon Center.
Outdoor Spaces
To reserve space outdoors (i.e., The Cut, CFA Lawn, Legacy Plaza, Merson Courtyard, East/West Walkway, The Mall, picnic areas, etc.), please email ucres@andrew.cmu.edu with: the space you are requesting, date, time and a brief description of the activity you plan to host. The Cohon Center staff will respond via email to obtain more information for the approval process.
Watch a video tutorial on how to reserve a space on 25Live.
Reach the right audience. Use CMU hashtags, like #LifeAtCMU, #CMUsocial, #CarnegieMellon, #AllTartans and #TartanProud.
Advertising & Marketing your event
Developing a strategy and timeline around your approach will ensure you reach your organization's intended audience. When designing your publicity materials, make sure to create several sizes that will meet the needs of printed materials, social media, etc. This will help keep marketing materials consistent and professional.
Explore channels to market and advertise your next event.
The Bridge
Create an event on your organization's 
Bridge
 page.
Chalking
Digital Media Screens
Athletics Tennis Court Screens: 
Email 
Andrea James
 to add your advertising image to the Tennis Court Media Screen.
Emails & E-newsletters
Announcements: Email Announcements 

to include your event/initiative in communications distributed to residents living in dorms.

The Piper: 

If you have news—an event, announcement, news item or story idea—email 

Bruce Gerson

 or 

Kelly Saavedra

. Information

 is needed before 2 p.m. on Tuesdays.

Opt-in Student Affairs Newsletters:

 

Browse interest-based newsletters, like diversity and inclusion, spiritual life, wellness, fitness and more, from across Student Affairs.
Posters
Doherty Banner/Poster:

All banners and posters must be approved by the

 

SLICE Office

 

before hanging.
Posters posted on the outside wall of Doherty Hall must be removed within 48 hours after the event advertised on the poster. If no event is advertised, the poster/banner must be removed no later than 30 days after its initial posting on Doherty Hall.
FMS will charge for the hanging and removal of banners and posters that need to be attached at a higher level.

Cohon Center Info Desk:

 

Number of posters, 2
Office of Residential Education: Number of posters, 105
Poster Route: Number of Posters, 55
SLICE Greek Life: Number of Posters, 18
Radio
Social Media
Student org instagram directory & Video Tutorial
SLICE's Intern is here to help.
If you're interested in improving your organization's social media, advertising your events or connecting with more student organizations who are on social media, message the SLICE Intern on our Facebook or Instagram!
Stake Signs
You must fill out and submit the Stake Sign Application
 that needs to be approved before staking signs around campus.
Table Tents
Please work with building staff before placing table tents.
The first rule of event management is that something will go wrong or not go as planned. The true test is how prepared are you to deal with it.
3. Execute
Proper budgeting and day-of documentation, like the One-Pager, will allow room for mishaps or surprises and help you to execute your student organization's event as seamlessly as possible.
All About the Money
Is the Budget created? 

What vendors do we need to pay?

Do we have a receipt envelope?

How did our expenses line up with our budget?
General Tips 
Choose your day-of attitude; others will emulate you!

Take calculated, planned-for risks.

Follow your budget.

If you don't know, ask! SLICE offers event planning meetings to work with you one-on-one.
The One-pager
How prepared are you to deal with a speaker running late? Maybe you need to feed a crowd of 50 people and you were only delivered one pizza, or the screen won't turn on for your movie showing—what do you do?  Utilize an organizational document like the One-Pager to keep a running list of all the details, like the venue information, directions and timeline, and contacts for your event.
Download the One-Pager Template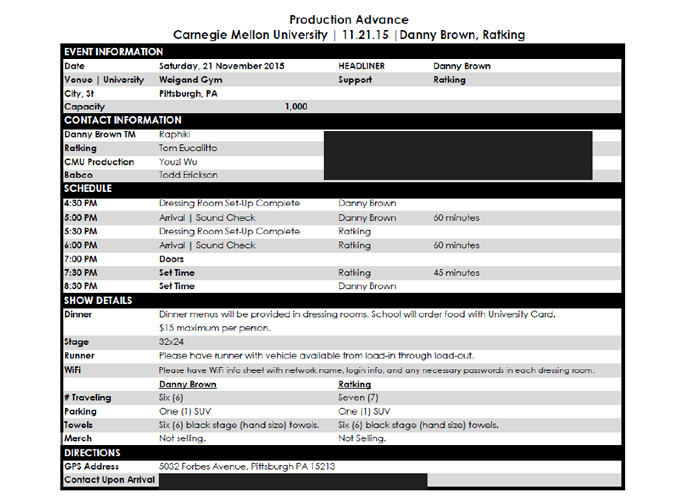 4. Assess: Start. Stop. Continue.
Once you've had time to pause after the event, take the time to document and to make suggestions for a future executive board to consider. Think to yourself, "if we did this all over again, what would we want to start doing? What should we stop doing? What would we definitely want to continue?"
PRE-EVENT
Event Basics
Agents Used
Marketing & Advertising
What Was Accomplished Beforehand
DAY-OF-EVENT
Did Things Go As Planned?
Day-Of Contacts
Event Lead
POST-EVENT
Writing Thank-You's
How Do You Define Success?
Transitions Materials
Recommended Modifications