Civic Engagement at CMU
At Carnegie Mellon, passion and real-world problem solving are a part of our DNA. Civic engagement efforts  grounded in social issue education and reflection are powerful expressions of our real-world problem-solving mentality.
Whether you're new to activism or you live and breathe philanthropy; you are a first-year undergraduate student looking to start a new civic engagement initiative or a Ph.D. student, CMU can connect you to what you care about and to people who share your passion. Through direct service, civic discourse, activism, social justice and philanthropic opportunities, the CMU community is working toward a better future, together.
Sign up for the Nexus of Civic Engagement newsletter to learn more about civic engagement opportunities on campus and beyond.
Institutional Commitment
James and Sharon Rohr Director of Civic Engagement
James E. Rohr, chair of the CMU Board of Trustees, and Sharon Rohr established the role of Director of Civic Engagement at Carnegie Mellon in September 2019 with the ambition to have every CMU student engage in meaningful service work in order to become a more effective and ethical leader, solving real-world problems and advancing their personal development. 
The vision of the directorship is meaningful civic engagement opportunities for every CMU student that will anchor and define their time on campus. 
Among the initial goals of the program will be to consolidate resources to create a defined entry point for CMU students, faculty and staff; build a larger team; develop and strengthen community partnerships; and create themed arcs for engagement that help students journey from initial interest through deepened commitment to leadership roles.
Issue Education & Reflection
Embedded in all of CMU's civic engagement efforts are issue education and reflection. We strive to grow the campus' collective understanding of particular social and community issues through educational opportunities with annual themes. These themes help you to identify your passions and connect you to the issues you care about most. Past themes have included education inequality, hunger and homelessness, women and children (with a focus on human trafficking), food insecurity and environmental justice.
Check out the events calendar located on TartanConnect for upcoming educational activities. 
Your Voice Matters. Your Actions Matter.
#Activism #Advocacy #Social Justice
Advocacy and activism mobilize communities to create positive change in the world. Explore the resources on campus that educate socially aware leaders, build allyship, and bring students together to be collective agents of change.
#Philanthropy
Carnegie Mellon has a strong tradition of philanthropy, both in raising monetary donations to bolster the efforts of a community partner or to meet a community need through in-kind donations.
#Service #Nonprofit
By participating in civic engagement in and around Pittsburgh, you can contribute to your community in a meaningful and substantial way. Many students identify a social issue they would like to impact or a neighborhood they want to engage with on a regular basis.
We do better by working together.
Pittsburgh Non-Profits & Community Partners
Carnegie Mellon values the strong reciprocal partnerships with non-profit and community partners and work closely with these organizations to make meaningful impact in our communities, while inspiring students, faculty and staff to take deeper, on-going action.
To educate us on your organization's mission, explore potential partnerships, or discuss how to best publicize your opportunities to the CMU community, contact SLICE.
There are many ways to connect with CMU:
The Leonard Gelfand Center
Carnegie Mellon's Leonard Gelfand Center (LGC) works with faculty, students and staff through community-based activities that improve educational opportunities in the areas of science, technology, engineering and mathematics for youth, especially in under-resourced communities.
Pittsburgh Cares
Pittsburgh Cares works with local non-profits to publicize volunteer opportunities that can help meet current needs in the Pittsburgh area. Browse their opportunities calendar, which is searchable by date, issue or organization to sign-up for one-time or on-going volunteer opportunities.
VolunteerMatch
VolunteerMatch strengthens communities by making it easier for good people and good causes to connect. Check out opportunities on 
VolunteerMatch
, including virtual service opportunities, in Pittsburgh and around the United States.
Students in Action
There are so many ways to get involved on and off campus. This slideshow shows off just a few of the ways to engage.  
If you're a first-year undergraduate or graduate student, you can engage with our vibrant city of Pittsburgh during Orientation with more than 25 community partners through the Orientation Day of Service. Students have the opportunity to do neighborhood and river cleanups, organize donations, prepare meals to support local families and much more.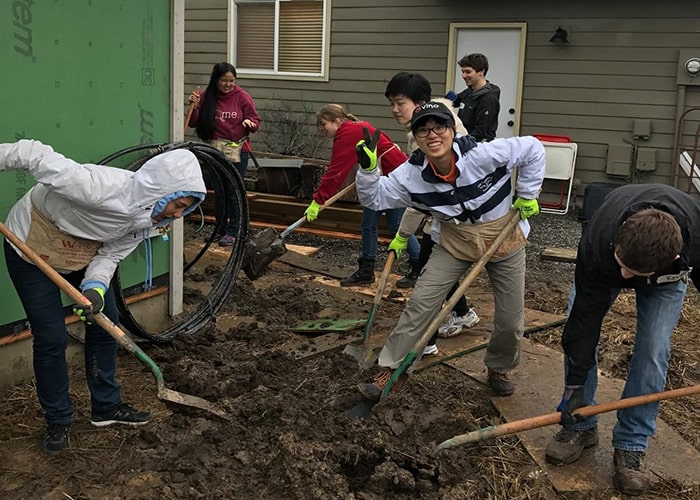 Expand your service worldwide and take part in Alternative Break. In past years, approximately 10-12 service trips are planned annually by student organizations and advised by the Office of SLICE and the Office of International Education (OIE).