Calendar Innovation Committee
The Calendar Innovation Committee, convened in 2019, was originally charged with reviewing our academic calendar and making recommendations that advance student-centered efforts to provide a strong academic experience that is supportive of creative pedagogy and community well-being. In 2020, the committee pivoted its work to provide recommendations in response to the pandemic, resulting in a proposed 14-week semester, which was piloted in the fall 2021 and spring 2022.
Throughout the pilot, the committee monitored and listened to our community's feedback. Its work was highly collaborative, looking both qualitatively and quantitatively at the perspectives of our faculty, students and advisors across all schools and colleges, including undergraduate and graduate programs.
At the committee's recommendation, the 14-week semester, including a week-long Fall Break, will be permanently instituted starting in AY23-24.
The 14-Week Semester Pilot
Benefits
Student health and well-being
Symmetry between the fall and spring semesters
Mid-semester respite for our teaching and learning community
Breaks that allow time for true rest and restoration
Resources
Background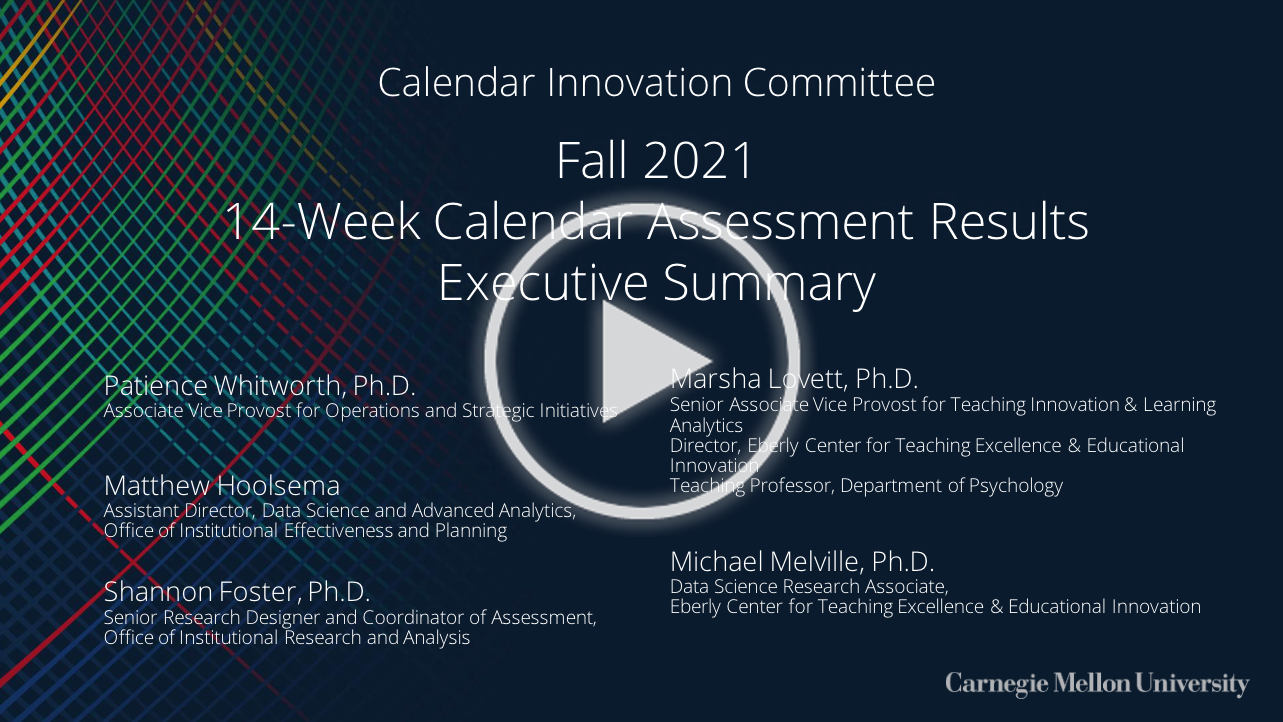 View [pdf] version for a transcribed narration.
Faculty Consultations with the Eberly Center
To support those seeking strategies to adjust their courses for the upcoming academic calendar, the Eberly Center will provide individualized faculty consultations. Contact eberly-assist@andrew.cmu.edu to request a consultation.
Note: faculty teaching courses in a sequence may sign up as a group. In this case, the Eberly consultant will share a process for coordinating curricular adjustments across courses.
Academic Calendar Innovation Committee Charge
The Academic Calendar Committee is charged with advancing student-centered efforts to provide a strong academic experience that is supportive of creative pedagogy and faculty, staff, and student wellbeing.
This committee consists of faculty, staff and students from across the university. It is my hope that this group can use their various perspectives to enhance the academic calendar to further  Carnegie Mellon's mission "To cultivate a transformative university community committed to (a) attracting and retaining diverse, world-class talent; (b) creating a collaborative environment  open to the free exchange of ideas, where research, creativity, innovation, and  entrepreneurship can flourish; and (c) ensuring individuals can achieve their full potential."
This committee was tasked with making recommendations for: 
three breaks in addition to Carnival during the spring 2021 term; and
the summer 2021 term support academic instruction and students' for-credit internships.
This is in addition to the committee's original charge which is to:
explore calendar and scheduling innovation including a review of academic terms, length of  the formal semester and the addition of other breaks in the semester;
lead the effort to formalize the adoption of Tartan Community Day into the official Calendar as well as;
address student, faculty and staff concerns about the moratorium period.
Rebecca Nugent, Co-Chair, Head, Department of Statistics & Data Science, Dietrich College of Humanities and Social Sciences
Mark Stehlik, Co-Chair, Assistant Dean for Outreach, School of Computer Science
Wendy Arons, Professor of Dramatic Literature, College of Fine Arts
Kathryn Barraclough, Distinguished Service Professor of Finance, Tepper School of Business
Amy Burkert, Vice Provost for Education
Sue Collins, Reference Librarian, University Libraries & Academic Services
Linda Gentile, Director, Office of International Education
John Hannon, Associate Vice President of Student Affairs for Community Life
Kenneth Hovis, Assistant Dean for Educational Initiatives, Mellon College of Science
Divyansh Kaushik, President, Graduate Student Assembly
Michael McCarthy, Associate Teaching Professor of Information Systems, Heinz College of Information Systems and Public Policy
Joseph Mertz, Director of the Undergraduate Information Systems Program, Heinz College of Information Systems and Public Policy
John Papinchak, University Registrar
Frank Pfenning, Professor of Computer Science, School of Computer Science
Jackie Speedy, Associate Dean, School of Public Policy and Management, Heinz College of Information Systems and Public Policy
Emily Daniels Weiss, Senior Teaching Consultant, Eberly Center
Lisha White, Ph.D. student, Mechanical Engineering, College of Engineering; Representative, Graduate Student Assembly

Patience Whitworth, Associate Vice Provost for Operations and Strategic Initiatives
Jimmy Williams, Distinguished Service Professor, Engineering and Public Policy
Director, Engineering & Technology Innovation Management Program, College of Engineering
Mason Xiao, Chair, Academic Affairs, Student Government