National High School Game Academy
Learn how to create your own original games on the latest state-of-the-art technology.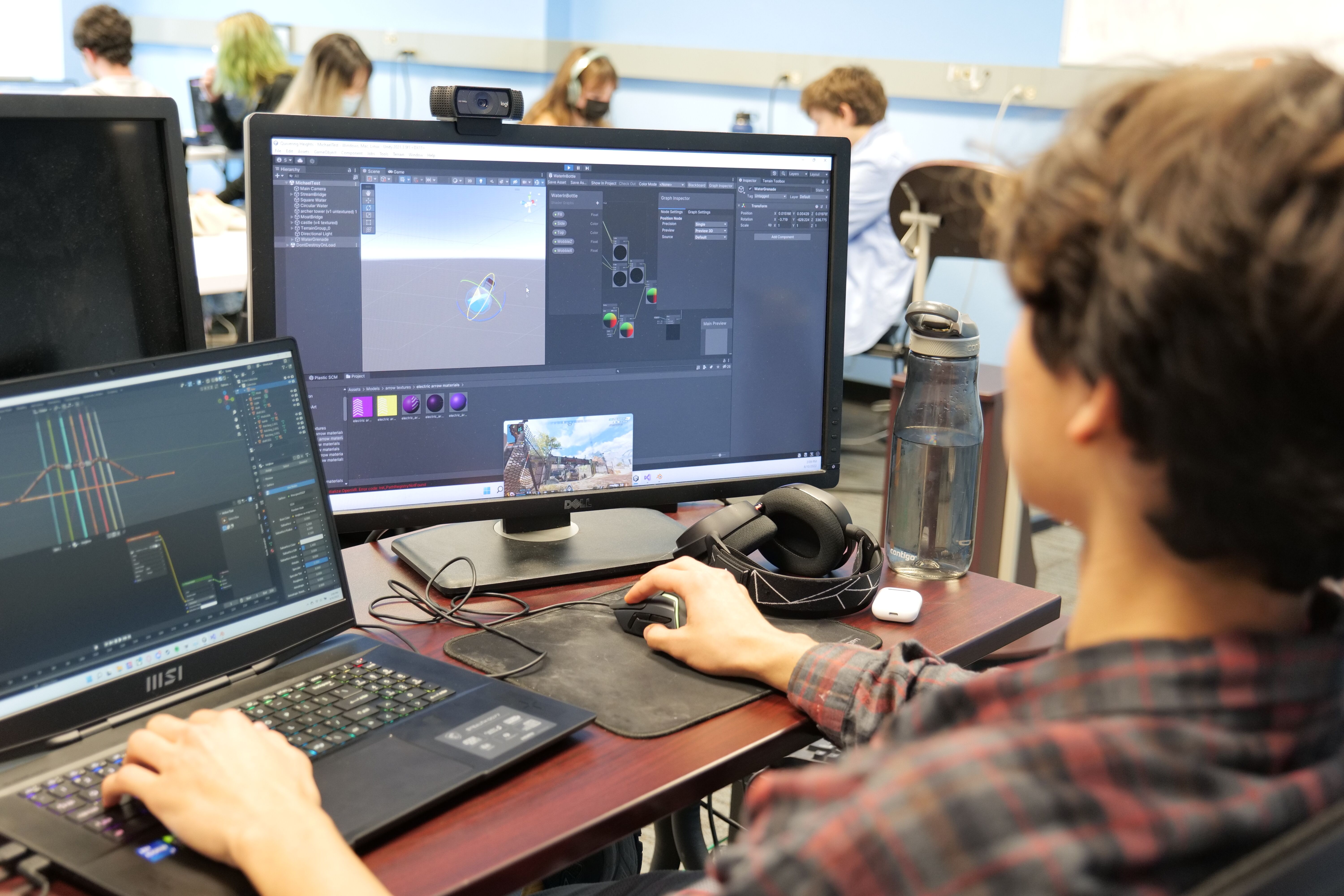 Program Length
Jun. 22
to
Aug. 3, 2024 

 (6 weeks)
Early Decision & International Applications Due

Scholarship* & Regular Decision Applications Due

Housing Options
Resident 

or 

Commuter**
 *Scholarship decision notifications released on Friday, April 5, 2024. All others are rolling admission.
**To be a

 commuter, 

the student and parent/guardian must have a permanent residence within approximately 30 miles of our Pittsburgh campus or within Allegheny County.
Program Overview
The National High School Game Academy (NHSGA) allows disciplined, passionate, and dedicated high school students to experience video game development using current industry best practices. Sharing methods and paradigms used in Carnegie Mellon's Masters of Entertainment Technology (M.E.T.) graduate program, the NHSGA focuses on an innovative blend of hands-on team projects combined with in-depth traditional classwork, lecture and discussion. As a verification of competence, homework is assigned and evaluated as the student progresses through the curriculum. Designed to elevate a student's rigor, working process, and discipline, the NHSGA prepares students for their college education. As a culmination of the six weeks, student teams create an original game prototype from pitch to final playable demo.

Who should apply?

The NHSGA encourages students interested in any of the following to apply: VISUAL ARTS, MUSIC and AUDIO, GAME DESIGN, and SOFTWARE DEVELOPMENT. Prior experience in these areas is helpful but not necessary.

Students will be encouraged to expand their own creative possibilities in a unique blend of left- and right-brain college-level work. Every student accepted to the program can expect to contribute to every area of development while maintaining their faculty-defined role on a multidisciplinary team.
Students are expected to remain fully engaged throughout the six-week program, producing the quantity and quality of work required for meaningful team collaboration, attending in person every day, and arriving on time. If the student misses a critical amount of days, regardless of the cause, or fails to complete the requisite quantity or quality of homework, this can result in removal from the program without a refund.
Curriculum
Carnegie Mellon University's teaching philosophy is that all students learn by doing. The NHSGA enthusiastically embraces that philosophy, and every student will be taught the skills needed to develop video games.

In Weeks 1-2, students attend classes that teach best practices and core skills needed in game development. In Week 1, every student takes classes in the following disciplines: 2D and 3D art, software development, music composition, audio fx, game design, production, team management, and interactive narrative. All students receive in-depth instruction in all areas during that week. Every student is evaluated and either remains on their current track or is switched to a track which better suits their skillset before Week 2. One week is little time to get a sense of every student, so delivery of homework in that week is critical. Although homework assignments are not graded in a traditional sense (A, B, and so forth), their submission is required, and the faculty give feedback. Failure to submit homework can result in removal from the program without a refund.

In Week 2, students hone their skills in the role or roles to which the faculty believes they will be assigned in the group projects. These roles are ultimately assigned by the faculty based on the students' demonstrated skill levels in their classwork.

In Weeks 3-6, students are divided into teams. No student is guaranteed any specific role on any team. Roles are assigned with the goal of creating the best possible teams for the current project. One student on each team is chosen to be the team's producer (a.k.a. project manager) in addition to their assigned production role. All other students contribute in their roles as assigned by faculty. Each team consists of two programmers, two visual artists, and one composer/audio designer. By the end of the program, the student will have been assigned to two different teams and will have participated in building two different games.

This program is a rigorous and demanding six-week experience. Full participation from the first day of orientation (the Sunday before the start of class) through the final presentations (on Friday of the last day of class) is mandatory. Students must not commit to activities outside the program (examples include: music lessons, team practices, online classes requiring additional homework). The NHSGA demands a student's full-time commitment while enrolled.
Curriculum Includes:
Weeks 1-2
Lectures and Workshops – Skill Building
In the first two weeks of the program, class instruction consists of daily lectures and workshops centered on crucial skills needed to build a video game.

Topics include:
programming in Unity

2D art
3D art
project management
interactive storytelling
game design
animation
sound design/music composition
Please note: All topics receive equal weight in week one. In week two, specialization may occur based on the student's demonstrated skill level.
Assignments – Putting New Skills into Practice
During the first two weeks, students have assigned homework every night from every class attended that day. We average between 30-35 total homework assignments over the first two weeks. This works out to between three and four hours of homework every night. The NHSGA instructors evaluate the homework to assess student competence and to inform team project assignments. A typical day includes six hours of classes and three hours of homework. Homework submission and regular, in-person attendance is required for continued participation in the program.
Weeks 3-6
Collaborative Project #1 – First Round
Student teams work on a one-week "Lightning Round" project to better understand how games are created. Role assignments are thoughtfully made by faculty based on student assessments.
Collaborative Project #2 – Second Round
After the first collaborative project, new teams build an original video game. In this project, teams are carefully selected by faculty to maximize each student's potential for success based on performance observations.

This project begins with a pitch process where the team presents three ideas to faculty, with one selection chosen for the final project. The team builds their video game from scratch using the expertise acquired in their classwork and through daily hands-on mentoring by faculty.
PLEASE READ CAREFULLY - IMPORTANT NOTES REGARDING TEAMS, TEAMWORK AND TEAM ASSIGNMENTS:
Teams consist of two (2) programmers, two (2) artists, and one (1) sound designer/music composer.
Team roles are assigned by faculty based on competence displayed in class, interviews with faculty, and (for the second project) teamwork as demonstrated during the Lightning Round.
Students are expected to perform the responsibilities of their assigned role with the understanding that team workloads assume equal contribution from each team member.
Work may not be done remotely. In-person, on-time attendance is mandatory for all program activities.
When an applicant applies to the program, they should carefully consider what team role they wish to hold and assemble their application accordingly. Applicants may apply to the NHSGA as:

a programmer (Software Development track)
artist (Visual Arts/Graphic Design track)
sound designer (Sound Design/Music Composition track)
generalist (Game Generalist track)
Each category implies what team role the applicant seeks to fill. Generalists are those who believe their overall skillset would benefit their NHSGA teams but are not yet certain which role fits them best. Many students find success letting us guide their development in this way.
If the applicant chooses a specific role when they apply, they will be evaluated against those other applicants who have applied for that role.
No team role is guaranteed as faculty prioritizes balanced, capable teams. For example, if a student applied as a programmer yet displays a talent for sound design, they may be assigned to a project as the sound designer.
Assignments – Workload
After the game project work begins, we historically find teams often work at least eight hours every day driven by their own enthusiasm to complete their project. Teams often work on the weekends as well. Teams strive to produce quality work that can be submitted with their college applications with confidence and pride.
Presentation and College Prep – Game Time
At the end of the six weeks, student teams present their games to an audience of faculty, students, and guests with feedback provided.

Games will be all-original ideas, playable on hardware assigned by faculty, and designed to become a portfolio piece students can use in the college admission process.
Eligibility and Application Requirements
Eligibility Requirements
To be eligible for the NHSGA, students must:
Be at least 16 years old by the program start date.
Be a current sophomore or junior in high school at the time of application submission. Please note: talented sophomores are encouraged to apply, however, most of our admitted students will be juniors.
Have an academic average of B (3.0/4.0) or better.
Have a strong interest in the entertainment industry (film, video games, tabletop games, music, etc.) and one of the following areas:

Software Development
Game Generalist (willing and able to explore a variety of roles, a highly valuable team role)
Visual Arts or Graphic Design
Sound Design or Music Composition

Demonstrate the ability to succeed in creative, collaborative coursework and/or projects.
Demonstrate the motivated and hard-working attitude necessary to produce the quantity and quality of assigned work required for a program of this rigor. Students must arrive every morning on-time, rested, and ready for full participation in that day's activities. Continually demonstrating inability to fully participate may put program participation in jeopardy.
Please be aware that if Pre-College NHSGA reaches its enrollment capacity prior to the final application deadline, we will no longer accept application submissions. We will email any in-progress NHSGA applicants as well as post the announcement in the application and on the website.
Application Requirements
The application for the NHSGA program will consist of the following:
Completed online application
Unofficial transcript
Standardized test scores (optional)
One letter of recommendation
Responses to essay prompts
Examples of applicant work relevant to their specific track(s) of interest (i.e., Software Development, Visual Arts/Graphic Design, Sound Design or Music Composition, Game Generalist)
Submission of applicant work:
Do not submit a link to an online portfolio. Links expire, break, and websites can be difficult/time-consuming to navigate. Instead, upload a document or documents.
It is greatly preferred that all documents and work examples should be compiled into a single PDF document. If this is problematic, a series of documents is acceptable.
No more than 10 documents or work examples should be submitted. Examples of written code should not be submitted. If applying for a software position, please submit a video of the game or project being played or used live. 
If an applicant is choosing the NHSGA for both a first and second choice program with different tracks per choice, work relevant to both tracks should be submitted. It is preferred that each choice is supported by relevant work examples submitted in separate documents labeled for the appropriate track. Make it clear to the review committee which samples should be considered for which role.
All submitted documents and examples are to be labeled to include the following:
Title
Medium (if artwork)
Description (to explain the context)
Something the applicant learned from creating the piece
Applying to Tracks: What You Need to Know!
Please carefully read the details below prior to application submission:
Software Development
NHSGA games are built using Unity. While classes in computer science or programming are useful, demonstrating hands-on Unity experience is considered advantageous in the application review process. It is not, however, a requirement.
If an applicant has built a game, regardless of the development environment, they should submit a video of the game being played. Watching the game in a video provides everything needed to make an application decision. The maximum length for any video submission should be approximately 60 seconds.
If an applicant applies on the Software Development track, it will be understood that they wish to be assigned to a team in the role of programmer.
Visual Arts/Graphic Design (2D/3D Art)
Applicants should submit images that demonstrate a foundation in traditional arts. Suggestions include but are not limited to charcoal studies of surface interaction with light, anatomy, perspective, and attention to detail. Pieces may include, but are not limited to, self-portraiture, portraiture, still-life, architecture, animals and pets, or landscapes.
Applicants may include 3D work, but it is not required. Submitted 3D digital modeling work should include a wireframe view.
Applicants are encouraged to submit images beyond the specific suggestions above. The above suggestions are not required, and all additional work will be seriously considered.
No more than 10 images should be submitted.
If an applicant applies on the Visual Arts/Graphic Design track, it will be understood that they wish to be assigned to a team in the role of artist. They will be given basic instruction in software development in Unity, but only enough to facilitate collaboration with their teammates. 
Sound Design or Music Composition
Applicant submissions can include any of the following: song recordings, original sheet music, performance videos, music videos, and/or screenshots of plugin chains. Files should be uploaded in MP4 or WAV format. For video submissions, the length should be approximately 30 seconds.
If an applicant applies on the Sound Design or Music Composition track, it will be understood that they wish to be assigned to a team in the role of sound designer/music composer. Music Composition and creation of Sound FX is equally important in the creation of games. Sound Designers will be given basic instruction in software development in Unity, but only enough to facilitate collaboration with their teammates. 
Game Generalist
Applicants should submit examples of any work that demonstrates a passion in any creative field and following any relevant submission guidelines noted above (ex. game design, interactive story, website design, 2D or 3D artwork, photography, filmmaking, samples of fiction or screenplays, tabletop game design, RPG campaigns, music performance, etc.). Game Generalists will be given basic instruction in software development in Unity, but only enough to facilitate collaboration with their teammates. Game Generalists should not apply expecting to land a software engineering role on a team. This does occur, but it is rare. 
If an applicant applies on the Game Generalist track, it will be understood that they are willing to perform any role assigned to them. Applicants looking for a more general learning experience from the NHSGA should apply as a Game Generalist.
Application Essay Prompts
Two essays responding to the following prompts are required:
What do you hope to gain from participating in Carnegie Mellon's Pre-College Programs? (300-500 words maximum)
Tell us about your favorite game. Why do you find it fun? Be specific about the aspects that make it fune for you. (300 words maximum)
Frequently Asked Questions
Where are NHSGA classes held?
National High School Game Academy classes are held at our satellite campus, the Entertainment Technology Center (ETC). Students are transported by bus to and from their classes every day. Students are responsible for arriving each morning at the on-campus bus departure location on time in order to fully participate in classes and team projects. Missing the bus counts as a partial absence and may put program participation in jeopardy.
Is this a programming camp?
This is not solely a programming curriculum. If students have those expectations, they will be disappointed. It is multidisciplinary.
Will I earn college credit from this program?
No, NHSGA students do not earn college credit.
Do I have to attend the entire six weeks of classes?
Yes. Students will be working with a team in NHSGA, with each team member having a defined team role. It is critical that all team members remain engaged until the end of the six weeks. Each teams' efforts will culminate with a final presentation on the last day of the program. In-person, on-time attendance every day is a requirement. The failure to fulfill this requirement can result in removal from the program without a refund.
Should I bring my own computer?
Yes, each student must have access to a personal laptop computer for use during class time to complete game development coursework. Homework is often done at night and sometimes on weekends, so this laptop computer should be available for a student's use during these times. The minimum system requirements will be provided to admitted students during the enrollment process. Students will download a copy of all game development tools and software required for the various classes onto their laptop.