2024 PROGRAM INFORMATION COMING SOON!
Architecture
An intensive program that engages inquisitive high school students in the creative energy and speculative culture of the study of architecture.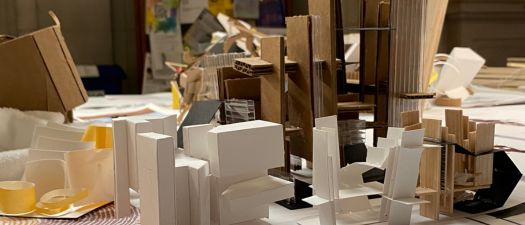 Program Length
Jul. 1
to
Jul. 28, 2023 

 (4 weeks)
Early Decision & International Applications Due

Scholarship* & Regular Decision Applications Due

Housing Options
Resident 

or 

Commuter**
*Scholarship decision notifications released on Wednesday, April 5, 2023. All others are rolling admission.
**To be a

 commuter, 

the student and parent/guardian must have a permanent residence within approximately 30 miles of our Pittsburgh campus or within Allegheny County.
Program Overview
In these changing times, the Architecture Program responds to challenges regarding practice, communication, and our relationship with the built environment by utilizing a diverse set of tools and techniques, guided by the leadership of the School of Architecture Faculty.  

Pre-College Architecture introduces design practice, creative problem solving, and critical thinking to young designers through a matrix of programming, celebrating curiosity and providing a strong foundation for architectural education. Students will navigate complex design problems, encouraging growth through the development of skills, which will prepare them for future undergraduate studies.  
Curriculum
The Pre-College Architecture Program is an intensive summer experience for students with a keen interest in architecture.
 
Over the course of four weeks, students will experience the interdisciplinary field of architecture through the lens of Carnegie Mellon's School of Architecture (SOA) as well as contemporary practices. Students will experience the dynamic of architectural education within the studio, supported by integrated coursework in analog drawing, digital media, seminars, and workshops. This approach will allow for broader exploration of design issues related to the environment, technology as well as the future of our cities.
The projects and assignments issued within all courses will increase in complexity as students build upon their newly found technical skills and creativity.  
Students will begin by working through a series of projects to build a basic comprehension of the fundamental principles of architecture. Students iterate ideas through 2D, 3D, digital, and analog techniques, participating in critique as a central component of the studio experience, with a focus on:
Building foundational architectural skills, literacy, and confidence
Analytical thinking
Conceptual development
Techniques in representation and spatial articulation
Students will be expected to both collaborate with their classmates as well as work individually. Seminars, special lectures, and field trips that relate to digital media and fabrication, issues of contemporary practice, and portfolio allow for additional exploration of the architecture profession.
Typical Schedule
Monday - Thursday
9:00 am - 12:30 pm: Digital & Analog Media
1:30 pm - 4:30 pm: Design Studio
6:00 pm - 10:00 pm: Teaching Assistant help sessions and Open Studio
Friday
Weekends
Eligibility and Application Requirements
Eligibility Requirements
To be eligible for the Pre-College Architecture program, students must: 
Be at least 16 years old by the program start date.
Be a current sophomore or junior in high school at the time of application submission.
Application Requirements
The complete application for the Pre-College Architecture program consists of the following:
Completed online application
Unofficial transcript
Standardized test scores (optional)
One letter of recommendation
Responses to essay prompts
A video submission (30-second maximum length):      

Identify and describe something about yourself that will help the admission committee determine your potential as a Pre-College Architecture student at Carnegie Mellon University. We are interested in getting to know you in the context of your application.
This short 30-second video needs no staging or post-production.
Videos are preferred as a link to Youtube or Vimeo.
If submitting a file, clips must be under 10MB and saved as .m4v, .mov, .mp4, .wmv, .flv, .asf, .mpeg, .mpg, or .mkv, and you might need to compress the video file prior to uploading.

Samples of your artwork (optional, but highly recommended):

5 to 10 images of your original work in a single PDF file.
Links to video or audio artwork may be included in the PDF if applicable.
Application Essay Prompts
Respond to the following essay prompts (300-500 words each):
What do you hope to gain from participating in Carnegie Mellon's Pre-College Programs?
Why are you interested in studying architecture?
Frequently Asked Questions
Is the Architecture program challenging?
Pre-College Architecture is an immersive program with the intensive energy and dynamic creative culture of a college-level experience. Design success is largely the result of focused effort and intensity of investigation; students should expect to invest significant time working in the studio with fellow students outside of class (evenings and weekends) to develop and complete project coursework. 
What is unique about the study of architecture?
A progressive interdisciplinary course of study combining design creativity, historical perspective, technical knowledge and innovation, and social responsibility, architecture is a profession that occupies a unique role in the shaping of our built environment. Pre-College Architecture is structured to introduce the discipline of architecture and the study of architecture in a university setting.
What is Design Studio?
Studio is the core of the Pre-College Architecture Program and serves as an introduction to the spatial concepts of architecture. Projects will explore the design and experience of spatial environments through a series of creative investigations consisting of both independent and collaborative work. Studio work focuses on experience and human sensory engagement in physical space; project themes include context, scale, perception, light, materiality, and component systems. Studio work will be supported by individual critique as well as group discussion based upon critical review of student work. The course is focused entirely on project design work while integrating concepts and skills from Drawing and Digital Media as well as workshops and seminar courses.
What skills and techniques will I learn in Digital Media?
Digital Media introduces students to the creative use of digital software and technology in architecture through in-class workshops and lectures. Students will learn the basic skills needed to create, explore and critique digital images, drawings, and three-dimensional environments. As a complement to the design studio, assignments will encourage an active dialogue between design intentions and representational tools. With a focus on Photoshop, Illustrator, and Rhinoceros, skills explored include image editing, color manipulation, line drawings, curves, surfaces and solids, 3D object manipulation, and composite imagery. We provide an intensive introduction to creative software. No previous experience or specific computer skills are required to succeed, although dedication and commitment to the subject is critical for success.
Are there activities specific to the Architecture program outside of class time?
On Fridays, field trips and special projects introduce students to dynamic learning opportunities out in the field. Trips and projects vary from year to year; past events have included visits to recently completed local architectural projects, building construction sites, museum exhibitions, and workshop experiments in conjunction with the Carnegie Mellon School of Architecture Computational Design and Digital Fabrication Labs. Some evenings and weekends, our teaching assistants hold optional workshops to provide extra help and support for classwork.
Is there an opportunity for portfolio development?
Work created in the Pre-College Architecture may be excellent material to package for your portfolio. 
What supplies will I receive as part of the program?
As part of the program costs, you will be provided materials and tools required for media and design studio. If you need additional supplies, feel free to purchase them from our Art Store once you arrive on campus.