Art
Ready to challenge how you think about art? Explore your creative ideas in a college-level studio environment.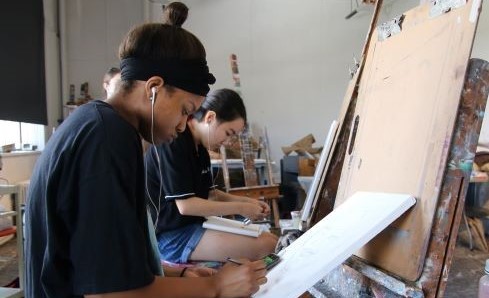 Program Length
Jun. 22
to
Aug. 3, 2024 

 (6 weeks)**
Early Decision & International Applications Due

Scholarship* & Regular Decision Applications Due

Housing Options
Resident
or
Commuter***
*Scholarship decision notifications released on Friday, April 5, 2024. All others are rolling admission.
**3-week option also available, ending July 13, 2024.
***To be a

 commuter, 

the student and parent/guardian must have a permanent residence within approximately 30 miles of our Pittsburgh campus or within Allegheny County.
Program Overview
In this program, you will use both traditional tools and cutting-edge technologies to explore your creative ideas in a college-level studio environment. You will develop both your conceptual and technical skills, preparing you for a wide range of opportunities in both art studies and careers. You will break through the boundaries of how you approach art, taking your work to the next level.
Curriculum 
Students will be introduced to the spirit and substance of the Carnegie Mellon University School of Art through challenging courses, individual critique, stimulating workshops, portfolio development, and energetic interaction with dedicated faculty and talented peers. Classes are held mornings and afternoons, Monday through Thursday, with elective workshops on Friday. The curriculum focuses on the fundamentals of technical skills and the growth of conceptual thinking and how those elements are applied to personal artistic practice.
College-Level Art Courses
Students work in our beautiful, spacious studios in the historic College of Fine Arts building and the School of Art's fabrication facilities. Individual instruction, in-class work sessions, critiques, demonstrations, and lectures are all part of the classroom experience. Students should expect to attend nightly open studios to complete work outside of class.
Session One [Weeks 1 - 3] Courses: 
Drawing
Sculpture
Animation
Concept Studio
Session Two [Weeks 4 - 6] Courses (6-week students only): 
Painting
Digital Photography
Printmaking
Concept Studio (a continuation of the first three weeks)
Small Classes Led by Accomplished Art Faculty
The Pre-College Art faculty is comprised of accomplished artists with experience teaching teenagers, as well as college-level undergraduates and graduates. Small class sizes allow students to benefit from individual attention, intense instruction, and substantial constructive feedback. Undergraduate teaching assistants from our School of Art's Bachelor of Fine Arts program support both instructors and students. Their presence in the classroom allows Pre-College students to understand the experience and commitment of an artist studying at the college level.
Concept Studio
Concept Studios are an integral part of the art curriculum at CMU, and all undergraduate students in the School of Art are required to take a series of these courses throughout their four years of study.
During the Pre-College experience, we condense these college-level courses into a rigorous two-part (Session One and Session Two) introduction designed to assist students in the development of personal, non-medium-specific approaches to generating art. Areas of exploration may include:
the self and the human being
space and time
systems and processes
contextual practice
Instruction in Concept Studio is centered around helping students to develop work that focuses less on technique and more on the creative process itself and what artmaking can convey to others.
Assignments in Concept Studio will include readings, short writing projects, collaborative projects, and the completion of individual artworks.
Friday Workshops
Each Friday, students participate in elective workshops. These morning and afternoon sessions present introductions to a wide range of topics and skills. While attendance is required, students are not evaluated on their workshop performance - fostering an atmosphere of experimentation, exploration, trial and error, and freedom. Students will be prompted to sign up for workshops once they have enrolled in the program.
College Application Preparation
Through exploration in various media, students develop conceptual and technical skills valuable to the college application process and critical to success in a competitive college-level art program.
Depending on individual levels of completion and effort, you should expect to create portfolio-quality work in each of your art courses.
All students are invited and encouraged to participate in one-on-one portfolio reviews with CMU School of Art faculty. These individual reviews are informal and are 15-30 minutes in length. This is a wonderful way to build confidence and practice for future in-person reviews when applying to college. 
Eligibility & Application Requirements
Eligibility Requirements
Be at least 16 years old by the program start date.
Be a current sophomore or junior in high school at the time of application submission.
Have a strong interest in art.
Application Requirements
Completed online application
Unofficial transcript
Standardized test scores (optional)
One letter of recommendation
Responses to essay prompts
Samples of your artwork, submitted in one of the following formats (optional but recommended):

Video submission, up to three minutes. YouTube or Vimeo links only.
Five (5) to 10 images of work in a single PDF file.
Application Essay Prompts
Applicants will submit a total of three (3) essays. 

The following prompt is required of all applicants (300-500 words):
What do you hope to gain from participating in Carnegie Mellon's Pre-College Programs?
Applicants must then answer two (2) of the following prompts of their choice, each with a maximum of 300 words:
Describe a topic, idea, or concept you find so engaging that it makes you lose all track of time. Why does it captivate you? What or who do you turn to when you want to learn more?
Why are artists important for society?
What is your definition of "art"? Create a top ten list based on your definition. 
*Responses to alternative or additional prompts may be requested.
Frequently Asked Questions
How many classes will I take?
Each Art student is enrolled in four classes per 3-week session. Classes meet Monday-Thursday. Morning classes run from 9am-12pm and afternoon classes meet from 1pm-4pm. Core coursework is the same for all students. Student schedules are generated upon enrollment into the program.  
What is the difference between the 3-week program and the 6-week program?
We highly recommend signing up for the 6-week program! That said, we understand that time and financial commitments are different for everyone and will ultimately dictate whether you choose the 3-week or 6-week program. We divide the program into two halves so that students leaving after the 3-week program feel that their coursework has been brought to a natural close. A celebratory exhibition and reception mark the end of our first three weeks. The 3-week option is only available during Session One (Weeks 1-3). No exceptions are ever made to this rule.
The primary difference between the two options is the amount of time spent in the studios and on campus. As a 6-week student, you will become better acquainted with campus, with the city of Pittsburgh, and with one another. By taking a broader array of courses, you'll develop a deeper skill set and be pushed further conceptually. Students enrolling in the 3-week program will take four classes while 6-week students will take eight.
On average, how many hours of work are assigned outside of the classroom each week?
Every course and teacher will manage homework assignments differently. On average, you can expect to spend 8-10 hours per week working on projects outside of class.
How much time is spent on portfolio development?
All students are invited and encouraged to participate in one-on-one portfolio reviews with CMU School of Art faculty. These individual sessions are informal and last between 15-30 minutes. This is a wonderful way for you to build confidence and to practice for future in-person reviews when applying to college.
Depending on individual levels of completion and effort, you should expect to create portfolio-quality work in each of your art courses.
What level of artistic experience do I need to have to apply to Pre-College Art?
Most students have taken high school art classes or extracurricular art programs held within the community. However, some students are successful with little experience given they are highly interested and motivated. 
Will I earn college credit from this program?
No, Pre-College Art students do not earn college credit. 
What kinds of supplies will I need to bring?
Students will receive material kits from the CMU Art Store once they arrive on campus; this is included in the program cost. These kits are made to the specifications of the Pre-College faculty and will include items needed for individual classes such as Drawing and Painting.
Other items not included in the material kit are listed below. It is imperative that you purchase these before classes begin. 
Students are responsible for purchasing and bringing these items:  
All 3- and 6-week students
Personal sketchbooks (works in progress or new)
A large portfolio (20x30 or similar size)
Documentation of previous artwork in the form of physical 2D pieces, digital files, or a personal website (for use during the portfolio review)
A laptop computer (with Adobe Creative Suite) is not required but recommended
All 6-week students
A quality digital camera with manual settings
What are workshops?
Art students participate in morning and afternoon workshops every Friday. Workshops are unique opportunities for students to develop skills and knowledge in areas of their personal choosing. Workshop sign-ups occur during orientation weekend.
Students are not evaluated on participation or any artwork produced during workshops. Pre-College faculty, teaching assistants, CMU affiliated artists, and Pittsburgh-based experts teach various selections. Examples of past offerings include puppetry, performance art, soft sculpture, green screening, kinetic sculpture, matte painting, creating an artist website, bonsai tree tending, kite-building, using a laser cutter, anatomy for artists, GIF-animation, and introduction to installation art.