Design
Discover the investigation, innovation, and impact of Design.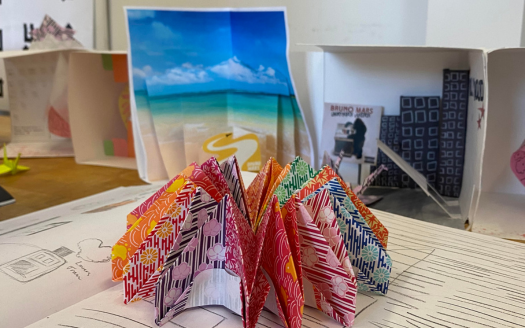 Program Length
Jun. 22
to
Aug. 3, 2024 

 (6 weeks)
Early Decision & International Applications Due

Scholarship* & Regular Decision Applications Due

Housing Options
Resident 

or 

Commuter**
*Scholarship decision notifications released on Friday, April 5, 2024. All others are rolling admission.
**To be a

 commuter, 

the student and parent/guardian must have a permanent residence within approximately 30 miles of our Pittsburgh campus or within Allegheny County.
Program Overview
Design has never been in greater demand than it is now. Businesses, government, and local communities are turning to designers for innovation and problem-solving, creating new roles for designers in every sector of the marketplace.
Pre-College Design introduces students to the discipline of design, provides a foundation of skills, and gives a clear idea of what to expect from a college-level accredited program. Pre-College Design students will have the opportunity to attend classes taught by full-time Carnegie Mellon faculty where they are given an introduction to the design principles and practices that are the cornerstones of the undergraduate School of Design program.
Modeled after the first-year college experience, sessions will consist of studio learning, lectures, critiques, field trips to museums, workspaces, and community spaces, as well as guided work sessions with faculty. Students will be assigned their own personal studio space, providing them with their first foray into "studio life." By the end of the program, participants will have portfolio pieces that have been critiqued by School of Design faculty. There will also be a showcase that will feature all the work students have completed during the program, for fellow classmates, faculty, and parents to see.
Curriculum
Studio Design for Products, Communications, & Environments
Studio courses allow students to experience the iterative process designers use when developing their best solutions. Teachers guide students through the problem-solving process, introducing basic tools (i.e., sketching, diagramming, prototyping) along the way.
Design Drawing
Design Drawing is a different way of drawing than fine art drawing. It is one of the ways designers work through their ideas and effectively share their thinking with others.  Through guided exercises, students are introduced to ways in which they can make their drawings a stronger communication tool, as well as a useful part of the problem-solving process.
Design Photography
In addition to the mechanics of using a camera, Design Photography teaches students how to effectively capture images that convey meaning and tell a story.
Design Research & Problem-Solving Methods
Design Research & Problem-Solving Methods will serve as an introduction to the way designers gather meaningful data and to the tools required to apply that data to their design solutions.
Eligibility and Application Requirements
Eligibility Requirements
Be at least 16 years old by the program start date.
Be a current sophomore or junior in high school at the time of application submission.
Have an academic average of B (3.0/4.0) or better.
Previous experience in art or design is NOT required.
Application Requirements
The complete application for Pre-College Design consists of the following:
Completed online application
Unofficial transcript
Standardized test scores (optional)
One letter of recommendation
Responses to the essay prompts
Portfolio (optional, but highly recommended)
Please provide examples of work that relate to your interest in design. We understand submissions will vary and examples of direct design work are not necessarily possible. Please use your discretion. Five to 10 images of your original work in a single PDF file is preferred. 
Application Essay Prompts
Responses to the following essay prompts are required (300-500 words each):
What do you hope to gain from participating in Carnegie Mellon's Pre-College Programs?
Why are you interested in studying design?
Frequently Asked Questions
Is there an opportunity for portfolio development?
Work created in this program may be excellent material to package for a student portfolio. At the conclusion of the program, faculty will be available to provide feedback on portfolios.
Does the program have a three-week option?
There is no three-week option for Pre-College Design.
Do I need to bring my own computer?
Students will have access to computers in the public clusters on campus. While personal laptops are highly recommended, and most students find it is convenient to have their own laptops, it is not required.
Will I earn college credit from this program?
No, Pre-College Design students do not earn college credit.
What supplies will I need for the program?
Students receive a Design Kit from the CMU Art Store upon their arrival. The kit is included in the program cost.
Students are asked to bring a camera, and we prefer that you have a camera other than your smartphone. If you have access to an older camera that is at least 10 megapixels in which you can manually operate the focus, aperture, and shutter settings, you will be fine. Students who only have a smartphone camera will be accommodated.