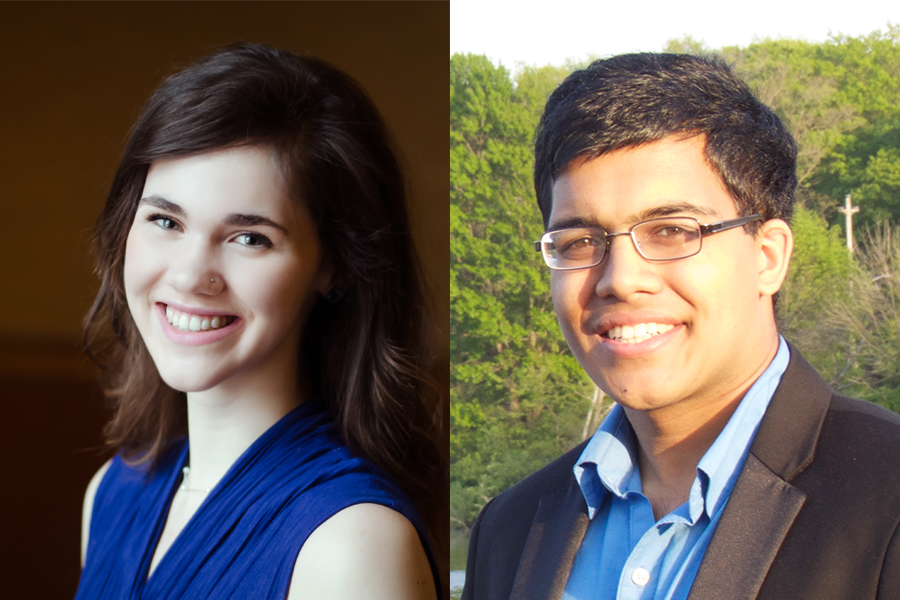 April 02, 2019
Announcing the 2019 Philharmonic Soloist Competition Winners
Phoebe Robertson, flute, and Sameer Apte, cello
The final round of the annual Philharmonic Soloist Competition took place on Sunday, March 24 at 6:00 pm in Kresge Theatre. Judges from the Pittsburgh music community selected 2 winning students, one undergraduate and one graduate.
Sameer Apte won the undergraduate category playing William Walton's Cello Concerto and Phoebe Robertson won the graduate category performing Mozart's Flute Concerto No. 1 in G major K. 313. Sameer and Phoebe are invited to perform as soloists with the Carnegie Mellon Philharmonic in the 2019-2020 Season.
Cellist Sameer Apte is a senior at Carnegie Mellon University, where he studies cello performance under Anne Martindale Williams. At Carnegie Mellon, he is the recipient of the Wilkins Cello Scholarship and the Archer Awards for Freshman and Sophomore Excellence, and also serves as principal cellist of the Carnegie Mellon Philharmonic and as cellist in the Carson String Quartet, the School of Music's Honors Quartet. Sameer Apte made his solo debut with the Carnegie Mellon Philharmonic in 2017, performing Andrew Dewey's Hedonism for cello, soprano, and orchestra. He will appear again as soloist during the Philharmonic's 2019-2020 season, performing Walton's Cello Concerto as the undergraduate winner of the 2019 Philharmonic Soloist Competition.
A native of Cleveland, Ohio, Sameer Apte was a four-year member of the Cleveland Orchestra Youth Orchestra (COYO), where he served as assistant principal for two years. He has appeared as soloist with the Suburban Symphony Orchestra and the Cleveland Institute of Music Orchestra, and has been featured live on Cleveland's classical station, WCLV.
A student of Lorna McGhee, Flutist Phoebe Robertson will complete her Master of Music degree at Carnegie Mellon University in May 2019, and will perform as a soloist with the Carnegie Mellon University Philharmonic during the 2019-20 season as the graduate winner of the Philharmonic Soloist Competition. Phoebe hails from New Brunswick, Canada, and holds a Bachelor of Music degree from the University of Ottawa, studying with Camille Churchfield. She can be heard as a featured musician on BBC Radio 3 and in records on the Decca and NYOC labels.
She has performed in concert halls across North America and Europe to great acclaim with the Orchestra of the Americas, the National Youth Orchestra of Canada, the National Arts Centre Orchestra, the Ottawa Symphony Orchestra, and the Carnegie Mellon University Philharmonic. A native of Canada, she has been awarded many of her country's most prestigious distinctions for young musicians, including the Grand Prize of the National Arts Centre Orchestra Bursary Competition, as a result of which she performed as a soloist with the NAC Orchestra during their 2015-2016 season.
Keep an eye out for their concerto performances in next year's Philharmonic season!