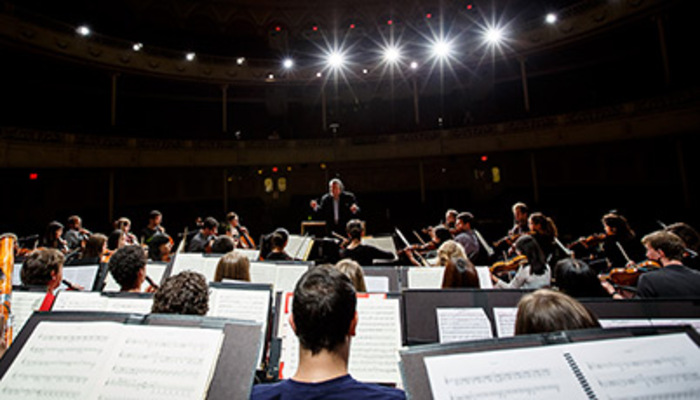 May 06, 2015
2015-16 PHILHARMONIC SEASON TO FEATURE INTERNATIONALLY RENOWNED CONDUCTORS
The 2015-2016 Philharmonic season will feature Paul Polivnick, Carl Topilow, and Yan Pascal Tortelier as guest conductors. The repertoire for the season includes many standards as well as hallmarks from American composers. Complete details on next season will be announced soon. All concerts are at Carnegie Music Hall in Oakland. 
---

OCTOBER 18, 2015 @ 7:30 PM
Paul Polivnick
Guest Conductor
Haydn Symphony No. 95
Kraft Vintage Renaissance
Tchaikovsky Symphony No. 5
Paul Polivnick is a prominent figure on the world stage, conducting fine orchestras across the United States, Europe, and Asia. Currently the Conductor Laureate of the New Hampshire Music Festival, Polivnick was its Music Director from 1993-2009 enjoying both critical and popular success. Polivnick has also guest conducted over 40 orchestras and opera companies in the USA including the Los Angeles Philharmonic, Los Angeles Chamber Orchestra, Symphony Silicon Valley in San Jose, California, Brooklyn Philharmonic, Milwaukee Symphony Orchestra, Indianapolis Symphony Orchestra, Utah Symphony, San Diego Symphony, North Carolina Symphony, Fort Worth Symphony, New Mexico Symphony, Central City Opera, Santa Barbara Grand Opera and Charleston Opera.
---
JANUARY 24, 2016 @ 7:30 PM
Carl Topilow 
Guest Conductor

Andrés Cárdenes
violin
Copland Appalachian Spring
Chausson Poème
Elgar Enigma Variations
Carl Topilow is renowned worldwide for his versatility, whether he is holding a conductor's baton or his trademark red clarinet. He is a multi-talented virtuoso who equally at home in classical and popular music both as conductor and instrumentalist. Carl recently completed his 38th season as Music Director and Conductor of the National Repertory Orchestra, a summer music festival based in Breckenridge, Colorado. He has assisted in the training of talented young musicians and conductors for positions in symphonic orchestras in the United States and abroad. He is also Conductor and Director of the Orchestral Program at the Cleveland Institute of Music. Currently in his 35th year as conductor of the CIM Orchestras, he is also head of the Masters program in orchestral conducting. Graduates of this program can be found as maestros with several leading orchestras.
---

FEBRUARY 21, 2016 @ 7:30PM
Yan Pascal Tortelier
Guest Conductor

Thomas Douglas
Director of Choral Studies
Stravinsky Symphony of Psalms
Berlioz Symphonie fantastique
Yan Pascal Tortelier enjoys a distinguished career as guest conductor of the worlds most prestigious orchestras. He began his musical career as a violinist and, at fourteen, won first prize for violin at the Paris Conservatoire, making his soloist debut with the London Philharmonic Orchestra shortly afterward. Following general musical studies with Nadia Boulanger, Tortelier studied conducting with Franco Ferrara at the Accademia Chigiana in Siena, and from 1974 to 1983 he was Associate Conductor of the Orchestre National du Capitole de Toulouse. Further positions since then have included Principal Conductor and Artistic Director of the Ulster Orchestra (1989-1992) and Principal Guest Conductor of the Pittsburgh Symphony Orchestra (2005-2008). He was also Principal Conductor of the Sao Paulo Symphony Orchestra from 2009-2011, and currently holds the position of Guest Conductor of Honour, in which capacity he returns to the orchestra a number of times each season. Following his outstanding work as Chief Conductor of the BBC Philharmonic between 1992 and 2003, including annual appearances at the BBC Proms and a very successful tour of the US to celebrate the orchestra's 60th anniversary season, he was given the title of Conductor Emeritus and continues to work with the orchestra regularly. He also holds the position of Principal Guest Conductor at the Royal Academy of Music in London.
---
Dates, guests, and repertoire are subject to change.