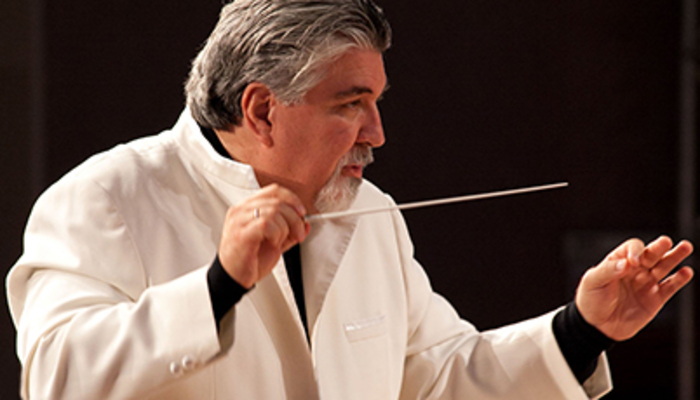 April 09, 2014
CÁRDENES TO CONDUCT, APRIL 23
Under the direction of Artistic Director Andrés Cárdenes, the Carnegie Mellon University Philharmonic will take the stage at Carnegie Music Hall one more time this school year on Wednesday, April 23. The concert will feature concerto competition winner Kryzsztof Rucinski on Szymanowski's Violin Concerto No. 1. Also on the program are Glinka'sRuslan and Ludmila Overture and Shostakovich's Symphony No. 5 in D Minor.
A consummate musician, powerful presence and master programmer, Andrés Cárdenes has established himself as a conductor possessing all the essentials of a modern maestro. His innovative programming and compelling performances have earned him high praise from audiences, critics, and colleagues alike. In addition to his responsibilities at CMU, Cárdenes is currently Music Director of Strings Festival Orchestra (CO) and the Pittsburgh Festival Orchestra. A champion of living composers and the music of our time, Cárdenes' formula for presenting diverse genres of music has been met with great enthusiasm.

This concert will also feature Tweet Seats, which are seats where tweeting is encouraged during a performance by audience members. The School of Music is continuing this initiative to encourage a subsection of our audience to engage in an online discussion about the performance they are experiencing. Utilizing the hashtag #CMUCardenes, participants will engage in an online conversation with School of Music faculty members Lance LaDuke and Daniel Nesta Curtis, who will be leading the discussion from @CMUMusic. Feel free to tweet reactions to the performance or ask questions. 
Check out the conversation from the January 26 concert.

COST:
$5 General Admission
All students, along with faculty and staff from CMU and Pitt, are free w/ valid ID.
Wednesday, April 23
8:00 pm
Carnegie Music Hall, Oakland