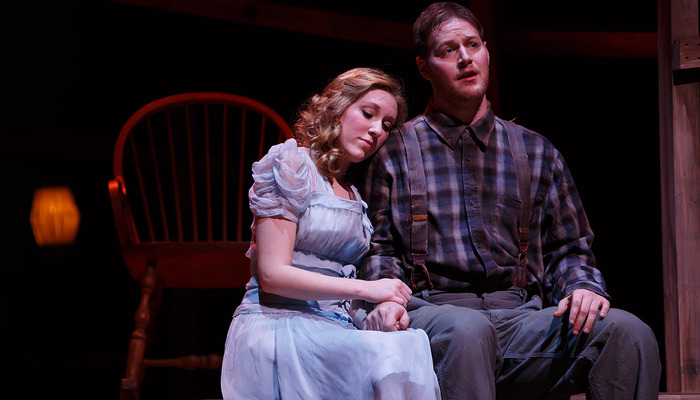 January 22, 2013
AARON COPLAND'S THE TENDER LAND
Musical theatre buffs who were captivated by the School of Music's riotously funny rendition of Stephen Sondheim's Into the Woods, which ran in the Fall, will have another stellar production to look forward to.  In just a few weeks, from January 24th-27th, the school will present Aaron Copland'sThe Tender Land.  This is indeed a special treat for opera fans, as the work is rarely performed by large companies; in fact, given its intimate scope--its scoring for chamber orchestra and its small cast of characters--The Tender Land is ideally suited for a small venue like the Chosky Theatre.
The libretto, which was inspired by the Depression-era photo journalism of Walker Evans, tells the coming-of-age story of Laurie Moss, an innocent but ambitious farm girl in the American midwest. The drama of Laurie Moss's awakening into adult life unfolds as a play with incidental musical accompaniment and arias.  When Laurie meets Martin, a handsome drifter who picks up work on her grandparents' farm, she must make a choice: to remain ensconced within the reassuring certainties of agrarian life, or to heed the siren call of the great wide world and its new horizons.  
The Tender Land will feature the promising talent of Carnegie Mellon's vocal students, under the expert guidance of Gregory Lehane as Director and Gil Rose as Music Director.  Performances take place in the Chosky Theatre at the Purnell Center for the Arts, from January 24th-26th at 8:00 pm and on January 27th at 2 pm.  Tickets are $10 general admission, $5 for seniors and students are free with a valid ID. 
Purchase tickets online by following the appropriate link below or calling the School of Drama Box Office at 412-268-2407.