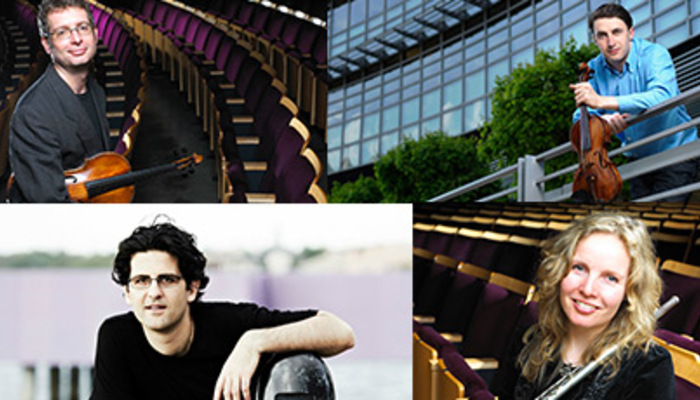 November 08, 2013
CARNEGIE MELLON SCHOOL OF MUSIC BEGINS NEW INITIATIVE WITH NOV. 19 RECITAL FEATURING FACULTY AND SPECIAL GUESTS
PITTSBURGH—The Carnegie Mellon University School of Music will kick off a new chamber music initiative, Chamber Music @ CMU, with a recital at 8 p.m., Tuesday, Nov. 19, in the College of Fine Arts' Kresge Theatre.
Faculty members David Harding (viola, Trio Verlaine) and Noah Bendix-Balgley (concertmaster, Pittsburgh Symphony Orchestra) will perform along with guests Lorna McGhee (principal flute, Pittsburgh Symphony Orchestra) and renowned cellist Amit Peled.
"Our goal with this concert is to help foster a vibrant chamber music culture within CMU, the Pittsburgh community in general, and to showcase chamber music masterpieces performed to the highest level by faculty members and guest artists. We hope it will be the first of many such concerts," said Harding, who also serves as associate professor of viola and chamber music at CMU.
 "Chamber music skills of listening, leading, following, negotiating and collaborating are not only vital to musicians, but also are life lessons applicable in many fields of business and technology. It is, therefore, fitting that a great university such as Carnegie Mellon should be home to world-class chamber music," Harding said.
The Nov. 19 recital will feature Mozart's "Flute Quartet No. 1 in D Major, K. 285," as well as an arrangement of Bach's "Goldberg Variations, BWV 988." Widely regarded as Mozart's most famous flute quartet, the "Mozart Flute Quartet No. 1" was written around 1777 for flute and string trio — violin, viola and cello.  
"This quartet is a joy to play. The outer two movements are vivacious, bubbly and full of energy. The last movement in rondo form is especially playful. Together they frame one of Mozart's most delicately crafted slow movements, in which the flute sings a poignant, melancholy aria accompanied by pizzicato strings," McGhee said.
Originally written for harpsichord, Bach's "Goldberg Variations" consists of an aria and a set of 30 variations, considered to be one of the most important examples of variation form, and made famous in recent times by the recordings of Glenn Gould. This exquisite music was born out of an unlikely request from the insomniac Russian Ambassador to the Court of Saxony, who desired music "of such a smooth and somewhat lively character that he might be a little cheered up by them in his sleepless nights." The masterful string trio arrangement of the "Goldberg Variations" is by Russian violin virtuoso Dmitry Sitkovetsky.
The concert is dedicated to the memory of Toby Saks, founder and artistic director of the Seattle Chamber Music Society, in which Harding, McGhee and Peled have performed. The concert is free and open to the public. Tickets are required because of limited seating capacity and may be obtained online at http://www.music.cmu.edu/events/279. A reception in Alumni Concert Hall will immediately follow the concert. 
---
Dana Casto | Dir. of Mkting & Communications, School of Music
412-268-4921 | dcasto@cmu.edu
Pam Wigley | Director, Media Relations, College of Fine Arts
412-268-1047 | pwigley@andrew.cmu.edu