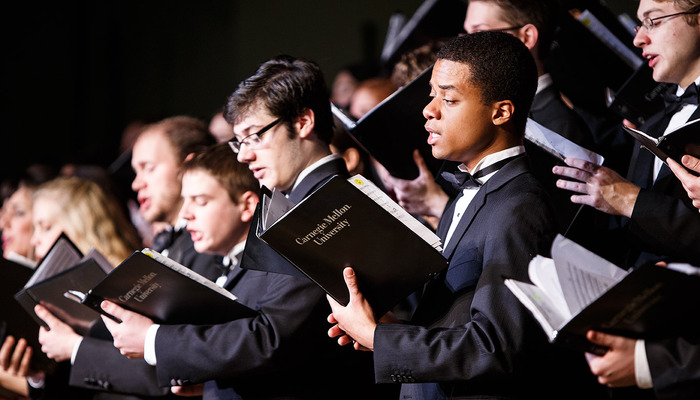 February 05, 2013
CHOIRS PRESENT ORFF'S CARMINA BURANA
Carl Orff's cantata Carmina Burana has become an instantly recognizable hit, and not only to classical music aficionados. The opening bars of the first movement, called "O Fortuna", have been used to heighten the drama of every imaginable pop culture scenario, including the BBC's coverage of World Cup soccer, the Howard Stern Show, commercials for Gatorade, and closer to home, at Pittsburgh Pirates games.
First staged in Frankfurt by the Frankfurt Opera on June 8, 1937,  Carmina Burana is based on an obscure (and occasionally bawdy) medieval manuscript compiled 700 years ago in a remote Bavarian monastery. Though most probably assembled by Catholic monks, the manuscript's collected poems most decidedly celebrate the profane, rather than the sacred, side of life: fortune, adventure, love, and, of course, gambling and drinking. Fans of the Carnegie Mellon Choirs will be in for a real treat to hear Maestro Robert Page conduct performances of Carmina Burana - a work that he won a grammy for in 1976 while with Cleveland Orchestra as the choral director.
On Saturday, February 16th at 8:00 pm, Maestro Page will conduct the combined forces of the Concert Choir, Repertory Chorus, and Percussion Ensemble for a stirring rendition of Carmina Burana.  The concert at CAPA Theater (downtown) also features School of Music of faculty pianists Mark Carver and Luz Manriquez along with alumni soloists Elisabeth Turchi, soprano; Dillon McCartney, tenor; and Dimitrie Lazich, baritone. Tickets are $5 general admission, free for students with valid ID, and can be purchased online below or by calling 1-888-71-TICKETS.