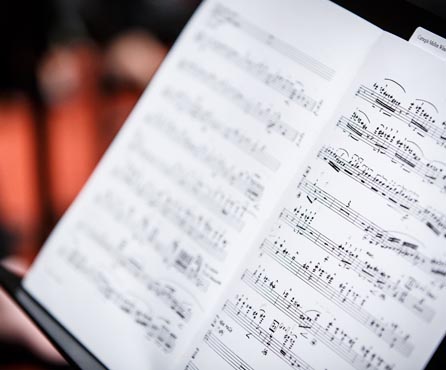 February 28, 2013
CONTEMPORARY MUSIC ENSEMBLE FEATURING ARVO PÄRT'S FRATRES
The beginning of March is a time full of expectation and optimism: warmer, sunnier days are on the horizon, and new energy electrifies the air.   What better way to celebrate the coming of Spring (while looking back on Winter) than by listening to the music of our time, as expertly performed by the Contemporary Music Ensemble. Conductors Hanjin Sa and Geoffrey Larsen will guide the Ensemble through a program of iconic works of 20th-century repertoire.  
The concert will feature music of the French composer (and occasional 
enfant terrible)
 Edgard Varèse, who was both a musical iconoclast and a demanding perfectionist.  His octet 
Octandre
, scored for a mixed ensemble of winds and brass, represents an exotic flower with eight stamens; the title reflects both the work's instrumentation and its subject. 
The haunting sounds of the Estonian composer Arvo Pärt will form the centerpiece of the CME's program.  Pärt has achieved widespread renown, not only for his deeply spiritual compositions, but for his peaceful opposition to the Soviet occupation of his home country. The CME will perform one of Pärt's most famous works, called 
Fratres
; the composer has said that this music is meant to evoke the tolling of distant bells.  This composition is based on a simple chordal progression, which in its slow, incantatory unfolding, evokes the vastness of space and time.
This concert will take place at 5:00 pm on 
Saturday, March 2nd
 in the Kresge Theatre at the College of Fine Arts. The concert is free and open to the public.  We hope to see you there!


Please note that a previously scheduled pre-concert lecture at 4 pm has been cancelled.